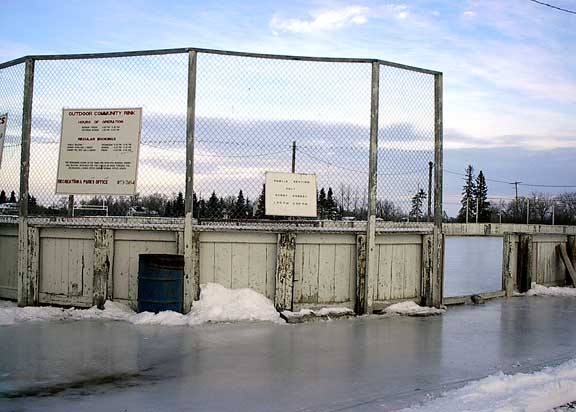 The classic
FTLComm - Tisdale - Monday, November 24, 2003
Saturday, Canadian hockey fans were in wonder at the nostalgia of playing outdoors, as both the old timers and the present versions of the Oilers and the Canadiens met outdoors at Commonwealth Stadium in Edmonton. Sparking countless discussions about out door rinks from our childhood.
For me it seems that a good portion of my childhood and adult life has been spent spraying water on packed snow only to spend countless hours clearing the snow away in order to produce a playing surface.
There is no question that the heart of hockey is outside on rinks like this one, with almost unlimited ice time and only the prerequisite is to have the endurance to stay out there.
I made many flights across western Canada in the winter and the single most impressive feature of those flights were the outdoor rinks. Edmonton Muni is located almost in the middle of the city and in the winter a pilot drifts in over the streets lit with their lights and cars but there is a patchwork of outdoor rinks all across the city. Beaming brilliantly lit outdoor rinks which almost always have skaters on them. Winnipeg, Regna and Saskatoon are the same. Clearly, these recreational wonders require considerable resources and offer much in return and without a doubt the people of this part of the world value what these frozen oasis of fun provide for them, otherwise they would not put so much into them.
Here in Tisdale the outdoor rink is finished and ready to use for this season. These pictures were taken this afternoon.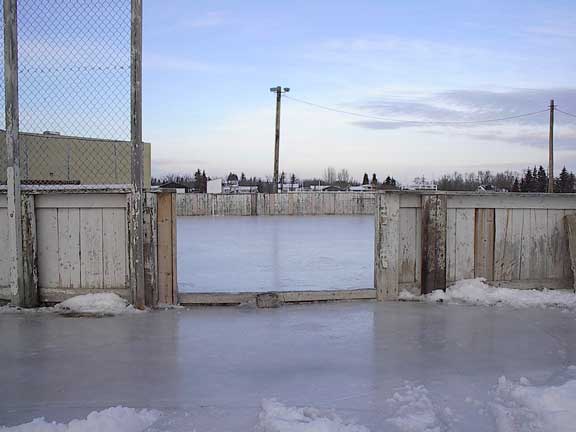 ---
Return to Ensign - Return to Saskatchewan News
This page is a story posted on Ensign and/or Saskatchewan News, both of which are daily web sites offering a variety of material from scenic images, political commentary, information and news. These publications are the work of Faster Than Light Communications . If you would like to comment on this story or you wish to contact the editor of these sites please send us email.
Editor : Timothy W. Shire
Faster Than Light Communication
Box 1776, Tisdale, Saskatchewan, Canada, S0E 1T0
306 873 2004