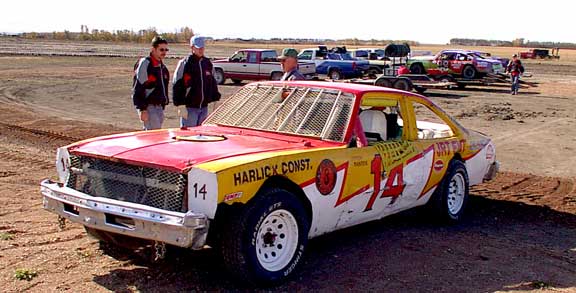 Provincial Stock Car Races
FTLComm - Tisdale - Saturday, September 22. 2001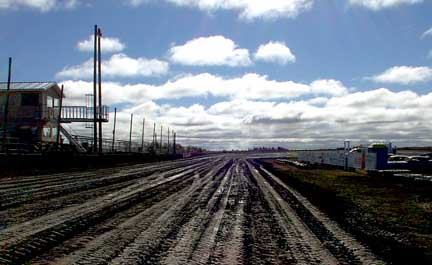 Its club versus club and four provincial race teams square off this weekend at Silvertown Speedway in Tisdale for the right provincial bragging rights.

Competing in two classes, Street Stock and Hobby Stock, time trials begin today at 2:00 and racing begins in earnest at 3:00 then resuming at 1:00 on Sunday to finish up the competition.

This is truly a big event with more than forty cars participating from all over Saskatchewan and a few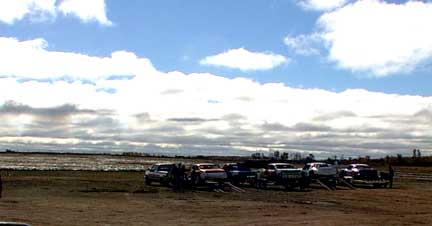 from Manitoba. Thirty-one cars had already pre-registered but this morning as we took these pictures of preparations for competition the cars were lining up as they came on to the track and pit area.

The track is in perfect condition for races this weekend and competitors are looking forward to banging their way around, mud ball to mud ball with each other. Four cars from Swift Current are seen here and below out the eight cars from their club that will be participating today.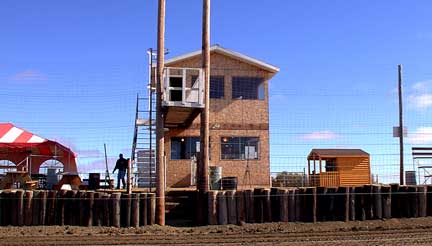 Eighteen cars are part of the Tisdale Stock Car Club while five are here representing the Preeceville club which has cars from Yorkton, Elfros, and Swan River Manitoba. Cars are also expected from the Rosetown association.

Some of their entries are seen in the picture below.

Here is how the competition goes. Drivers compete in the individual races and their placing contributes points to their team's over all performance. When things finish up Sunday they tally up the points and declare a Provincial team champion.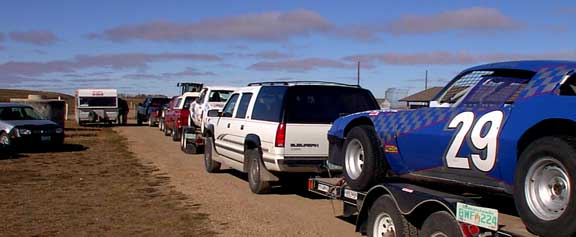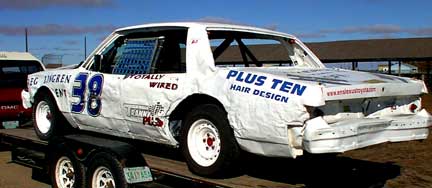 The enthusiasm of the Tisdale fans and the Tisdale Stock Car Club have made it one of the most competitive racing centres in the province.

But a project like this one depends so heavily upon the support of local merchants and sponsors who include most businesses in the community. Some with work others with prizes others with advertising sponsorship, while still others provide support through sponsoring cars. Vern Randall explain to Ensign that he and an Oil company provide oil for the cars as part of their sponsorship. All in all it amounts to a community effort that makes a participatory project like this one a success.

Safety is a big concern of this kind of competition with the cars inspected and having to meet stringent standards but in addition the Tisdale Volunteer Fire Department and Tisdale Ambulance service provide back up and emergency services to insure that this is a fun fill and safe project.