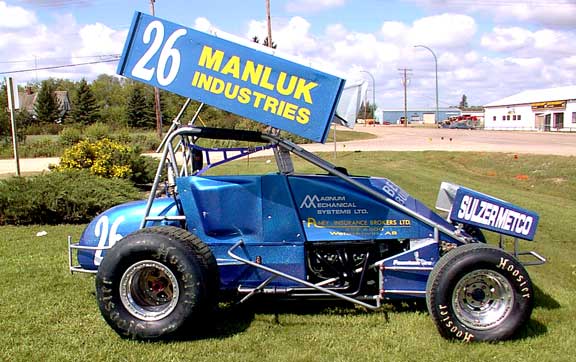 Sprint Racers Take To Silvertown Track
FTLComm - Tisdale - Saturday, July 14, 2001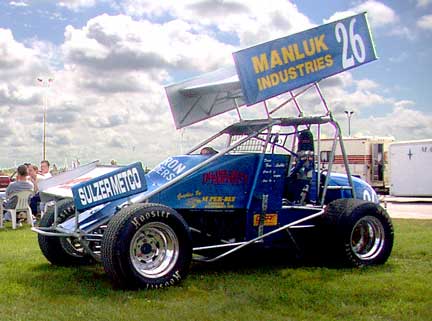 Last season two Sprint cars visited the Silvertown Speedway and captured the imagination of the fans so this year Tisdale is fortunate to have five cars from Edmonton on hand for racing this weekend.

When you realise that a stock car is hardly even close to being stock, the whole machine has to be rebuilt to include a cage that will protect the driver and the rest of the car has to be upgraded to handle impact and have a high level of safety built in just in case there is a crash or a rollover. It really is not a big step more to just go to work and build the whole care from scratch and that is pretty much a sprint car.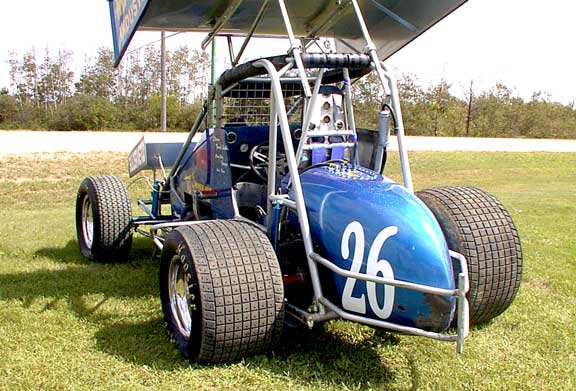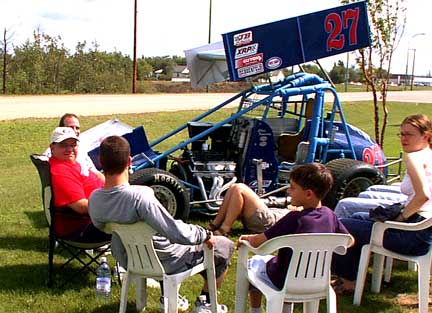 Build to agreed specifications for size and and motor horsepower the Sprint car is an open wheel race car built to handle dirt tracks and provide the drivers with a positive level of safety.

If you look real close at this back view of the car (above) you will notice that the left rear wheel is substantially smaller than the right. This is to make things easier for the vehicles differential as these cars always turn left around the track, they are built to hand this function.

The roof wing is intended to provide a large downward force on the car to give it traction and stability as these machines hit real speed on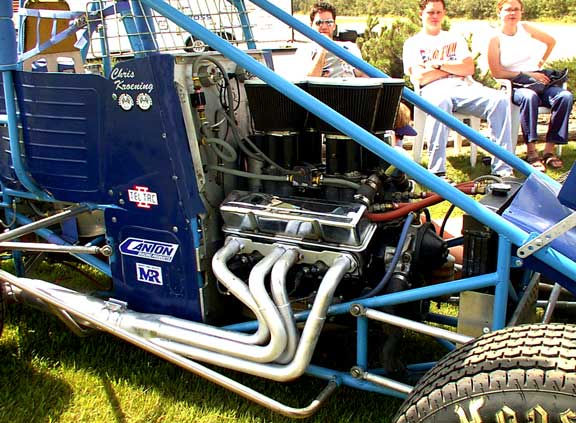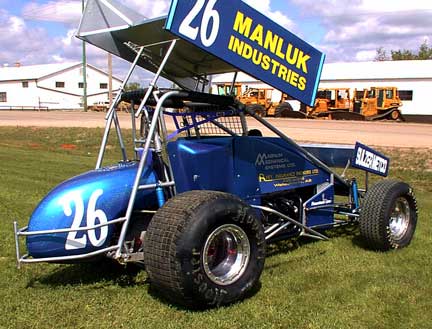 both the straight away and the corners.

This morning these two cars were displayed in front of the Tisdale Mall and the friendly Edmontonians with the cars were on hand to talk about the race and encourage folks to come out and see them race this afternoon.

It will be hot both this afternoon and tomorrow so race fans wear the sunscreen, drink lots of fluids and enjoy the racing. This is a chance of showers late this afternoon and tomorrow.

The absence of rain has made the track pretty hard. This morning the track had been worked up and watered several times in an effort to get the surface up to racing standards but by race time today things will be at their optimum.