Making it to the championship of the Tisdale Motor Speedway 2006 Hobby-class Fred Pask for the second year in a row.
The 88 car has completed its sixth season of crashing around the track and its only a mere thirty-one years old. This is the last year for 88 to be in hobby class but not the last year to be a race car. Next year the 1975 Chevelle with its three speed automatic will be fitted with a four barrel, instead of its hobby-class two barrel carbarator and bigger tires. 88 will hit the track next year as a "street-class" contender.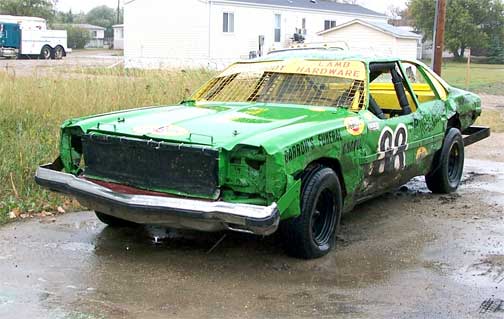 Not only has Fred taken 88 to the championship of the class two years in a row, Fred's wife races 88 and won the powder-puff championship three years running, placing second this year.
The regular season for Tisdale Motor Speedway has wrapped up for this year, but there is still one more race to go, with a benefit race to help raise money for the two couples who were severely injured west of Wakaw in a freak head on collison, where a motorcycle crossed the line and slammed into their vehicle.