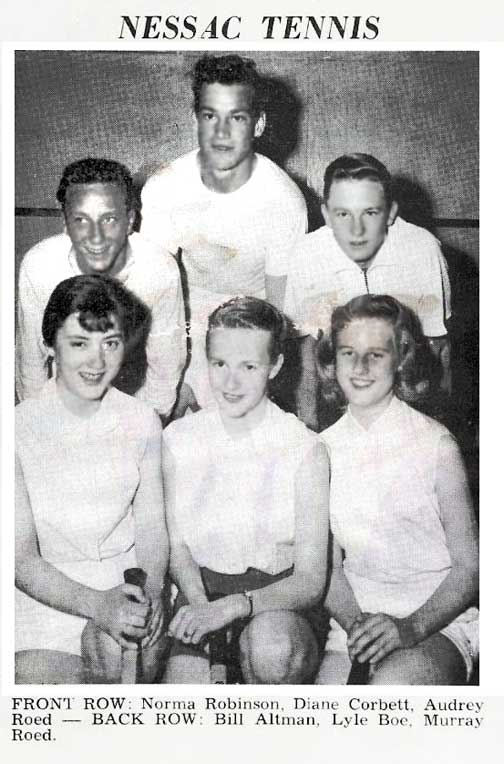 (TUCs Yearbook 1955 - 56
posted Friday, June 22, 2007)
The Tisdale tennis team represented north-eastern Saskatchewan in the playdowns in Saskatoon in October. The boys did very well but the girls were defeated by Saskatoon entrants. Norma Robinson, Diane Corbett and Audrey Roed were the representatives. All three are eligible next year so we wish them the best of luck.
The boys did very well as Murray Roed won the Northern Saskatchewan singles crown by defeating Ted Hall who represented City Park Collegiate. I n the final set, Murray downed Bob Hamilton in straight sets -- 6-3, 6-3.
Lyle Boe and Bill Altman capped doubles honors by defeating the competitors from Kindersley to go into the finals against Ted Hall and Bob Hamilton.
After three exciting sets of tennis Lyle and Bill won 6-3, 4-6, 6-4. Due to their efforts in Saskatoon the boys travelled to Moose Jaw for the Provincial finals. This was the first time in the history of Tisdale High that a team has ever won the right to enter these finals.
Murray was edged in singles competition by Jack Schaff 6-4, 6-4. The boys came very close in the doubles. After losing the first set 7-5 , they evened the score 6-3 in the second set. In the deciding set Tisdale came very close but were defeated 7-5.