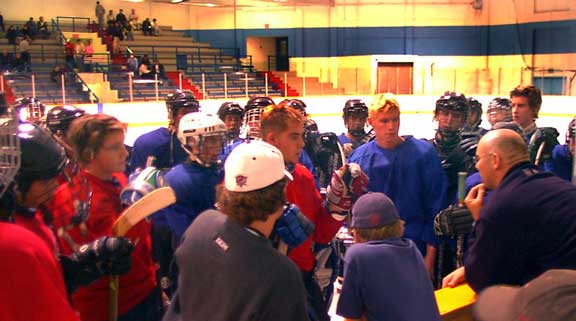 Its not the end of the world
FTLComm - Tisdale - Sunday, September 8, 2002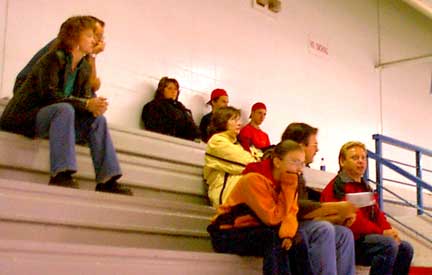 "Its not the end of the world if you don't make the Tisdale Trojans," explains coach Darrell Mann to the two teams of hopeful players at the end of the last of the four team sessions this morning. Darrell explained that if they didn't make this team they were among the best players of their age and can play on their home teams and there are still the various junior camps that many will be trying out for.

The parents who have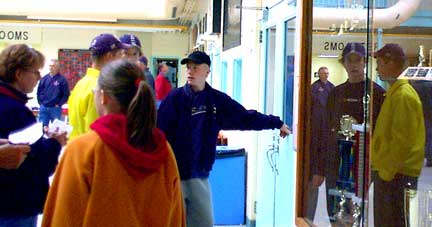 come to Tisdale for the weekend have been, as the father from Abey said this morning, "been biting out nails."

In the lobby the list of players is now down to two teams who face off in the inter-squad game at two this afternoon and from those two teams the 2002 - 2003 team will be selected.

As I watched the last session this morning as break aways, checks and saves came one after another, one could see how very closely matched each player was and how difficult it must be to select from these fine young men, a team that will be champions. Their skill levels are so close and at their age, a week of practice will change every player as they play with the best of the best. The harder to measure attitude and courage personality traits have already been honed as these players have years of play behind them, as they were the stars on their teams and know what it is like to win and to lose.

This afternoon's game comes down to the individual determination to make this particular team. Those chosen to play this afternoon will make the decision if this is where they will play this season. For each player on their bench and those they face on the ice, are about the same ability and the same Saskatchewan background, the ultimate choice is in their own minds and their own intent as they go out on the ice to show the coaches that they want to be a Trojan.