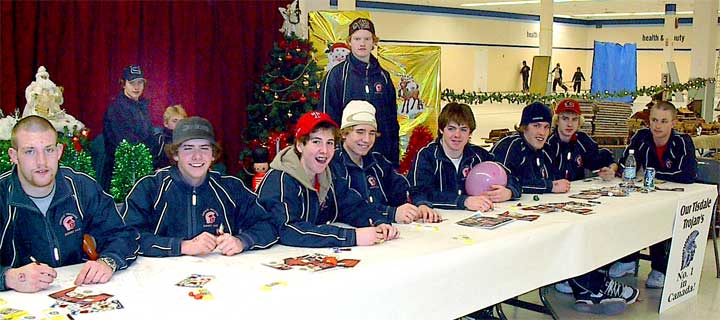 Derek Larson
(27)
, Tommy Brown
(4)
, Ryan Holfeld
(30)
, Torrie Dyck
(12)
, standing Kyle Garagan
(7)
, Carson Schell
(18)
, Daniel Hope
(17)
, Evan Smith
(11
) and Lance Redden
(44
)
Tisdale Trojans part of midnight madness
FTLComm - Tisdale - Friday, November 26, 2004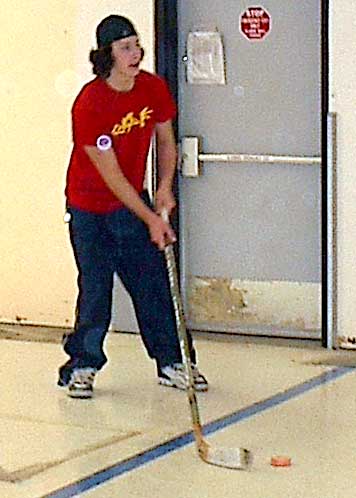 Friday night at the mall and the Tisdale Trojans, Coach, Manager and the full roster were on hand to meet their fans and take some shots.

Though the team has lost only two games this season and evened out two tied games they are ranked fifth in the league as they lag behind the leading teams in the number of games played. The leader is the Saskatoon Contacts who have lost only one game and the second place team has lost six games but played four more games than the Trojans with the same number of wins.

This good showing in the front part of the season has given the team a positive outlook on their play and each game they have confidence and a high level of reliance upon each other as they are not in the portion of the season where they know each of their wingers and fellow players much better. This was really evident Tuesday night when they played even hockey with the Saskatoon Blazers each team scoring a goal in the first part of the first and second period. The Trojan's gamesmenship was there midway through the third to get that winning goal.

Though Robbie Beaudry (22) is out of his cast and skating after having suffered a broken leg pre-season he will be a few weeks more before he can resume play safely. He has been joined on the injury list by Drew Muench (2) who broke his left arm just above the wrist when he went into the board with his arm caught in a bad position. It will five more weeks before that cast
Bradly Gordon (
20
)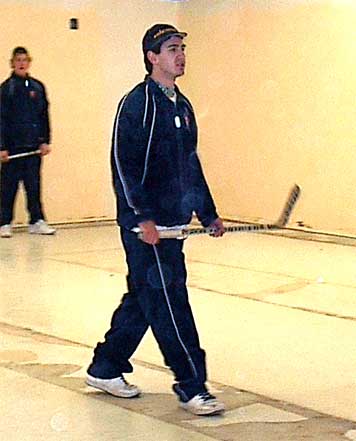 comes off.

David Ritz (35) was in the net Tuesday night and will start Sunday's game against the Swift Current Legionaires. Saturday's goalie will be the league leading goalie Ryan Holfeld (30) who is on top so far this season with nine wins and a single loss. The league's second ranking goalie is Justin Leclerc from the Saskatoon Contacts and he is tied with Cameron Reid of the Saskatoon Blazers.

Thursday night's game with the Beardy's Blackhawks saw Brett Leffler score the first goal in the first period, with a reply by Beardy's. In the second Beardy's went ahead just after the first minute of play then Daniel Hope put in two goals to make the score 3 - 2. In the third Bradly Gordon made it 4 - 2 and with less than a minute to play Adam Schwark of the Blackhawks scored the final goal of the game to make it 4 - 3 for the Trojans.

Three players played Tuesday andThursday night who are not shown on the team roster page, they are Brenden Turner, Riley Marshall and Preston Shupe.

The Trojans and the Swift Current Legionaires on on the ice at 8:00 tomorrow night.
David Ritz (35)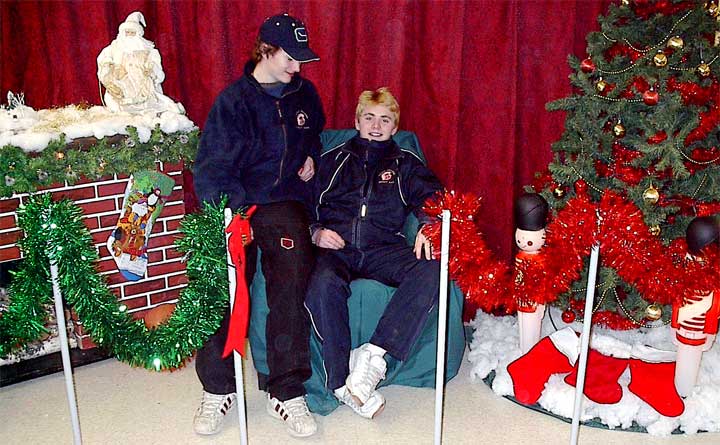 Preston Schupe (16) and Brennan Strang (21)
---
Return to Ensign - Return to Saskatchewan News
This page is a story posted on Ensign and/or Saskatchewan News, both of which are daily web sites offering a variety of material from scenic images, political commentary, information and news. These publications are the work of Faster Than Light Communications . If you would like to comment on this story or you wish to contact the editor of these sites please send us e-mail.
Editor : Timothy W. Shire
Faster Than Light Communication
Box 1776, Tisdale, Saskatchewan, Canada, S0E 1T0
306 873 2004