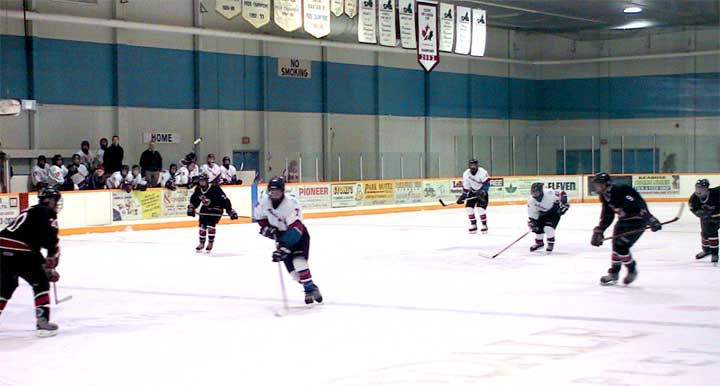 Kyle Caragan leads a smooth charge into the Moose Jaw end late in the thrid period
Trojans lose number seven in a row
FTLComm - Tisdale - Sunday, December 19, 2004
Saturday night's game and the six that preceeded it have not been what the Trojans had in mind when they began the season able to handle almost every team in the league. Though they were close games the team is in a slump and watching them Saturday night it was hard to understand why.


click arrow above left to begin slideshow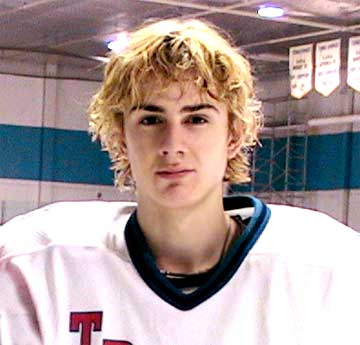 Evan Smith, Trojan Player of the game


Moose Jaw warriors got on the scoreboard first six minutes into the first period and just under four minutes later Derek Larson on a pass from Evan Smith and Brett Leffler evened things up.

The second period saw the Warriors move the score up to three to one with goals early in the second period then at the eleven minute mark Daniel Hope got the puck to Brett Leffler who put it in the net only to have Moose Jaw slap another on in three minutes before the period ended.

I was able to see the third period and I was surprised to see the lopsided score because the Trojans were playing pretty nice hockey. Within seconds of the start of the third period the score went to five to two with Thomas Williams scoring unassisted for the Warriors then half way through Andy Smith score his second goal of the game giving Moose Jaw a four goal lead. What happened next may be the turning point in the season.

Preston Shupe made one of those jaw dropping passes in the neutral zone that freed Evan Smith to come across the blue line facing a confident Warrior defenseman.. Smith dropped the puck from his stick to a skate as he flicked it by the defenseman shifted to his left and picked up the puck on the other side of the surprised player. He shifted to his right moving the goalie with him then flipped the puck up over the goalies right shoulder. Yes!

For that bit of amazing showmanship and cool skill Evan was made the Trojan player of the game.

The Trojans ended the game with a brilliant set of near goals but six to three for Moose Jaw was the final score.
---
Return to Ensign - Return to Saskatchewan News
This page is a story posted on Ensign and/or Saskatchewan News, both of which are daily web sites offering a variety of material from scenic images, political commentary, information and news. These publications are the work of Faster Than Light Communications . If you would like to comment on this story or you wish to contact the editor of these sites please send us e-mail.
Editor : Timothy W. Shire
Faster Than Light Communication
Box 1776, Tisdale, Saskatchewan, Canada, S0E 1T0
306 873 2004