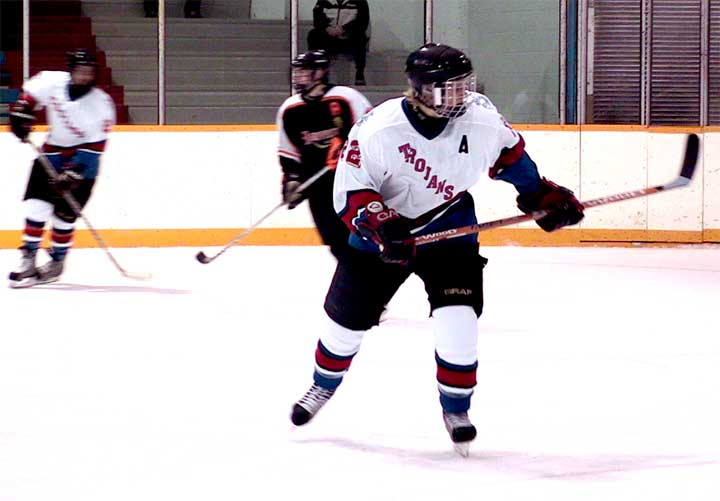 Trojan's home opener
FTLComm - Tisdale - Tuesday, October 5, 2004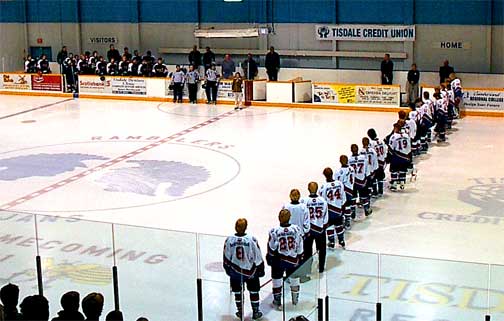 Tisdale's "AAA" midget team for the 2004 - 2005 season looked pretty good to the fans at the RECPlex arena Saturday night. As the league defending champions they have a huge reputation to live up to and with only three veteran players from last year's team its almost like starting all over again. But in midget hockey, every year is starting over again as each player grows and changes so much during the year and over the few months from the end of one season until the beginning of the next.

The players were introduced to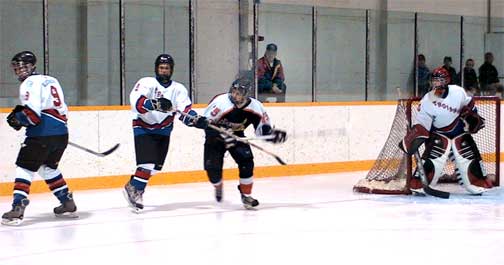 the fans then the veterans unveiled the banner that proclaimed them last year's provincial champions.

Their oponents were the always formidable Yorkton Harvest. Known for their size and phsyical play the Trojans made the first period a bit of a training session for the Harvest as they established puck control and did what Tisdale hockey teams do best and that is skate and pass. The play moved up and down the ice but much of the time it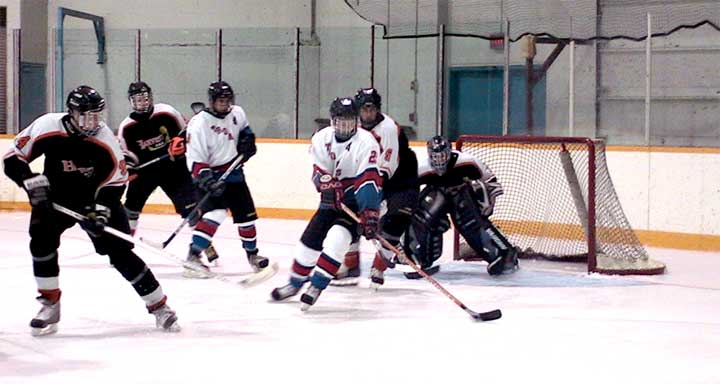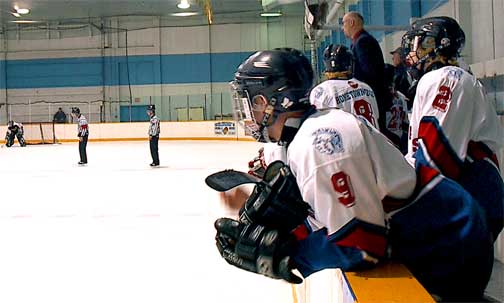 working over the Harvest goalie.

There were a few minor penalties to each team but it was not a significant factor when near the late part of the first period the Trojans took a one nothing lead. They were out shooting the Harvest and the Trojan's goalie, Ryan Holfeld from LeRoy made things look pretty easy. Holfeld is no stranger to Tisdale as he was the outstanding goalie for Naciam's "AA" Bantam team last year and had a more than respectable 2.40 goals against average, winning thirty-two games and losing twelve with five ties.

The Trojans kept the momentum and ended the game with a comfortable 6 - 2 win. Their next home game is this Thursday night when they face the Beardy's Blackhawks at 8:00

You will need QuickTime to see the set of images below that give you some feel for the nature of this year's team. If the sequence does not play click here to download a more recent version of QuickTime.
Return to Ensign - Return to Saskatchewan News
This page is a story posted on Ensign and/or Saskatchewan News, both of which are daily web sites offering a variety of material from scenic images, political commentary, information and news. These publications are the work of Faster Than Light Communications . If you would like to comment on this story or you wish to contact the editor of these sites please send us e-mail.
Editor : Timothy W. Shire
Faster Than Light Communication
Box 1776, Tisdale, Saskatchewan, Canada, S0E 1T0
306 873 2004