Today high school closed for the holidays and the Trojans all headed for home for a weekend with their parents. On boxing day its on the bus as the team heads to Calgary to the Mac Tournament. The team really enjoyed the play at last year's event and are all looking forward to this year's play.
At the start of Saturday night's game Ms. Markwart was on the ice and presented watches to Justin Favreau player of the month for November and to Jordan Miller, player of the month of December.
Miller leads the scoring statistics for the Trojans so far in the season with only six goals but has been able to provide a staggering 21 assists for a total of 27 points.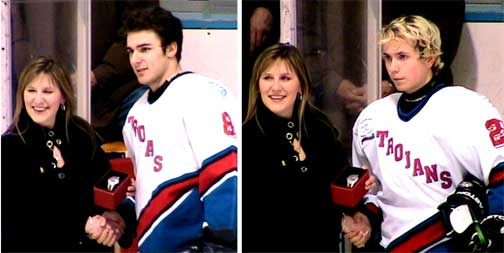 Justin Favreau is in his second year with the team and was really hot in front of the net at the end of last season and this year he has scored only two goals but as a result of his work he has assisted sixteen times giving him a total of eighteen points.
In midget hockey its the assists that make a championship team. You will find those teams with the hot scoring player who wows the crowds with his ability often does so while his team drags along and unless there are players putting the puck on his stick getting the assists the team is destine to finish out of the play offs. But looking at the statistics for the Trojans this year and you will see the profile of a championship team. Lots of assits and lots of players with similar numbers of goals. Hockey is the ultimate team sport and the Trojans who will be playing in the Regional play-offs this year are looking like a championship team.