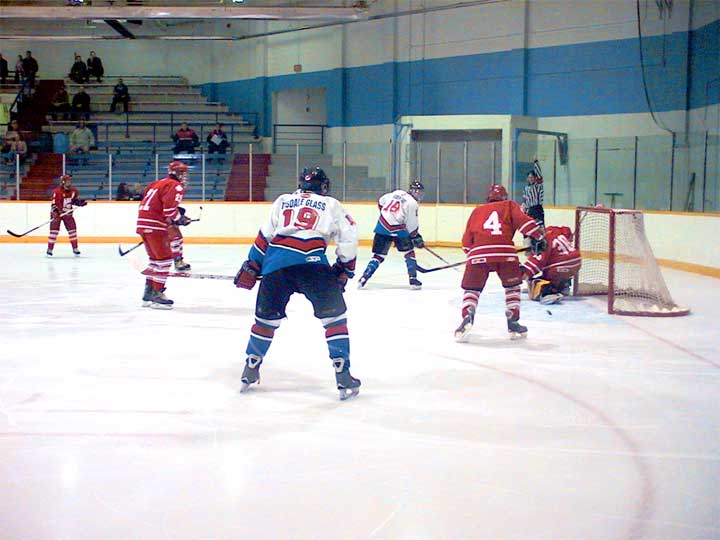 Trojans lose season opener to Notre Dame Hounds 5 - 6
FTLComm - Tisdale - Sunday, September 23, 2007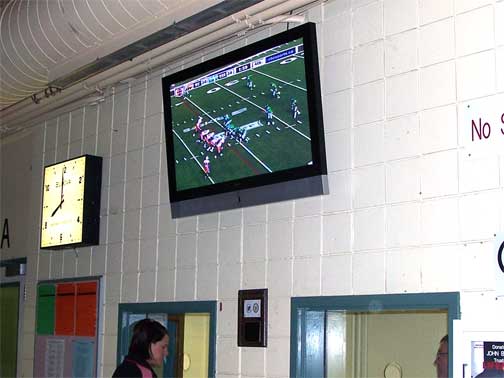 It was in the dying minutes of the BC/Rider game that the Tisdale Trojans lauched the first home game of the season. There was a good sized crowd on hand as eash member of the team was introduced in the darkness and bathed in a spotlight.
The Trojans had experienced a somewhat lackluster season last year having missed the playoffs as they went through the season taking far to many penalties while their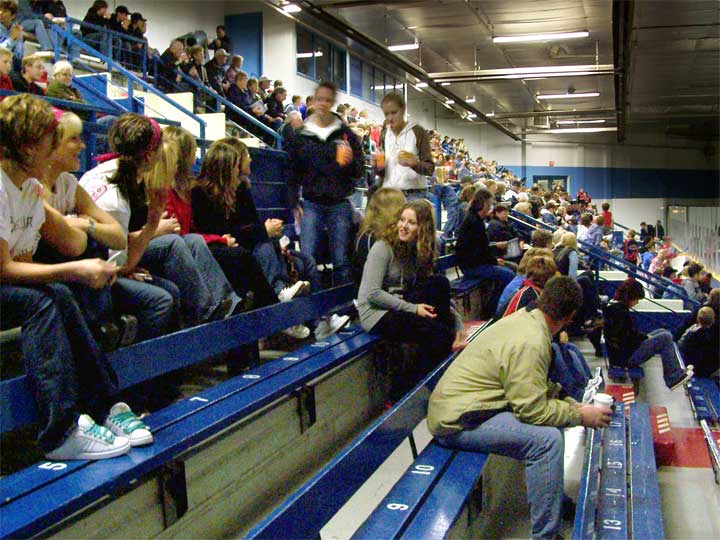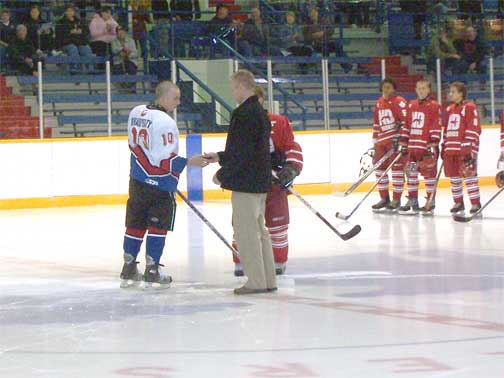 opponents concentrated on scoring goals. This might have contributed to a lot of empty seats Saturday night.
Former head coach Randy Kerr dropped the ceramonial puck for the official faceoff and the 2007 - 2008 season was underway.
In the opening few minutes of the first period the Hounds simply dominated play as they maintained outstanding puck control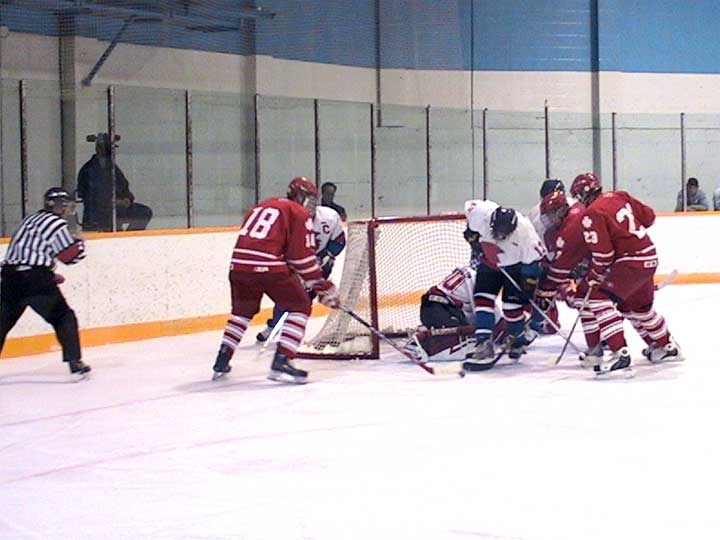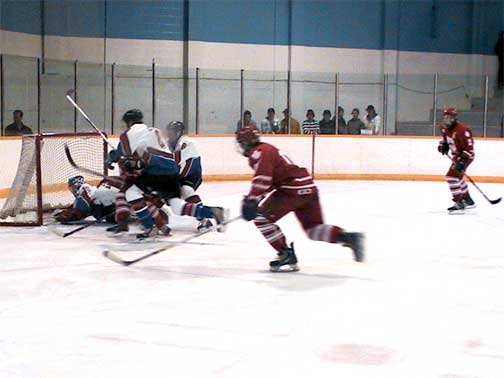 and got the game's first goal. But it wasn't long until the Hounds got themselves a penalty and the Trojans had an opportunity to regain some control of the game. However, they still were able only able to get a single shot on net and I was figuring that it was going to be a long suffering night for Tisdale fans.
I was wrong a minute later the Trojans put together a master play. A master play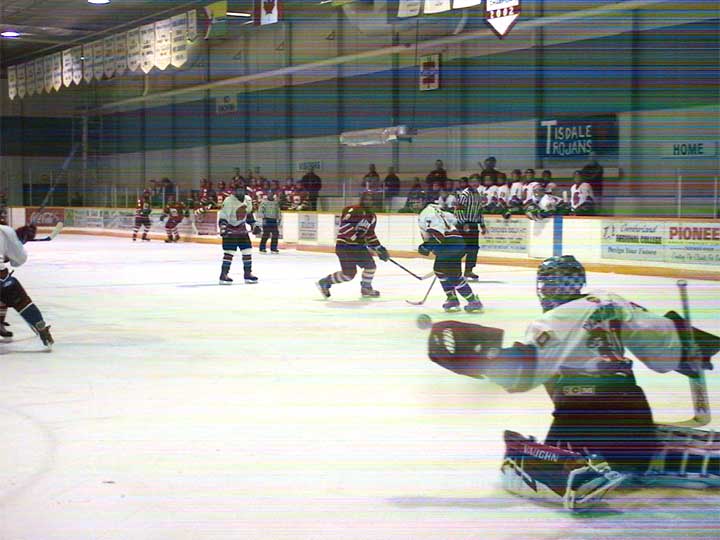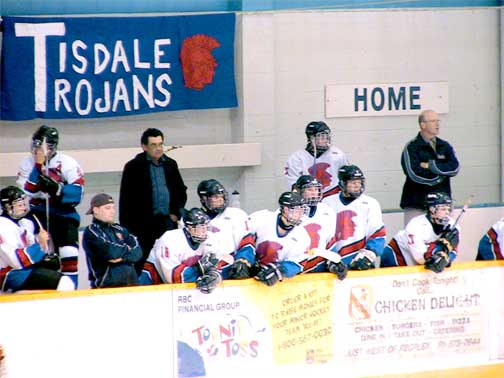 is quite simply a formula play whereby a team gets its players into a scoring position and their opponents are helpless to defend themselves. Based on the Trojans' play up until then I was utterly surprised to see this high level of execution. The first two shots missed but the third found the mark and it was a tied game. As a long time hockey photographer a person just can see a goal coming and in this case I did not even want to put it in the camera I wanted instead to savour the moment and watch a master play unfold.
The period ended with the Hounds scoring two more goals but that one brilliant moment was enough for me to realise that the 2007 - 2008 season has outstanding potential. The new Tisdale Trojan team of this season is extraordinarily disciplined. I saw no stupid penalties and the new coaching staff maintained excellent self control, that quiet confidence that suggest that the team has a plan and with a little fine tuning we will see scoring play after scoring play.
Tisdale has aways been known with all of its teams as a hard skating hockey with good passing. This year's team has those two traditional elements but has added smart play making and Tisdale fans can expect nothing but improvement from their Trojans of this year. The game ended with the Hounds winning by a single point.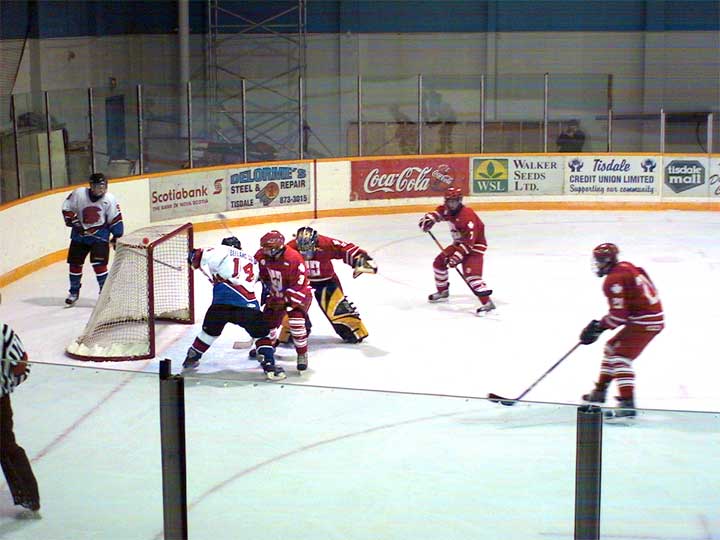 ---
Return to Ensign
This page is a story posted on Ensign, a daily web site offering a variety of material from scenic images, political commentary, information and news. This publication is the work of Faster Than Light Communications . If you would like to comment on this story or you wish to contact the editor of these sites please send us email.
Editor : Timothy W. Shire
Faster Than Light Communication
Box 1776, Tisdale, Saskatchewan, Canada, S0E 1T0
306 873 2004