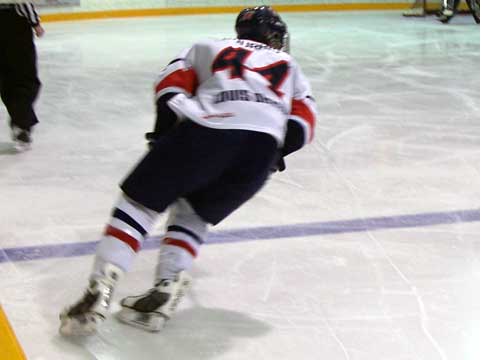 Austin Bourhis is from Kipling and has been one of the Trojan's top players this year being awarded the Three Star award for November and now being selected as player of the month for January. The award was present at last nights game.
The Trojans played close but well executed game last night ending the first period with a one - one tie. The next two periods were the same end to end clean fast skating hockey of the first period and at the end of regulation play they were tied 2 - 2 and went into overtime with the Trojans coming out on top with a 3 - 2 win.
This was the last game of the regular season as the league now has one full week to wrap up before the play-offs begin in March. On November 26th a game at Beardy's was cancelled due to weather conditions and that one last game for the Trojans still has to be arranged.
The Trojans with last night's win are now in fourth place with only that one game in hand and being only one point behind third place Beardy's, two points back of the Contacts and 16 points behind the league leading Notre Dame Hounds. They have a record of 24 wins, 14 losses, 4 ties and one point for a loss in overtime.
We will keep you posted as to when that game with Beardy's will be played and when we have some idea about the play-offs.