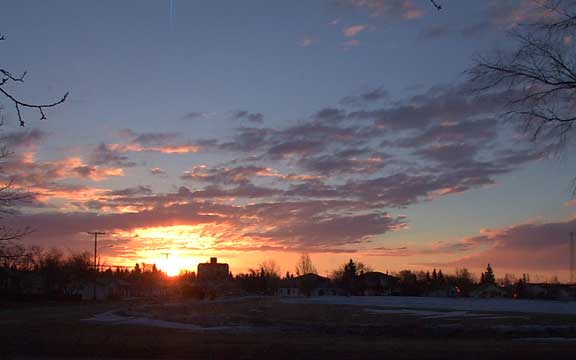 FTLComm - Tisdale - March 20, 2001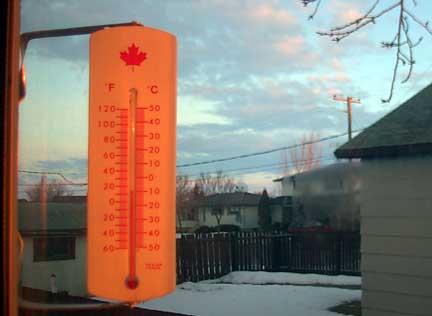 A brilliant dawn as the picture above was taken about an hour before official spring and as the red morning light illuminated the thermometer it is clear that spring is beginning with a bit of a crust. The wind had roared almost all night and this morning there were torn shingles on the neighbours front yard.

But, spring it is, despite the wet snow that feel last night in la Ronge (today's bottom of the page picture) we are moving onward. Gradually winter's snow is vanishing replaced by spring's ice.

After breakfast I decided to set out and find some evidence of spring. Perhaps a robin or some tangible sign to share with you. The
pictures on this page are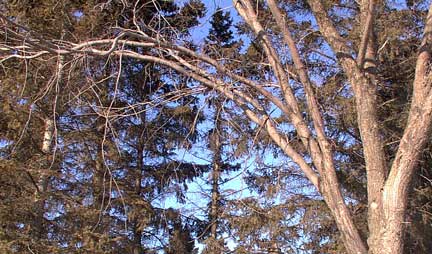 shown in sequence in my
little walk around the block to find you some spring.

These trees whole I consider my closest allies in my struggle against the wind and all adversity show me by example their determination to deliver shade and protection from all threats. Down the block there are many trees with remnants of last years leaves still glinting to their chilled branches. The evergreens are stoic about things they just stand there weaving a bit from last nights onslaught of remorseless wind.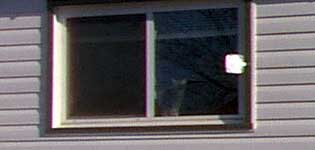 Just around the corner there is a witness carefully
observing all that transpires in view. Wanting to enjoy the morning sunlight this creature has positioned itself so that the shadow from the window thermometer offers a neatly placed shield and thus affords the unseemliness of having to squint. I so often wonder just what those guys are thinking as they keep tabs on the neighbourhood, carefully watching and recording every movement. My guess is that they like to think of themselves as much larger and are considering all moving life forms as possible snacks or in my case a full course meal.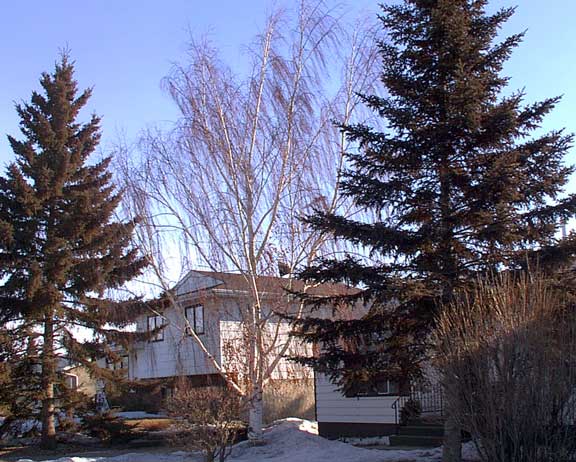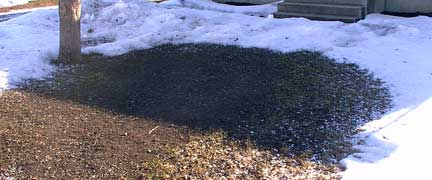 Ah haw! A sign of spring. In late fall this neighbour had a contractor come in and tear up the front lawn then replant it with new grass. As the snow recedes from the smooth surface the new blades of grass are emerging and they are most certainly green. With -10ºC this morning there is evidence of a tenacious growth emerging one that will soon need to be treated with a lawn mower.


You have consider that humans are amazing beings planting grass knowing full well that it will demand cutting.

Here on the South side of another house is a lush green growth defiant of the nearby snow and low temperatures. Just as the lawn below is carrying just a hint of green.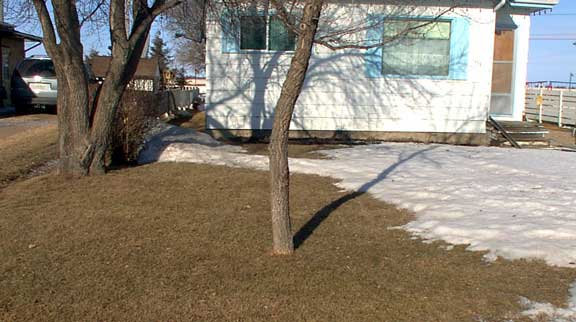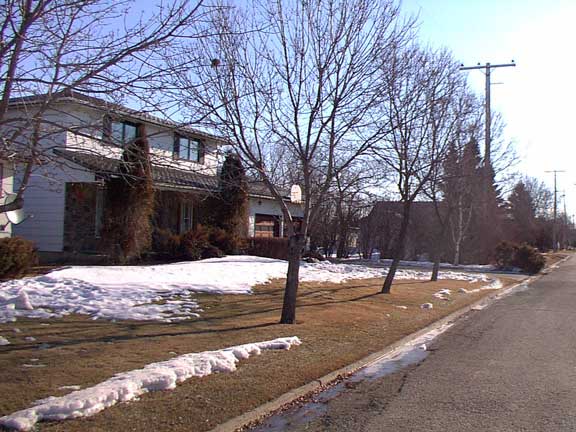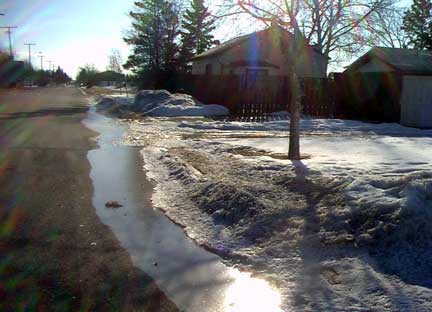 The sunny side of the street is quick to lose its snow while on the other side of the same street this morning's puddles are frozen to the core. Slick and solid waiting for the day's sun to transform itself into a moving microstream.

But spring is here, winter is behind us for another year we have survived and undaunted we will walk off the fill that makes our "T" shirts tight and slows each step. Our pale skin will once more faintly darken and we will pour water on grass so we can cut the growth and there will be mosquitoes. But there will also be the sound of children playing in back yards, birds singing and the wistful odour of back yard barbecues