Splashes of Spring In la Ronge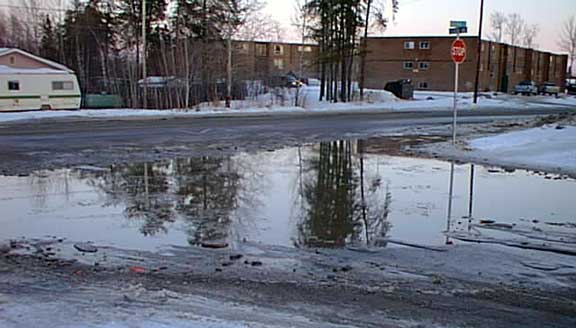 FTLComm - la Ronge - March 12, 2001
Images by: Judy Shire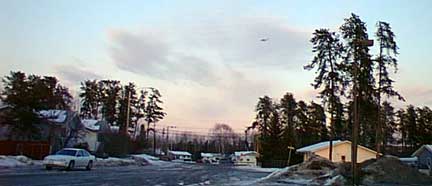 The winter of 2000 - 2001 has been dramatically different than any other year on record. Most climatologists have explained the conditions that have been seen as a result of unusual temperatures in the currents of the Pacific Ocean. The result has been that throughout the winter the band along the 60th parallel and descending Eastward along the North side of the tree line has been unusually
warm. Yukon communities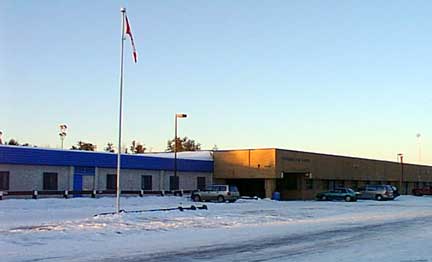 of Whitehorse, Teslin and
Watson Lake have never had such a warm winter in recorded history.

These same affects have been noticed here in Saskatchewan where we have seen day after day higher temperature readings in Waloston Lake, La Loche and La Ronge than in Saskatoon, Regina and Yorkton. Primarily the change in climate has been caused by alterations in the path of the upper atmosphere jet stream that has seen a steady flow of warmer Pacific air over the North whle the usual conditions seen in the North have shifted well to the South.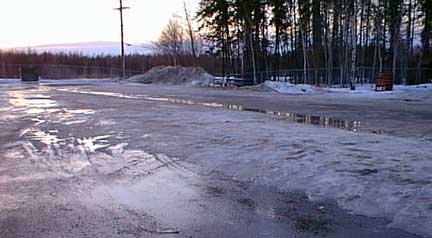 Though is is an extremely
simplified explanation it does shed some light on the very high levels of percipitation received in the Canadian maritimes this year.

These pictures were taken last Thursday and the top picture on the page shows the huge puddles developed by late afternoon. The picture of the passing aircraft and that of Churchill high school show things as they were that morning with a general snow cover then we see these two pictures at the bottom of the page which shows the same area early evening as the area freezes over from the day's thaw.