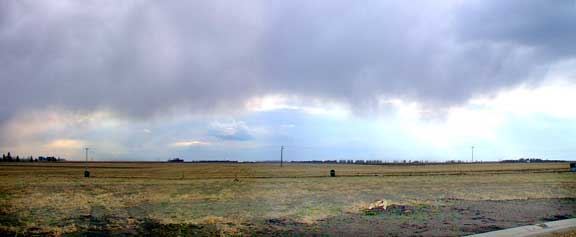 Tough Attempt to Spring
FTLComm - Tisdale - Sunday, May 26, 2002

Saturday was one of those days that just seemed neither fit for human, beast or machine. The Northwest wind swept over the prairie above thrity knots and the sky clouded over keeping the temperature around 11º or 12º all afternoon. The slo-pitch people valiantly tried to battle the wind and "play ball" and the opening day of stock car racing at the Silvertown speedway was cold and dirty.

The picture above (three images combined) shows the countryside to the West of town, later the horizon was obscured with blowing dust. This image shows what appears to be promising rain clouds and "virga" rain falling from the clouds and evaporating prior to making ground contact. There were some know raindrops to have landed but not enough to form even a wet spot on your face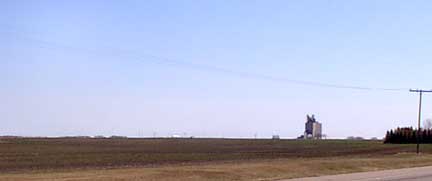 or car window just a place for the dirt to stick.

This morning the sun is shining brightly and there just East of town is a glimmer of hope. This early seeded field is starting to show a green ting as little blades of wheat wave in the dry morning wind.


The picture above is another tough sign of hope as you might be able to notice a white dust on the leafless trees as the pussy willows are beginning to show along the banks of the drying up Doghide. Here the little hillside is green.

This image really tells about tough attempts, with everything so dry notice on this lawn and boulevard Northeast of the Elementary school those spots of yellow are dandelions.