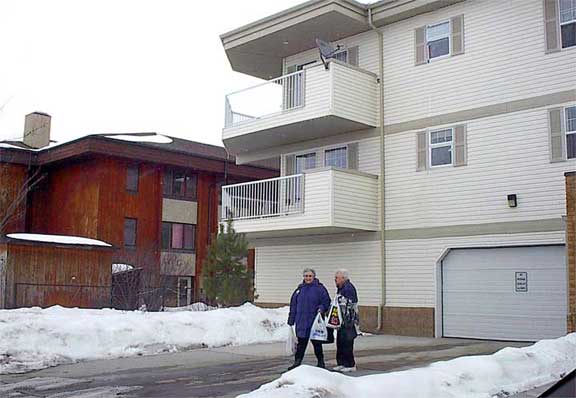 Out and about
FTLComm - Tisdale - Tuesday, March 16, 2004
Though the skies over Tisdale were some confusing cloud formations today it was warm, so much so that fairly significant puddles were forming on some street corners. While it snowed off and on a few hours north of us today we only had the symptoms of percipitation.
Warmer weather and what seems to have been a long winter had a tonic effect on most people today as there seemed to be a little extra energy, a kind of spring in the step as people got outside.
I had driven north of town and south to look at the sky and the countryside but clearly the place to be was in the centre of town. I stopped in front of the theatre a few minutes after three and looked at the traffic backed up and flowing through the two blocks that constitutes Tisdale's central business district. After only a minute or two I realised that this was a scene that I needed to share, but it was a complex series of vehicle movements, pedestrians and an air of anticipation.
I began clicking off pictures and did about fifty images. Now that is a problem because what I was seeing was not a scene as such but a series of events that were dovetailed together. So instead of presenting you with a set of individual pictures I stuffed thirty-seven of them together into a slide show that takes about a minute and a quarter to repeat itself. These pictures are seen in sequence so you can see some vehicles go by then come back again as the town truck was hauling snow and the school buses went and picked up their loads at the elementary school. Watch carefully because there are stories in these pictures that took less than five minutes to take.
click on the arrow to have Shania Twain accompany the images
Return to Ensign - Return to Saskatchewan News
This page is a story posted on Ensign and/or Saskatchewan News, both of which are daily web sites offering a variety of material from scenic images, political commentary, information and news. These publications are the work of Faster Than Light Communications . If you would like to comment on this story or you wish to contact the editor of these sites please send us email.
Editor : Timothy W. Shire
Faster Than Light Communication
Box 1776, Tisdale, Saskatchewan, Canada, S0E 1T0
306 873 2004