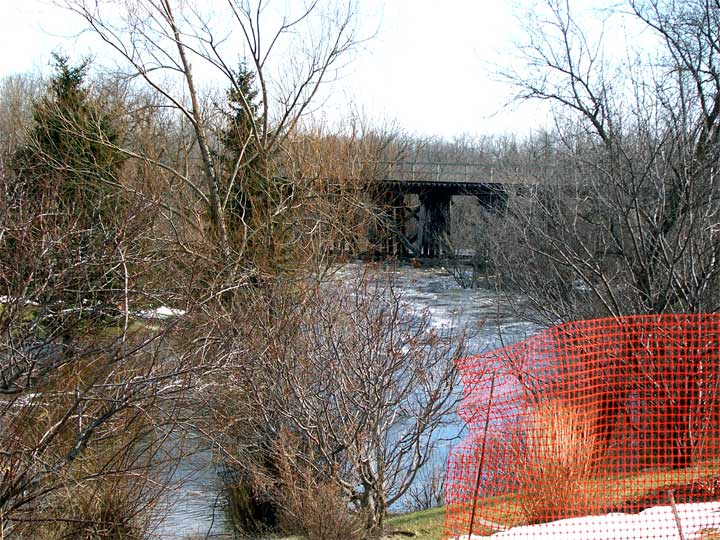 Doghide in full flood
FTLComm - Tisdale - Monday, April 14, 2008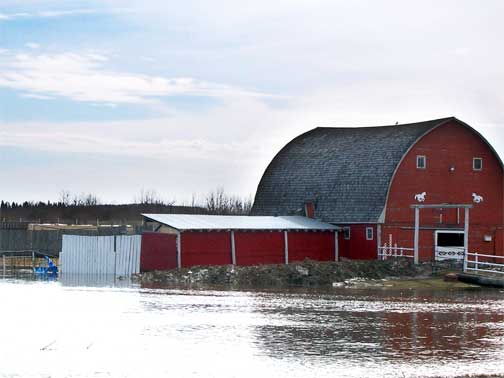 Things warmed up and with the warmth the snow and ice reverted to water and hence once more the little Doghide river has spread itself out in its usual flood configuration.
Just comparing this flood to others it looks a bit higher than it has been in some of the more recent floods with it spread out along the highway just East of town covering the little pasture on the south side of the road and filling the whole area on the north side of the highway.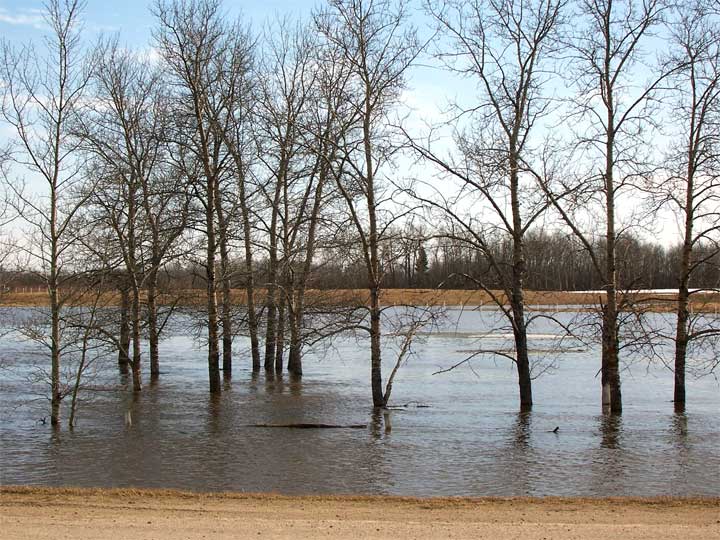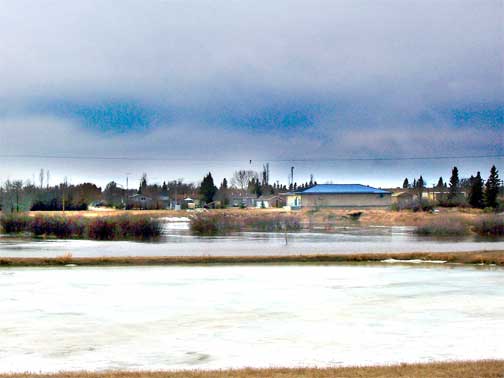 This view (right) shows the ice of the borrow pit near the Petro Canada bulk plant looking west and as you can see the whole area is under water.
The golf course gets punished with every flood and this one is no exception as you can see the extent of the road by the golf course (below) blocked off as the road has vanished under the water.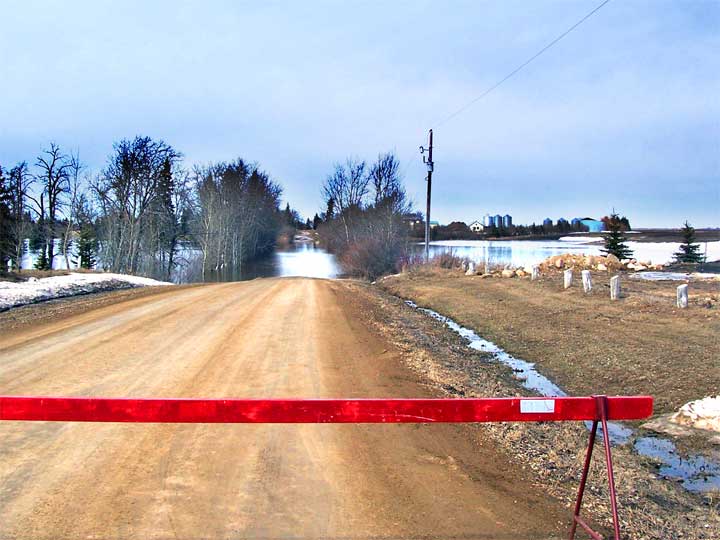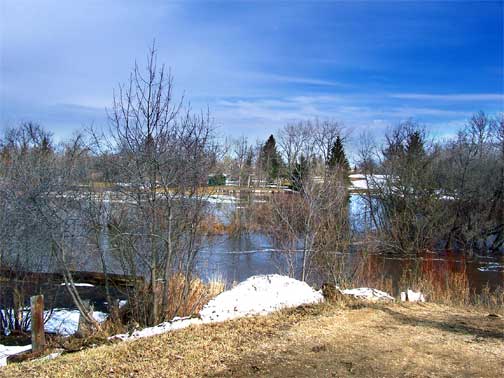 This view of the golf course (right) is on the west side of it just north of the railway bridge. The current seemed fairly tame but the volume of water seemed pretty extensive as it appears higher than some other floods.
In the image below we see St. Theresa park now much of it under water as this portion of the park is right beside the course of the river.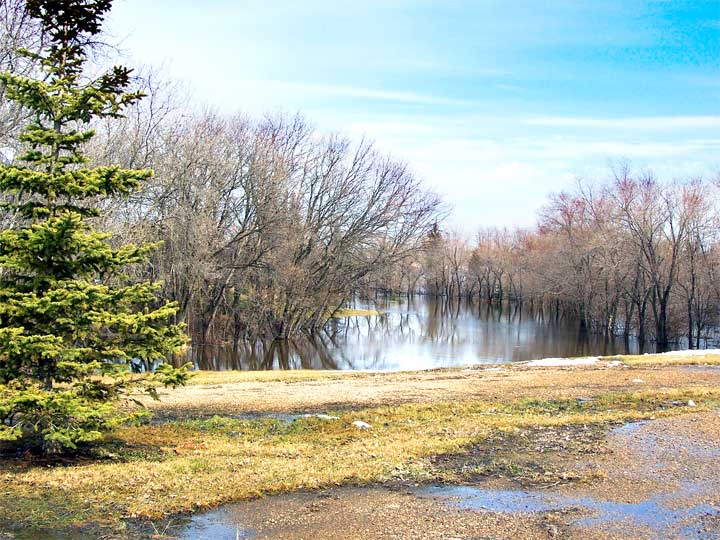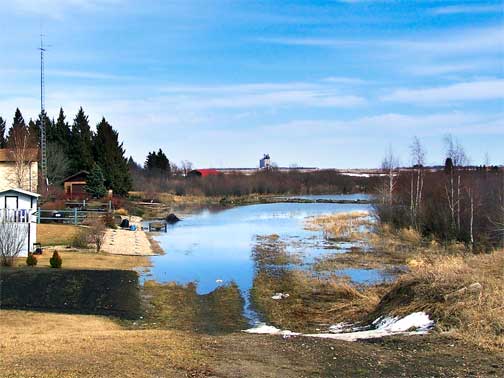 It is clear in these images that the snow has disappeared very quickly and only a few areas can one see snow or snow piles from snow clearing during the winter.
The picture below shows the flooded river area just as it approaches the old highway bridge and at this point the flow of water seemed fairly strong.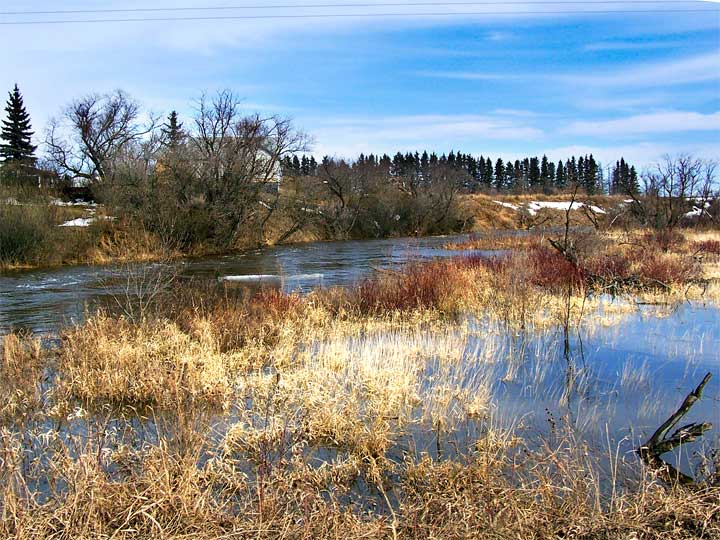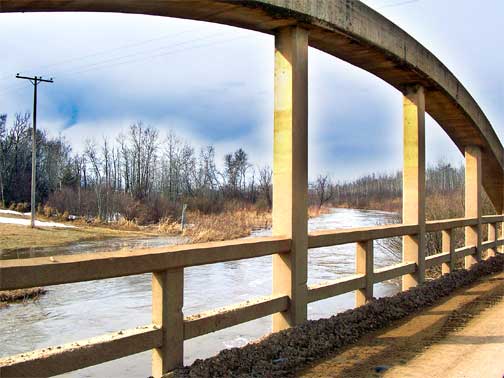 There have been other years when the snow and ice have been higher at the old bridge but as you can see in the image below the area along highway #35 north of town is still handling the flow as this is most likely close to the crest as water from the south of town makes its way north to join the Carrot River and then on to the Saskatchewan.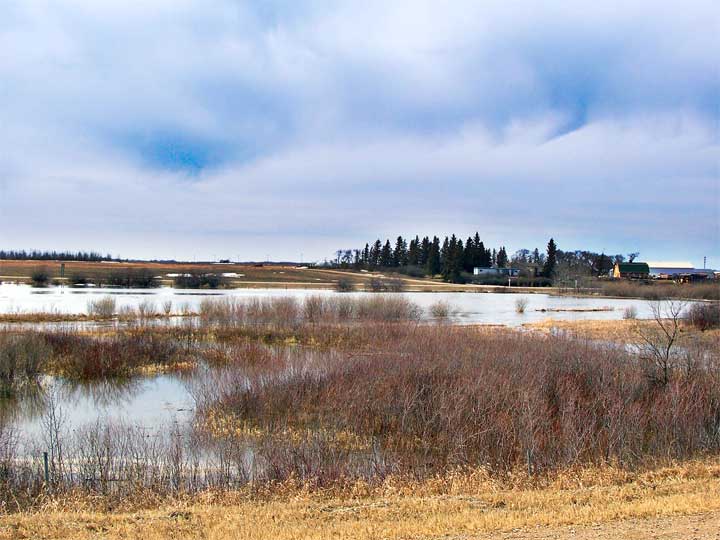 ---
Return to Ensign
This page is a story posted on Ensign, a daily web site offering a variety of material from scenic images, political commentary, information and news. This publication is the work of Faster Than Light Communications . If you would like to comment on this story or you wish to contact the editor of these sites please send us email.
Editor : Timothy W. Shire
Faster Than Light Communication
Box 1776, Tisdale, Saskatchewan, Canada, S0E 1T0
306 873 2004