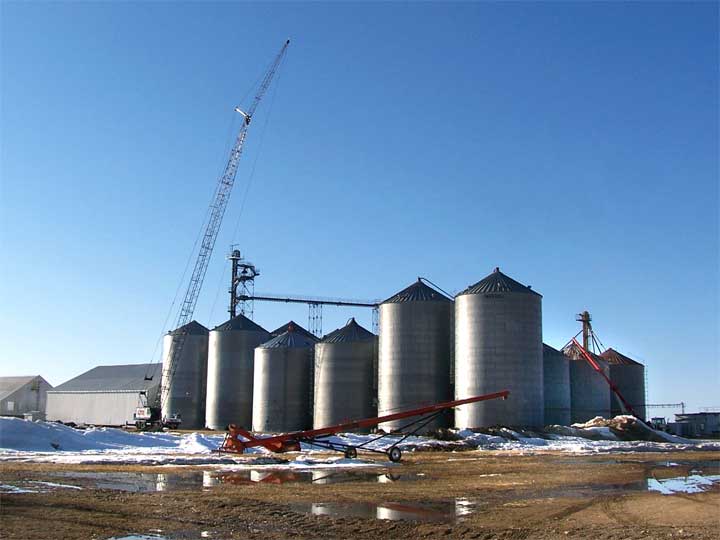 Taking advantage of spring
FTLComm - Tisdale - Wednesday, April 8, 2009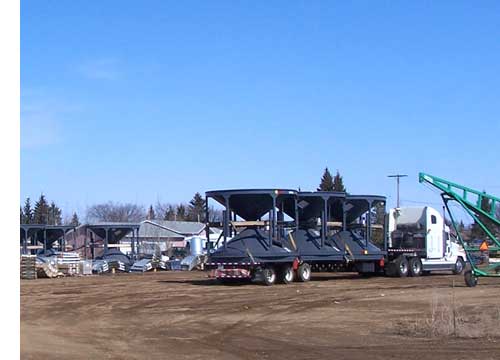 Today I noticed a crane at work at the Parrish & Heimbecker Terminal (above) as they proceed with the work to convert the former dehydration plant into a full fledged grain terminal.
Each spring Beeland Co-op fills up their grain bin yard with parts as they are doing now. These pictures (right & below) were taken yesterday and show a delivery of cones for the new bins to be assembled upon. It will not be long before a crew will be at work putting the bins together and filling up the yard with new bins for sale.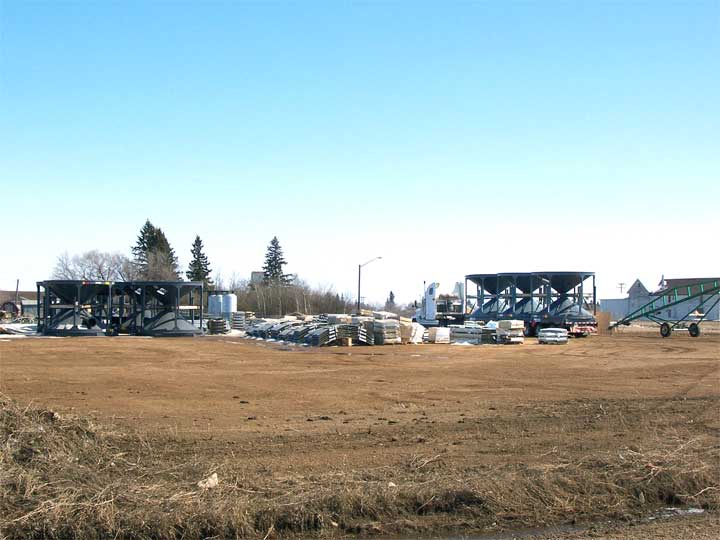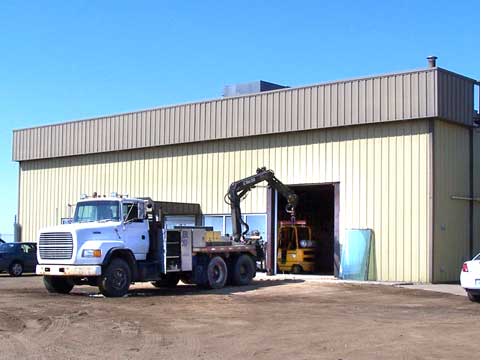 John Bob Farm Equipment have taken over the building that was formerly used by Shamrock Auto-recycling and by John Bob themselves before that. They have moved the fence around to provide themselves with better display area and security area for farm equipment and yesterday when this picture (left) was taken we can see they have installed a large doorway into what used to be the front display portion of the building.
Across the street (below) a roofing crew are busy shingling the newly constructed duplex.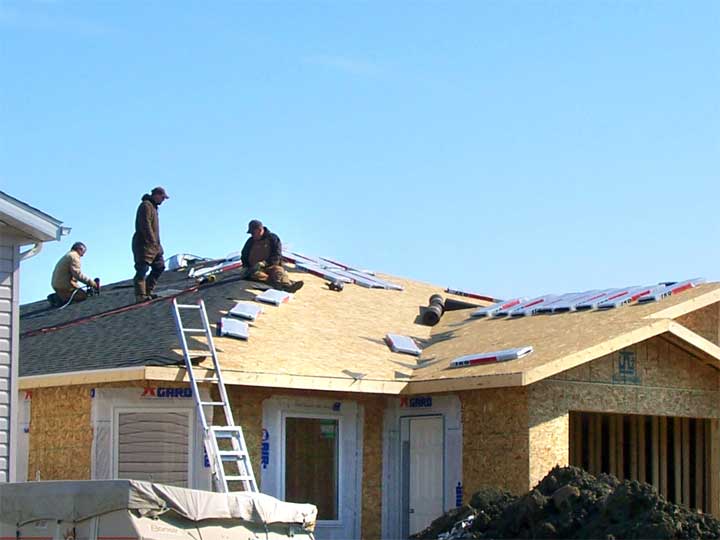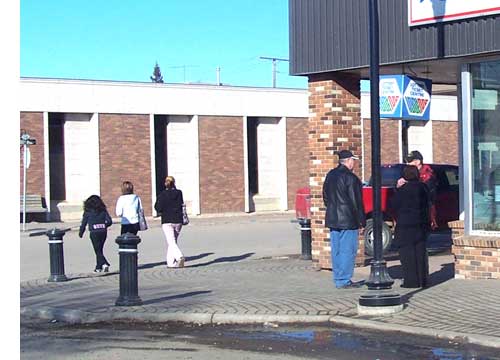 I stopped for coffee at the 7/11 this afternoon and one of the clerks was just thrilled to be sitting outside without having to were a heavy winter jacket. Her pleasure at being able to enjoy the warmer weather is shared by just about everyone.
This was the scene late this afternoon (right and below) in downtown Tisdale as folks took a moment to spend with each other with the snow and ice gone from the street and the temperature this afternoon about 8ºC although by this time at 5:30 it was already slipping down to 4ºC.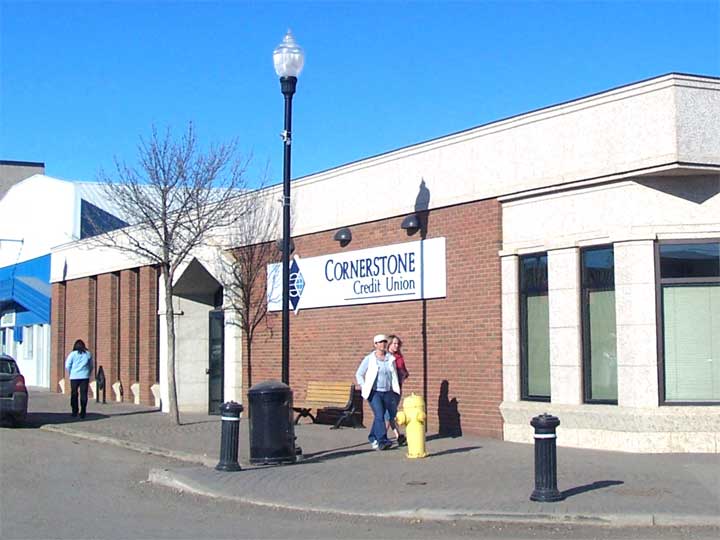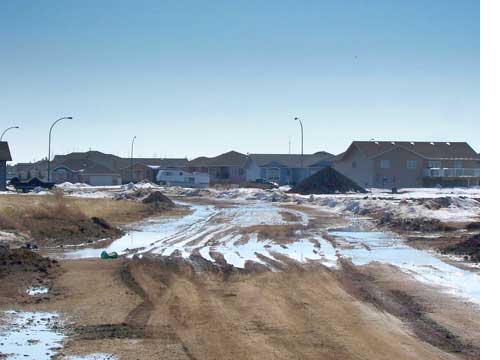 This picture (left) is the north end of Newmarket where the water really has no where to go and things are pretty wet up in that part of town. The new road that was installed in the fall seems to be acting like a damn and is holding back a lot of water on its west and south side.
I have been keeping a close watch on the Doghide making a little pilgrimmage over that way each day to see how it is doing but right now it is just laying therre. Water is trickling into the river but the river it not flowing at all.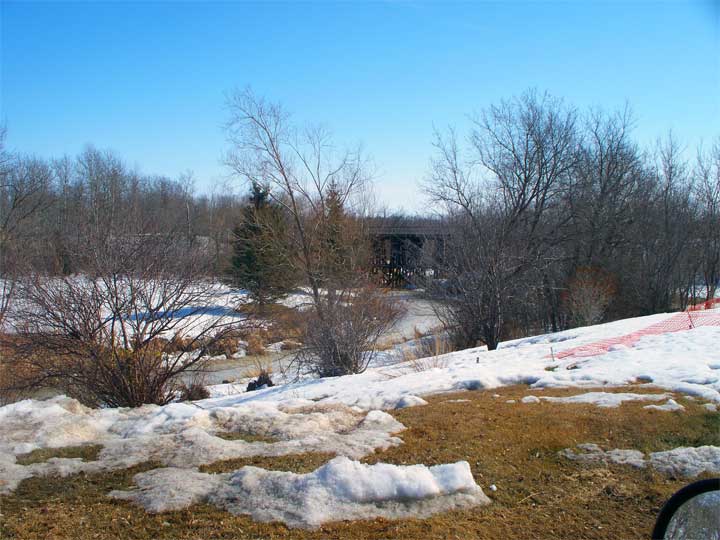 I was surprised to notice that the Canada geese population is not expanding. I had expected this small band of trouble makers to grow steadily since their arrive at this time last week but alas they are the only ones to have made it back. (Just in case you were wondering the term for one aircraft to ram another in combat is "taran" a Polish word.)
The scene below shows a glimpse of the Doghide valley near the north end of town and in this scene from yesterday there is still a fair amount of snow.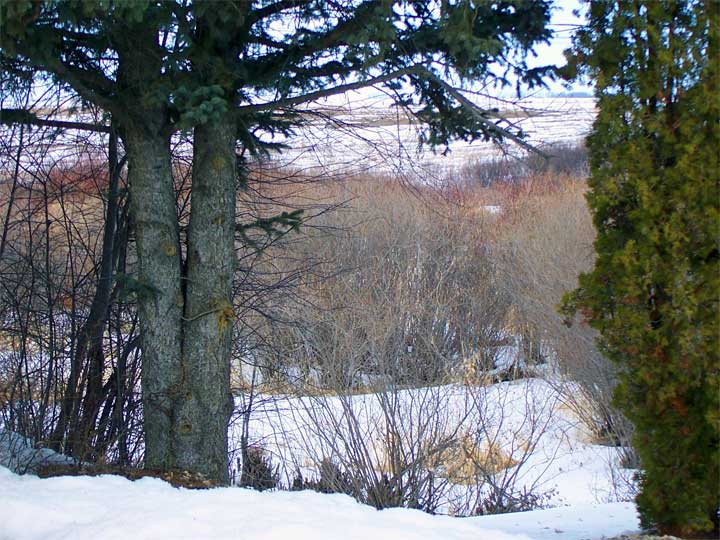 ---
Return to Ensign
This page is a story posted on Ensign, a daily web site offering a variety of material from scenic images, political commentary, information and news. This publication is the work of Faster Than Light Communications . If you would like to comment on this story or you wish to contact the editor of these sites please send us email.
Editor : Timothy W. Shire
Faster Than Light Communication
Box 1776, Tisdale, Saskatchewan, Canada, S0E 1T0
306 873 2004