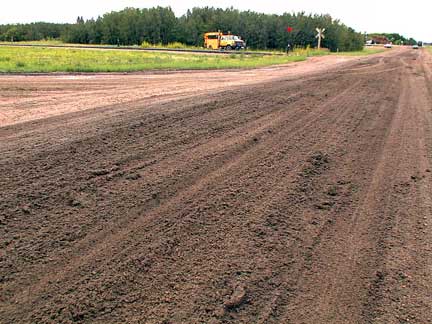 On the West side of Tisdale Heritage Road is one of the busiest thoroughfares as it carries a lot of industrial traffic as well as affords a quick way to the hospital from the West.

Most of the streets in and around Tisdale are paved but this one is simply a gravel road. Last night's rain was not particularily heavy but this morning Heritage Road was in pretty tough shape. The rain had soaked into the surface of the road and at a distance some areas are starting to turn black as the top soil mixed into the base material of the road is starting to emerge and turn to the familiar stuff we all call "mud"

Part of the problem for this road is simply the level of and size of the traffic it has to withstand. Town equipment has a tough time keeping the washboard controlled as the road is constantly being beat up with heavy trucks but this wet summer has put extra strain on the limited surface of the roadway. It would appear that this road way is going to require a major upgrade of some kind, either improving its surface, widening and rebuilding it or both.