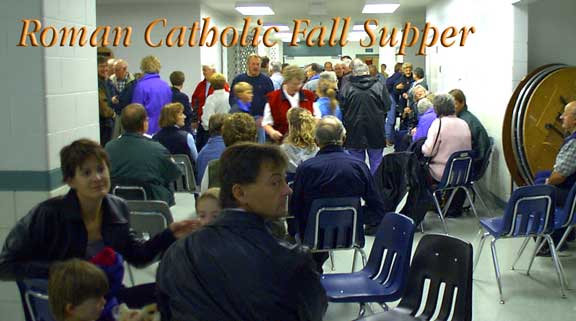 FTLComm - Tisdale - Monday, October 29, 2001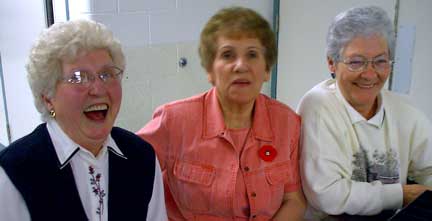 Sunday night and the Tisdale Roman Catholic church was holding their annual fall supper in the RecPlex. Hundreds of people were on hand and had been arriving long before the supper began at 4:30.

I arrived at 5:30 and it was about half an hour until several tables were called by Andy Renaud who was the doorman for the occasion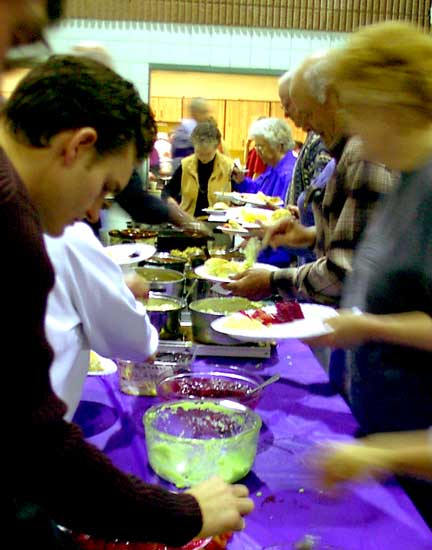 As usual the cheerful ladies at the ticket table welcomed everyone and I was able to get a picture of them.

This meal was a turkey dinner with a row of super jelly salads and a pot of cabbage rolls. Though the food was outstanding the main attraction for a meal like this one are the people you meet and the stimulating conversations as you savour the food and absorb the warm atmosphere.

Ward Arnold who grew up in Prince Albert and now lives in Saskatoon is seen in this picture on the left. He was here in Tisdale this evening to enjoy this meal with friends and relatives.

Conversations of twin moose calves, nasty beaver, coyotes mixed with potatoes and cranberry sauce. One farmer mentioned that they had sighted a number of wolves about fourteen miles to the South East as they apparently are finding plenty to eat as well enjoying their own fall suppers.

Invariably talk worked around to the drought. The well in the farm yard is dry and they have to haul drinking water. Some farmers have been pumping dug outs mile after mile across country.

The highlight for me was the table below. Now I can't dive in and sample several pieces of pie in fact one piece is to much for my sugar balance so for me it was a time of meditation and savouring the decision making process. The lady on my left is doing exactly the same thing as she stood for many minutes weighing the options and carefully considering just which of pie would join her at her seat at the table. For me I settled for a nice piece of cake, without the wonderful crust I would walk most of it off on the way home.