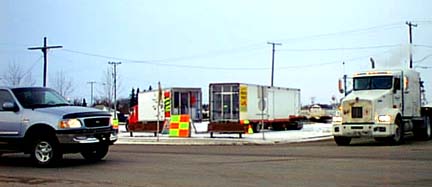 With almost fifteen knots of East wind and temperatures of -21 it is not a day for standing around basking in the sun. There is a hustle that comes from low temperatures and a strong desire to stay out of the nasty wind.

The scene on the right and below shows two trucks from Kelowna who have set up shop. This is a typical operation that we see on street corners all through the West and completely leaves me gasping for some sense of reality. The portable shop keepers sell fruit, vegitables and in this case one of the trucks has frozen fish and chicken. Essentially these are "truck farmers" and street corner merchants. Clearly, they would not be on the street hawking their products if they were not making ends meet. The prices they charge are only slightly below what it cost for the same products at Extra Foods or at the Coop but of course they have lower overhead with only their truck to keep up and even though they will pay much less for their produce then the stores do it still seems like an odd way to market food.

I did not want to get out of the comfort of the warmed up van to talk to these folks but in the past I have and I have come away empty handed. As it turns out I can't buy from these people because I want an apple to eat or a pear, they will not sell those to me, they have "minimum" amounts they will sell, a bag or a box but since I walk up only with a stomach that would like a bit of fruit they will not sell me any product.

Fruit stands in BC are usually run by local growers who sell the inferior and lower grade products from their fruit stands and send the best stuff off to the wholesalers. I do not know if this is the case with these merchants but would really like to hear some one explain to me why this marketing process is taking place and what are other people's experiences with these fly by night retailers.