Farm Machinery In an Off Year

FTLComm - Tisdale - March 31, 2000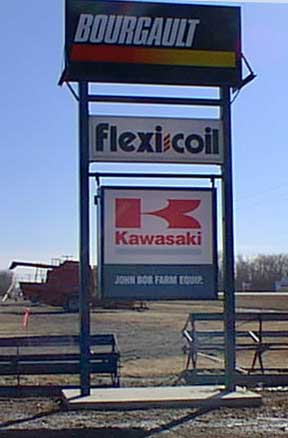 As was mentioned earlier in Ensign there have been some obvious cut backs in farm machinery sales for this year with low expectation from the sale of undervalued crops, farmers simple can not afford to buy new equipment, or even used for that matter. So it is interesting to note that John Bob Farm Equipment have backed up their farm equipment with these recreational vehicles. Though legitimate farm work horses these machines can also be used for hunting and just tearing around for fun. Though there are a couple of dealerships in Melfort and one or two in Nipawin that deal in these vehicles John Bob Farm Equipment are the first company in Tisdale to offer these rugged vehicles for sale.

Unlike snow mobiles which are notorious for costly upkeep and the need for constant repair work. These four wheel off road vehicles are adapted from durable motorcycle engineering and will run for endless hours on little fuel and their design is such that they really need serious abuse to suffer any damage.

Right next to John Bob Farm Equipment is the lot being used by Bruce Schpansky Auctions as he and his workers are getting set for a large farm machinery auction in two weeks time. Heavy equipment is beginning to make its way onto the lot where it is cleaned up and displayed for the coming attraction This is the third year of operation for this business and it has steadily grown in popularity and is a real threat and rival to the established Melfort auction business run by the Hodgins family.

With the amount of equipment already on hand it would seem that this auction coming up on April 16 will be a very big one and there is no doubt that farmers looking for replacement and back up equipment will be checking out this lot of these next two weeks to see what is coming in for sale and they will be planning to be ready to "make a bid" for machinery that they might be able to put to work.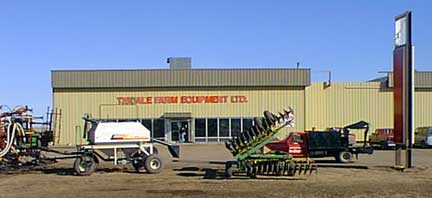 It is interesting to note that these auction sales take place right beside John Bob Farm Equipment and they actual report that the sales are good for business as so many people are attracted to the sales that it increases the exposure and equipment for sale on the John Bob Lot. John Bob Equipment still have an excellent inventory but every day it is getting smaller as a new tractor left the yard this morning as farmers are itching to get out in those fields and make some serious dust.