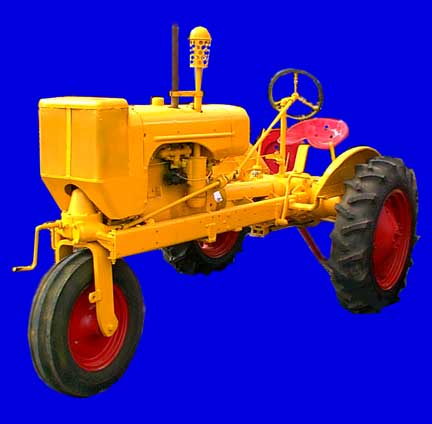 Tractor Heaven

FTLComm - Sylvania
September 22, 2000

Though I had driven by KenBob Salvage countless times last weekend during the harvest treshing demonstration was the first time I had stopped so yesterday as I was going by I thought I should stop in and let the folks know about the pictures on Ensign.

As I looked around for signs of life I was caught up in the quality of the tractor collection. Like this old Allison-Chalmers chore tractor that looks better then when it would have emerged from its factory.

Each machine is restored and in full working condition with the proper paint job and decals that give it the look that shows not only the pride taken in the workmanship but also pays respect to the machines that were so much a part of developing this part of Canada.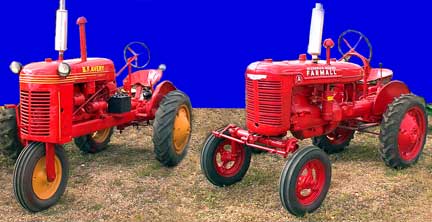 The list Avery on the left is a unique and very uncommon chore tractor of the 1940s and early fifties and beside it a very small version of a Farmall the name adopted by McCormick Deering which would later become International and then International Harvester.

Developed for small farms and out on the prairies used as utility tractors these type of tractors were very common and today thanks to this collection people can see what once was to be found in almost every farm yard. A small tractor that could pull a stone boat, handle a mower, could be used to harrow and rake. Tough little workers that did their duty in their small way.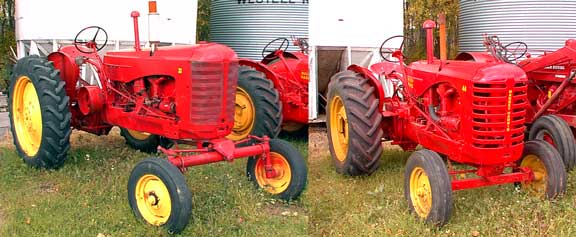 The pare of Massey Harris tractors shown above were part of the mass marketed tractors that for a while in the 50s were doing the majority of the farm work in this country. The "33" on the left was considered a medium size tractor and could be seen doing all of the work on small quarter section farms. My Uncle Fred Harvey had one of these and was proud of the work it could do and the simplicity of operation. I did not like the 33 as a kid because of its lack of fenders meant it was dangerous to ride along and it was a dirty ride. The "44" on the right was a much more common machine and in its day a respectable good sized tractor. This one has small fenders but most had full round fenders that a kid could unsafely sit on.

At age five a foolish uncle of mine put me on a 44 put it in third gear and instructed me to drive it to the yard while he followed behind in a model "T" truck. It was a marvellous adventure for me and it wasn't until I lined it up with the garage door that I realised that how to stop it had been left out of my driver training. Instead of crashing into the closed garage door I went through the pig pen fence lodging the tractor's front tires in the trough. My parents were not amused and Uncle Garnet who own the new Massey was pretty upset about the custom work I had done on the front cowling.

Massey Harris rounded out its line of tractors with a larger bodied, bigger wheeled machine the 44 special which I also have an equally foolish story, but I'll save that for another day, and the "55" which was a larger horse powered machine on the 44 special body but proved to be less durable and not nearly as popular as the 44.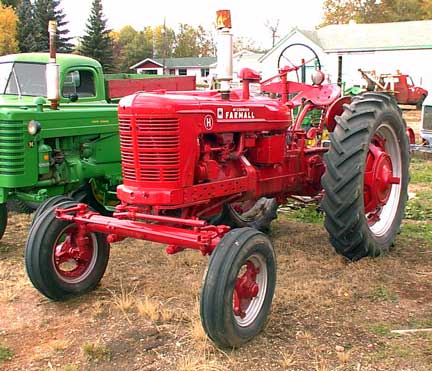 Uncle Karl had one of these, a Farmall "H" which was smaller than the much more popular "M" but he used it for everything from seeding to every other task around their mixed farm. The Farmall series tractors were extremely durable without the clanging knocking noise of the Massey and they had a wide range of equipment that could be stuck on them including a Ford-like three point hitch.

All of the tractors we have seen so far are mounted on rubber. For those of you not around to know, rubber was in really short supply during World War II with Japan having ceased Indochina cutting off supplies to the Allies. Any available rubber was used for aircraft and military vehicle tires. Farm machinery during and for some years after the war came from the factory mounted on steel wheels.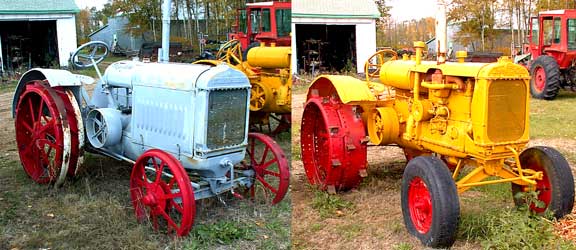 This McCormick Deering and Allison-Chalmers field tractors of the 40s are seen as they would have been in used during their lifetime. Notice that a farmer has added strapping over the steel lugs on the McCormick Deering, this would permit the use of the machine on a road where the normal steel lugs made a mess.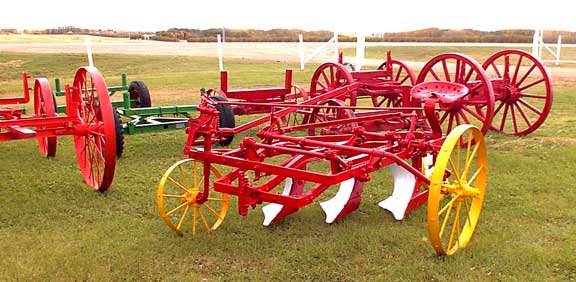 You have seen only a few examples from this huge collection of farm tractors and extraordinarily well restored other types of farm implements Another day we will take a look at some other special examples that can be found in this extensive collection.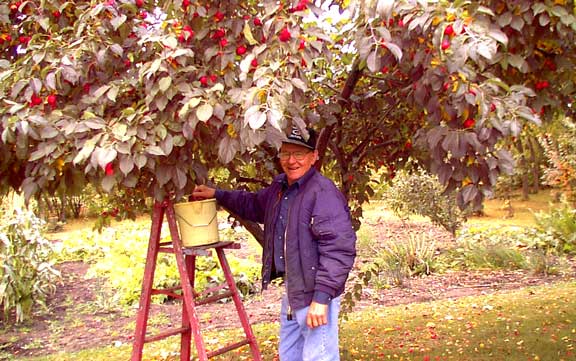 As we discussed the extremely successful demonstration of last Saturday I complimented the collector on the extremely high quality of each machine. I noted the three outstanding John Deere he had used in the demonstration and then he pointed back into the woods were there is a large building "There are more than forty of them in there."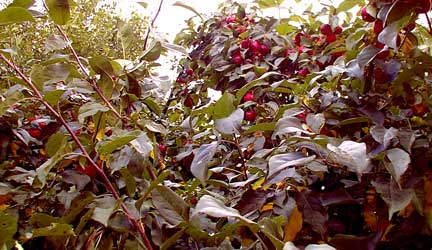 But this chilly Thursday was a time to be picking crab apples and we will save the exploration of the collection and the shed full of John Deere for another day.

One of the things that he explained to me about the farm machinery of the past was that resources played such an important role in what farmers used and had to make do with. Farmers in the forties and fifties were in the same financial situation they are today where the return from their work was meager and they had to learn to be resourceful and get along with whatever machinery they had or could adapt to their needs.