Our 1996 Ford Windstar van has relatively low mileage for his twelve year age and it is well maintained and serviced regularly. In December of 2003 on yet another trip to Winnipeg we hit a spare tire that had fallen off another vehicle and serious damage was done to the vehicle including the destruction of the transmission. A shop in Melfort rebuilt the transmission and when it was acting up accessed the problem to a confused electronic and exhaust system complication.
The transmission would occasionally set off a warning light which promptly went out when the vehicle was restarted and the smoothness of the shifting would definitely degrade when the vehicle was hot.
But we were confident that if it was due to fail the folks who serviced the vehicle would detect the possible problem.
We had gone to Winnipeg July 25th and been rolling around the city then had set off for home late Monday morning, August 4th. After a nice lunch at Mr. Ribs in Neepawa we were westbound on the heavily traveledYellowhead near Strathclair when the tachometer zoomed upward and there was no visibility behind us as the transmissions oil hit the exhaust system and established a smoke screen. The vehicle came to a halt beside the Pioneer terminal at a siding called Glossop.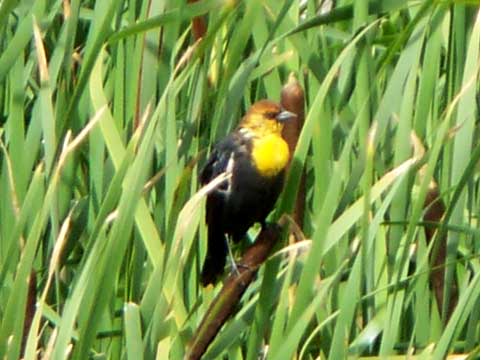 Fortunately we have an auto club to rely upon and in just around two hours a tow truck from Neepawa arrived and we made our way west once more leaving the birds of the roadside swamp behind as the truck took us to Langenburg where the van is now resting quietly at a Langenburg Motors awaiting a rebuilt transmission to be installed.
Even though we take precautions to see that our vehicles are roadworthy and can handle the rigours of prolonged travel it is the nature of machinery to sometimes break down. The tow truck driver related that of his last few tourist he had to recover all had been setting out on their holiday and we instead were on our way home. He was one of the few operations on the road from Yorkton to Portage working on a holiday weekend and he noted that fewer and fewer guys are on call as rising operational costs are making the business difficult to make a living.
Though I had done what was reasonable to maintain the vehicle it had failed, so what is the lesson to be learned from the adventure? That little tow trip ride for the van would have cost us $450 had we not had auto club coverage so its a good idea if you plan to go anywhere to have the possibility of mechanical failure or slipping into the ditch covered. Road side coverage of this type is available from a number of companies and if you shop around you will find a plan that fits you needs and is relatively inexpensive.
But getting ourselves from Langenburg to Tisdale is quite another matter. For this we relied upon family. Our sons were tied up so I called on my brother for help and he made it to Langenburg almost an hour before we did. He took us to Kelliher where we borrowed his pickup to finish off the days journey. This brings me to lesson number two. The ability to have family to back you up when you have a problem is beyond any auto club as the flexibility and resourcefulness of a family covers every need you might possibly have.
The third lesson in this adventure is that driving an older vehicle though sensible and frugal is a gamble. Even though the van is in excellent shape the cost of this repair will exceed its value by a good deal and that is bad business. Were it to be involved in an accident afterward insurance would simply not replace a vehicle no matter what you had spent on it to maintain it or repair it mechanically.