Sitting with a group of men my age it was clear that the intolerance that was so much a part of political discussion during the Bush era has softened. North Dakota and Minnesota folks are generally Republicans but it was clear from their discussion that they were profoundly influenced about what they thing of the world by the news media they subscribe to. Fox News really colours their view of the universe and remains as anti-free speech and racially confined as would have been noticed five years ago.
However, I discovered that my small "L" liberal views were not that foreign to them and there was a lot of common ground. They like I view the bail out of the banks and car companies with disdain. They are also just as sceptical about the chances of a positive outcome in either Iraq or Afghanistan and are equally critical of the likes of CNN and its goofy fixation with celebrities and sensationalism. In general the folks I talked to were fairly aware of world situations and almost totally uninformed about their neighbours to the north.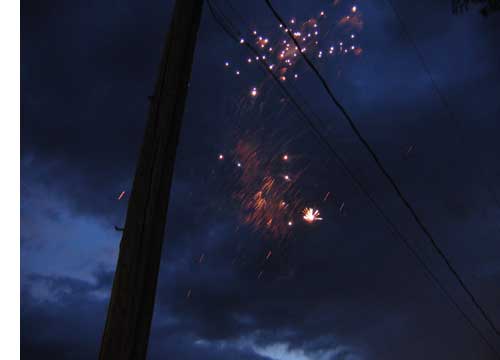 Railways still play a very vital role in the transport of commodities in North Dakota and the trains are mostly CP and CN. That was a surprise to me. Endless numbers of "B" train grain tankers streaming up and down their highways is not the same kind of thing we have here in Saskatchewan and Manitoba.
We did a little shopping in Grand Forks but spent a lot more time driving around looking at the community. Two things really stand out. Streets, highways, rural roads are all many times better than what is to be found in Saskatchewan and Manitoba. It looks like the people, even though they are sparsely populated are looking after the infrastructure and not letting things get run down as we see in Saskatchewan and Manitoba, towns, cities and rural areas.
The second thing that we noticed was that bilingualism is growing in the retail outlets in North Dakota. In many stores the important things are labelled in English and in Spanish. At the retail level in terms of signage Spanish is more prevalent in the marketplace of United States than is French in officially bilingual Canada.
As for the issues that matter to us as Canadians the border is thicker. For the first time crossing the border with passports in hand and being interviewed about what we were doing in the States we had our luggage searched and compared to other southbound vehicles we saw at the border crossing the quick look through our bags was superficial compared to the thorough going over other cars and vans were getting. Below is the line up to get back into Canada on the Pembina highway directly south of Winnipeg, it took a while.
The other Canadian issue that was clearly visible in North Dakota is the whole matter of "buy American" there is no question restaurants and stores know this is an issue with their customers and advertise accordingly. Even 'Canadian bacon' is made in the USA.