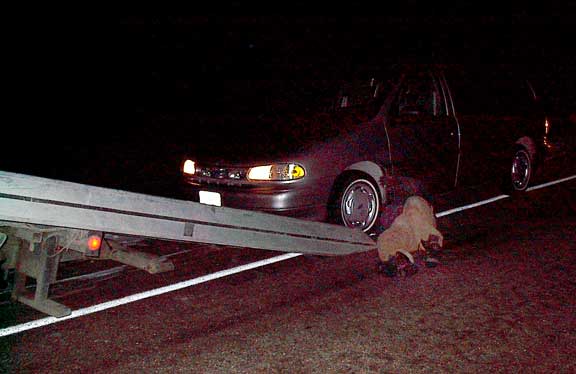 Van versus wheel and tire
FTLComm - Rose Valley - Tuesday, December 23, 2003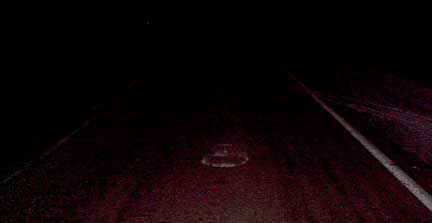 We has worked our way through fog between Minnedosa and Russell and by Yorkton the skies were clear and the wind a bit sharp. Its a long eight hours from Winnipeg to Tisdale and our trip was nearly over as we slipped away from Rose Valley at 12:32AM this morning and only 2.3 K North of the little community we spotted a dark spot on the highway ahead. There was no time to avoid that spot when we discovered to our dismay that a rimmed tire was lying in the middle of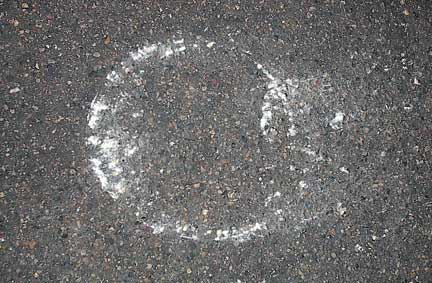 the North bound lane. We had the Windstar full of people and luggage and there was no avoiding the obstacle.

The white mark you see in the pavement is not snow but the impact image of fractured stones as we scrapped over the rim.

Though we had no warning lights we slowed to a stop and were instantly enveloped in oil smoke, as we backed up the nasty dribble of red oil could be seen on the snow covered edge of the high. It was clear to us at that point the vehicle's transmission was already history and we attempted to make our way closer to home.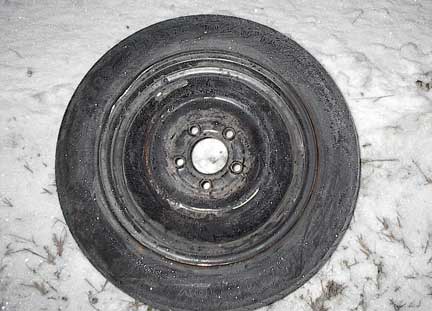 Vern Randell of Randell Automotive (873 5566) \was alerted to our problem and set up to meet us and when we could no longer make headway we were perhaps as close as eight miles South of Tisdale.

There was no hope of continuing so Vern took most of into Tisdale and then Allan's Towing (873 4641) arrived. I had gone back with the car and we transferred the load to the car and we all headed back to Tisdale.

With the car unloaded we decided to go find the culprit and around 4:30AM we found the scene of the crime. From the tracks we could that someone South bound had seen the tire and stopped and moved it off the highway.

At 5:36 AM we were back in Tisdale. Now its an insurance issue. One interesting element of this event was that we had to file a police report as the rule is that if your vehicle has to be towed a report must be made.

For me it was outstanding that we only lost the transmission on the Van. Had the wheel been on the side of the lane and we struck it with a wheel this story would not have a cheerful ending.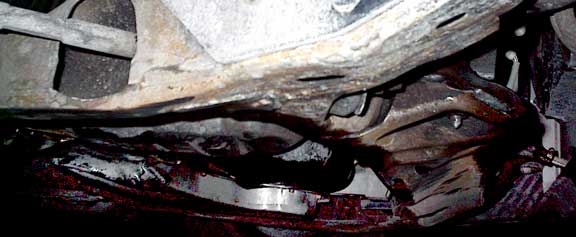 ---
Return to Ensign - Return to Saskatchewan News
This page is a story posted on Ensign and/or Saskatchewan News, both of which are daily web sites offering a variety of material from scenic images, political commentary, information and news. These publications are the work of Faster Than Light Communications . If you would like to comment on this story or you wish to contact the editor of these sites please send us email.
Editor : Timothy W. Shire
Faster Than Light Communication
Box 1776, Tisdale, Saskatchewan, Canada, S0E 1T0
306 873 2004