Ornamental Crabapple Tree
FTLComm - Tisdale - Tuesday, June 8, 2004
Each new growing season is initiated with fruit trees exploding into blooms. This year the cold has made this process later but also staggered it a bit as some trees are coming out in blossom while others have only partly flowered.

There are many examples of the ornamental crabapple tree scattered around Tisdale but this one, across from Cedar Villa is one of the first to really make an excellent showing. Only two days ago it was dark with its future flowers in their pods but today it had burst forth, so much so that I had to stop and get these pictures up close then I talked with the owner about the great little tree on her lawn.

I noticed several others later, one in a back yard behind Groats Auto parts and it also had the same remarkable density of blossoms on each bow of the tree. These trees as ornamental varieties have been specially selected and bred to produce flowers and reward the world not only in the spring but also put on an awesome show in the fall as they tend to produce dark red leaves as they close down operations at the end of their growing cycle.

This tree is not alone as there are flowering trees across the street and in several other yards nearby.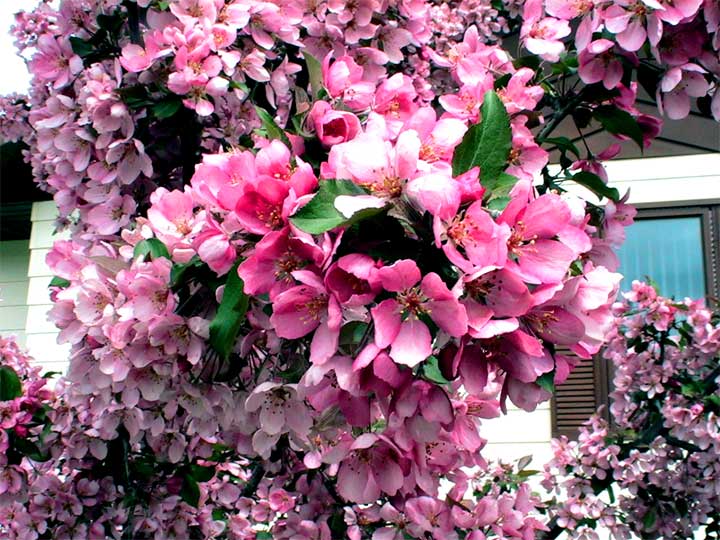 Return to Ensign - Return to Saskatchewan News
This page is a story posted on Ensign and/or Saskatchewan News, both of which are daily web sites offering a variety of material from scenic images, political commentary, information and news. These publications are the work of Faster Than Light Communications . If you would like to comment on this story or you wish to contact the editor of these sites please send us e-mail.
Editor : Timothy W. Shire
Faster Than Light Communication
Box 1776, Tisdale, Saskatchewan, Canada, S0E 1T0
306 873 2004