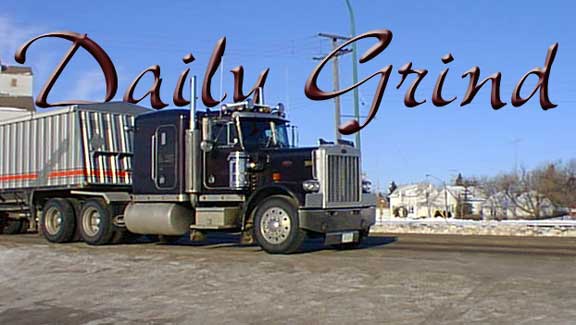 FTLComm - Tisdale - February 1, 2000


It all depends on the distance he has to go to make his delivery, explained the owner operator of this grain hauling "B" train, on his way to the Harvest Valley Pool terminal. In the summer an average day can see him make five deliveries and in the winter a good day will see him unload at a terminal three times.

It was time for a quick stop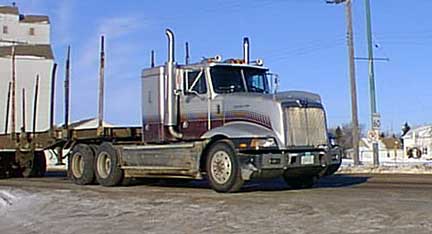 for coffee this morning as he
got his cup filled and headed back to his unit. He explained that the unloading process at each of the five local terminals was pretty much the same, excellent people to deal with and at UGG and Dreyfus the use of dippers was a regular feature of the delivery where the truck stops before going onto the unload area and a remote dipping device takes samples from his load to speed up the grading and assessing process. Gut in general he said that each of the terminal staff were easy to work with and friendly.

The movement of heavy metal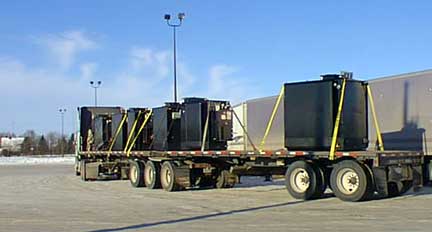 day in day out, in fact, all
around the clock, through Tisdale continues load after load, after load. An empty logging truck on his way into the bush, and a "B" train of tranformers alongside a convention closed trailer unit, all seen a few moments apart. This concentration of traffic and commerce continues to demonstrate the underlying strength of the economy and the positive growth that goes along as we see continued economic diversification and impressive productivity fueling the economic process.

Today these transportation giants are peering through the ground drift as they hustle their way to and from pickup to delivery. A daily grind of gears, coffee and commerce.