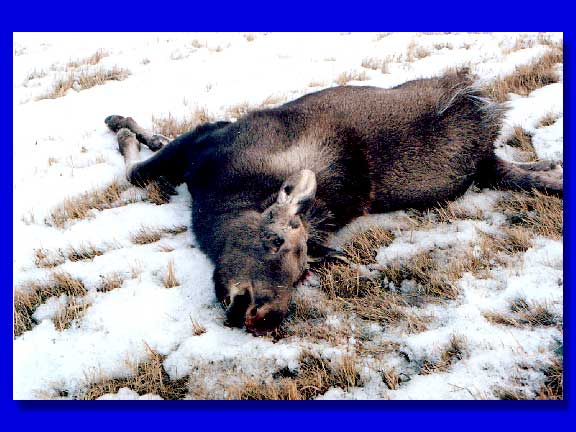 The Empty land
Brendaren Farms - Tuesday, March 30, 2004 - by: Edwin Wallace
When I was a kid, down here in the Southwest, the sight of a deer was a very rare thing indeed. Now, just a few miles away, there are hundreds of mule deer and right here on the farm we have about five to seven whitetail that stay with us spring, summer and fall, each year. (They go to the river breaks in winter.)
This winter, a large number of prong horn antelope have stayed in an area about 10k North West of Swift Current.
However, one animal we have never seen in these parts until just the last very few years is the moose! They are now so numerous apparently that they get killed on the highway! This one was on #32 highway just South and East of Success.
The good news! Coming back to the farm from the Saskatchewan Landing, one day this week, we were fortunate to see a couple of what appear to be young ones. I had my camera along, mounted on a 15 to 60x spotting scope, and I was able to get a bit of a close up of the two standing several hundred yards away.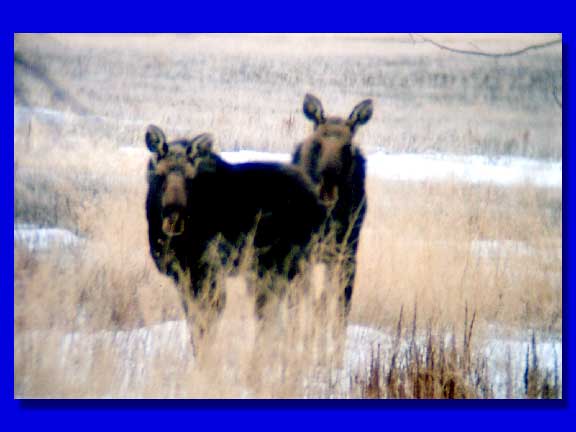 I'm Edwin Wallace
---
---
Retrun to Ensign - Return to Saskatchewan News
This page is a story posted on Ensign and/or Saskatchewan News, both of which are daily web sites offering a variety of material from scenic images, political commentary, information and news. These publications are the work of Faster Than Light Communications . If you would like to comment on this story or you wish to contact the editor of these sites please send us email.
Editor : Timothy W. Shire
Faster Than Light Communication
Box 1776, Tisdale, Saskatchewan, Canada, S0E 1T0
306 873 2004