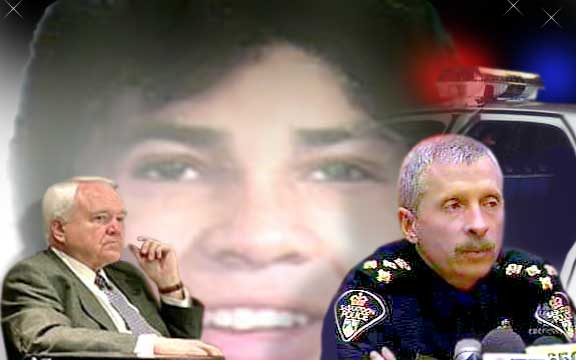 Justice David Wrigh, Neil Stonechild, Chief Russell Sabo
Perceptions
Brendaren Farms - Thursday, October 28, 2004 - by: Edwin Wallace
I am a 66 year old farmer from the Swift Current area. I am as white as they come, have had no record with the law and over the years I have had a couple of friends in the RCMP.
Saskatoon's police chief was on Saskatchewan CBC Radio's morning show today talking about the Stonechild case. He was asked specifically about what was going to be done about the public's perception (negative) of the Saskatoon City Police.
It goes without saying that changing perceptions held is one of the most difficult tasks.
However, the defensive way the chief chose to handle that question; the attempted skating and sidestepping through the whole interview was maddening to listen to, and I would assume, did little to get that difficult process underway - it certainly didn't work on me. In fact it was only indirectly that he seemed to be prepared to admit to any mistakes.
Arrogance does not serve a public servant well.
I'm Edwin Wallace
References:
CBC. Cree teen's mother gets police apology, October 28, 2004, CBC News
Adam, Betty Ann, Cop to be fired: Lawyer, (pdf) October 28, 2004, Saskatoon Star Phoenix
Cook, Tim, Inquiry finds police had teen in custody, October 27, 2004, London Free Press (Canada Press)
Photo credits : Images of Justice Wright and Neil Stonechild borrowed from CTV and that of Chief Sabo from Injusticebusters.
---
---
Retrun to Ensign - Return to Saskatchewan News
This page is a story posted on Ensign and/or Saskatchewan News, both of which are daily web sites offering a variety of material from scenic images, political commentary, information and news. These publications are the work of Faster Than Light Communications . If you would like to comment on this story or you wish to contact the editor of these sites please send us email.
Editor : Timothy W. Shire
Faster Than Light Communication
Box 1776, Tisdale, Saskatchewan, Canada, S0E 1T0
306 873 2004