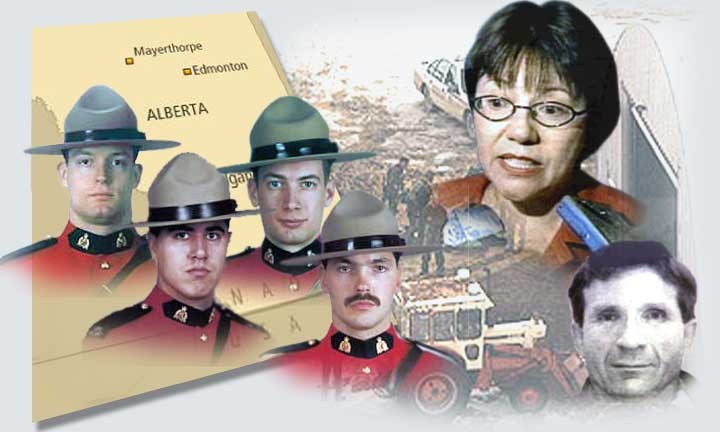 Constable Brock Myrol 29, Constable Peter Schiemannn, 25, Constable Anthony Gordon, 28 and Constable Leo Johnston, 34, Deptuy Prime Minister Ann McLellan, and James Roszko, 46
It could have been prevented!
Brendaren Farms - Friday, March 4, 2005 - by: Edwin Wallace
We may never know what really went on yesterday (March 3/05) on that Alberta farm. We hear that organized crime was involved because - according to police sources - it nearly always is in large 'grow' operations. It is not likely it was a 'fight back' on a police shake-down; this was not the movies and we like to assume our cops - well, RCMP, anyway - are clean.

But before the last camera and microphone had been packed up to leave the scene, Ann McLellan, Deputy Prime Minister and Minister of Public Safety and Emergency Preparedness, was making all the noises of a latter day politico using a tragedy to further a subjective agenda.

McLellan said the whole matter of decriminalizing the use of marijuana would have to be reviewed.

Well, if we thought about it much that whole decriminalization thing doesn't actually make much sense. If the exact meaning in the language was applied it would mean it is not criminal - not a crime. Use of 'weed' would be OK and the organized crooks would be out of business.

In short, 'pot', should be legalized; like gambling; like selling booze; yes, even like tobacco. Sure there would be government control and government taxation a characteristic of modern life all but the most stubborn of us have come to accept as inevitable.

Modern life, however, is ridden with contradiction. All members of all governments are sooner or later going to utter some banality about the evils of tobacco, booze and gambling. At the same time they will sit through endless meetings discussing the most politically opportunistic way to exploit those same named evils.

Of yesterday's tragedy, we do know this: The five shooting deaths in Alberta most likely could have been prevented - no giant crime driven grow operation - no police raid - no shootings - no tragedy.

Let me make that case for legalization: There have NOT been any murders attributed directly to an individual smoking a 'joint'. There have NOT been any epidemics of vehicular homicide or for that matter startling statistics naming 'grass' as the cause of murder on the road. The economic well being of NO family has been terminated by marijuana. Lung cancer is NOT caused by smoking 'big boys'. However, every one of these personalized tragedies DOES find causation from the big three: Booze, Gambling and Tobacco.

Well, no matter. We are into a long round of nonsense once again. So, we will go through several weeks of media-mourning over the Alberta cops. The most outrageous arguments will be made for the continued, albeit failing, war on drugs - read 'pot'. The tentative first tottering steps - decriminalization of the use of cannabis - will perhaps end in a bad fall.

And what about sanity and common sense? As usual, they will be relegated to a now familiar position of insignificance and invisibility while the politicians try to appear as tough on crime And the media? As usual, each of us will be included in their various universal statements about grief and sorrow, while the genesis of the tragedy remains covered with ignorance, condescension and deceit.
I'm Edwin Wallace
---
---
Retrun to Ensign - Return to Saskatchewan News
This page is a story posted on Ensign and/or Saskatchewan News, both of which are daily web sites offering a variety of material from scenic images, political commentary, information and news. These publications are the work of Faster Than Light Communications . If you would like to comment on this story or you wish to contact the editor of these sites please send us email.
Editor : Timothy W. Shire
Faster Than Light Communication
Box 1776, Tisdale, Saskatchewan, Canada, S0E 1T0
306 873 2004