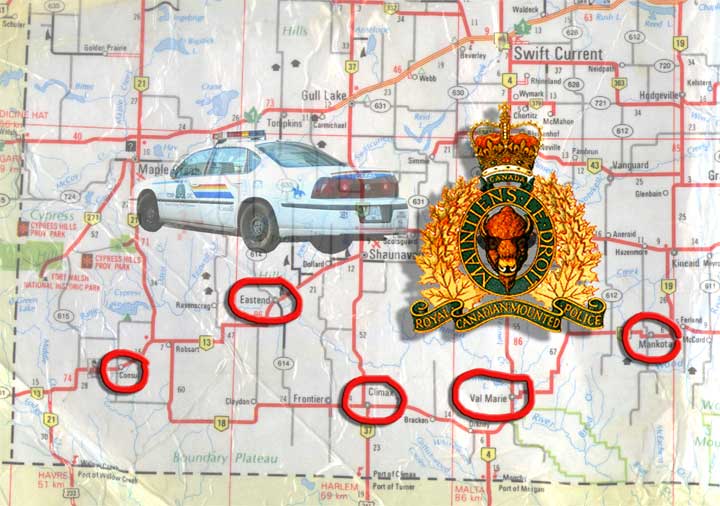 "Get me a cop - Quick!"
Brendaren Farms - Friday, June17, 2005 - by: Edwin Wallace
We've often heard law enforcement officers, bureaucrats and politicians proclaim that information about one thing or another cannot be disclosed because of an ongoing investigation; or, because divulging information would not be in the best interest of the public; or - and this is the big one - it is a matter of national security.

I'm sure most of us have felt a bit miffed at times as such grand proclamations are made. We are left wondering as to how such and such could matter as much as a tiny bit of bug spit, or less, to anybody or anything. I won't try to recall specific incidents; suffice it to say that it is hard to imagine just how such trivial information could bring us all face to face with certain doom.

But then along comes a real honest to goodness case for withholding information. It should be evident to everybody - not just the cops, bureaucrats and politicos - that clear and present danger could result if certain information about certain communities and regions was divulged.

Such is the current situation in Climax and four or five other communities in Southwest Saskatchewan. This week it was disclosed that several RCMP, one person detachments, would be closed.

Crooks, heads up! It will now take the cops much more time to attend to a call for police assistance at those far flung communities!

But, that wasn't bad enough! Thursday Evening at 6:00 O'clock, CBC news reported - NATIONALLY BROADCAST ON TV - the whole thing over again with community pictures and claims by cops themselves that they weren't needed where there is no crime!

Are we to assume that this grand announcement - from sea to sea to sea - to robbers, rustlers, petty thieves, perverts and the criminally insane was intentional. I doubt that very much. But very serious questions remain; who is running this asylum? Where in all of hell has common sense been lost? And, would somebody please tell the RCMP to keep a very capable presence in that area of our province now that the invitation to criminals in all dark places has gone out.
I'm Edwin Wallace
---
References:
CBC News RCMP closing one-officer detachments, June 14, 2005, CBC Saskatchewan
---
Retrun to Ensign - Return to Saskatchewan News
This page is a story posted on Ensign and/or Saskatchewan News, both of which are daily web sites offering a variety of material from scenic images, political commentary, information and news. These publications are the work of Faster Than Light Communications . If you would like to comment on this story or you wish to contact the editor of these sites please send us email.
Editor : Timothy W. Shire
Faster Than Light Communication
Box 1776, Tisdale, Saskatchewan, Canada, S0E 1T0
306 873 2004