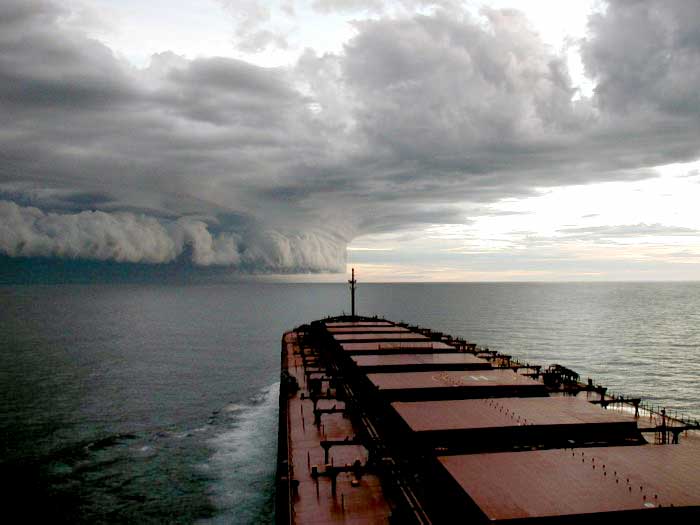 Isabel
FTLComm - Somewhere in the Atlantic - Monday, October 6, 2003
With the exception of the political stories where we take some license with images, we try to credit the source of the material and make a big effort to get original pictures. This picture was forwarded many times around the Internet and Ken Styan received it and passed it on to me.
Hurricanes are not rare but at our latitude and over continental North America they are impossible so it is unlikely that many of us would ever get a chance to see a scene like this one. The nature of a hurricane, or in the Pacific, a Typhoon is that it is a huge weather system created around a massive low pressure area at the centre of the storm. Generated in the unique conditions of the tropics in late summer and early fall these storm centres involve the air at the core forming an eye around which cyclonic winds develop increasing in speed until the reach a state that what you see in the picture develops.

Thanks Ken for sharing this with us and let us all hope we never get to see the real thing.
---
Return to Ensign - Return to Saskatchewan News
This page is a story posted on Ensign and/or Saskatchewan News, both of which are daily web sites offering a variety of material from scenic images, political commentary, information and news. These publications are the work of Faster Than Light Communications . If you would like to comment on this story or you wish to contact the editor of these sites please send us email.
Editor : Timothy W. Shire
Faster Than Light Communication
Box 1776, Tisdale, Saskatchewan, Canada, S0E 1T0
306 873 2004