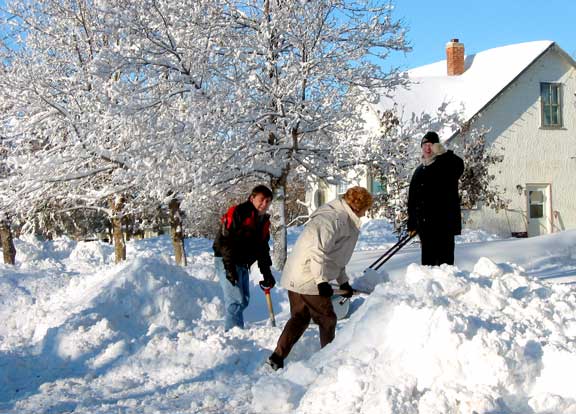 images by Timothy Shire II
A little bit of snow for us all
FTLComm - Tisdale - Monday, December 30, 2002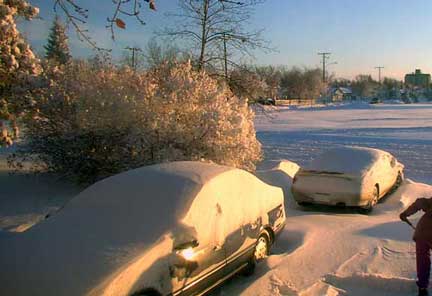 A heavy snowfall in the last days of December is a fairly common event. However in the last few years even a light snowfall has been a rarity as we have suffered through some of the driest years in history.

Yesterday morning Environment Canada warned of heavy snow fall and surprisingly their predictions were remarkably accurate as we in Tisdale received about ten inches of fresh snow and since there was a modest Northwest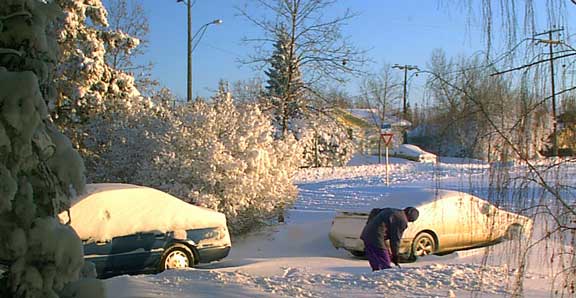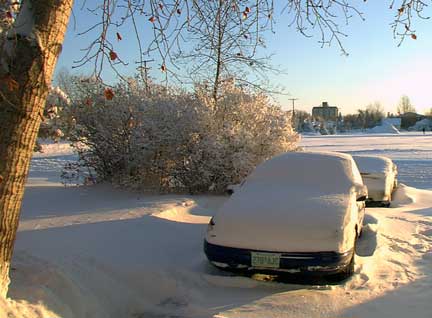 wind it piled up a bit in places. During the night the temperature dropped to -20ºC but fortunately this did not stiffen up the stuff and it was relatively fluffy this morning as it seemed that they whole town was out in force, shovel, snow blower or in our case, camera in hand.

The snow had fallen with temperatures of -11º and with the breeze that tended to allow it to stick to the limbs and twigs of trees turning everything very white.

This scene shows a grove of trees just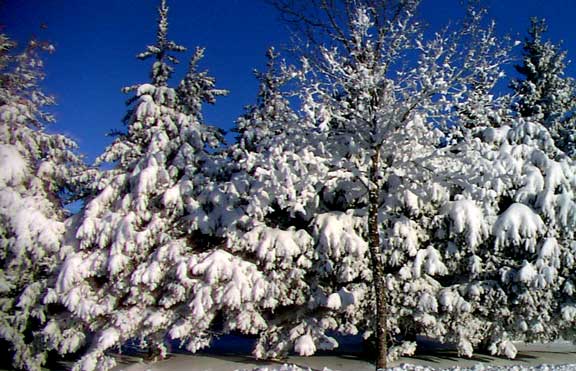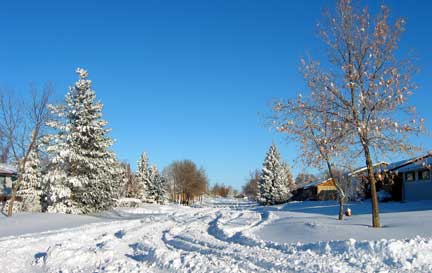 across the street from us. The town equipment was out early clearing main routes and back alleys but on streets they did not get to things were a bit sticky.

Downtown, both on mainstreet and sides streets huge ridges fill the centre of the street and will have to stay there probably until next year when the crew will have time to put in on trucks and haul it to the winter snow pile sites.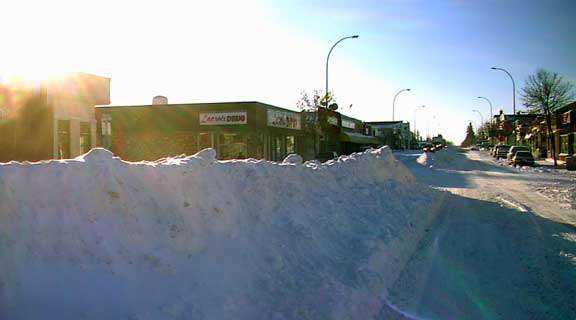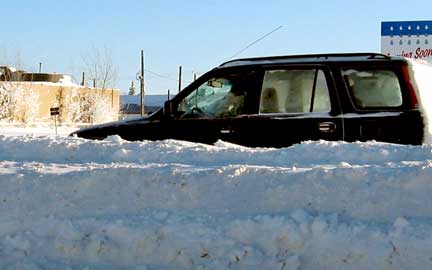 Despite driving conditions there is always an opportunity for drivers to work in a phone call or two.

In the open country the scenes around the farm yards are spectacular as we look West of town and see this snow filled set of trees.

Most of the images on this page were made using a Canon S30.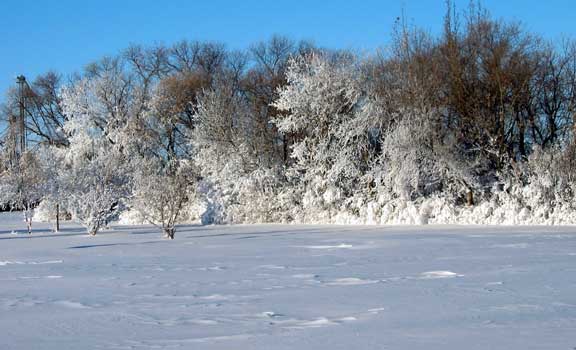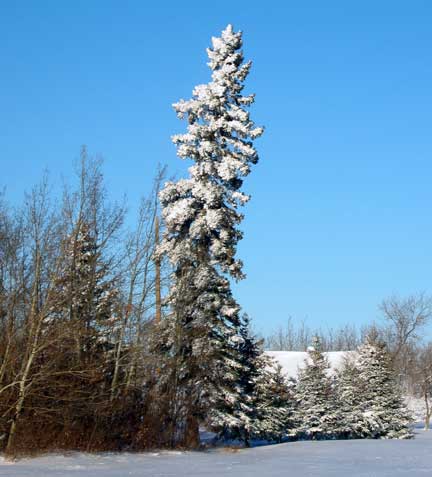 The weight of the snow on taller trees really builds up when they become loaded like this. One can easily understand why in Eastern Canada and Northeastern United States where air temperatures during a snow storm can be much closer to freezing that the snow and ice combination will exceed the trees ability to stand up.

But where ever we looked this morning the process of cleaning up was the main order of the day.

Some neighbourhoods had work bees out going from drive way to driveway and in other areas those with snow blowers were working their way around their own driveways and doing their friends and neighbours.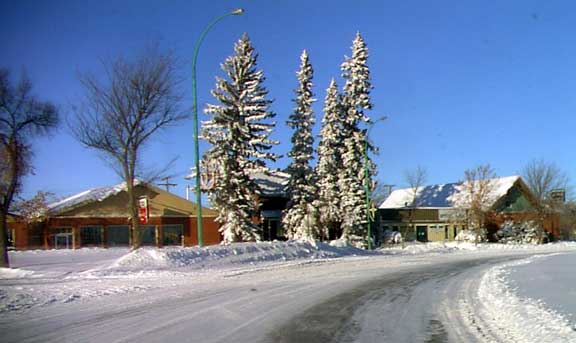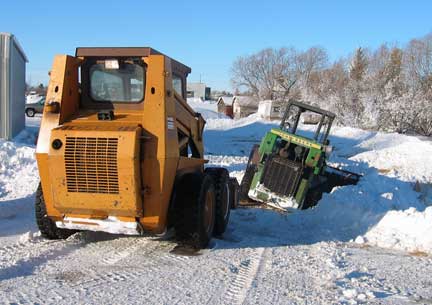 Earth moving machines were everywhere. Here a Bobcat has given up on its attempt to dislodge another that slipped over the edge of a roadway.

Below the town's snow blower is on its way from one site to another as it can clear a lot of snow quickly when there is a place to blow it. Front end loaders were clearing the parking lots and the town had all of its equipment out.

It actually is several years since the town has seen what is really a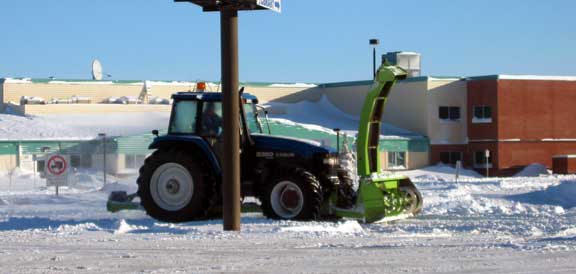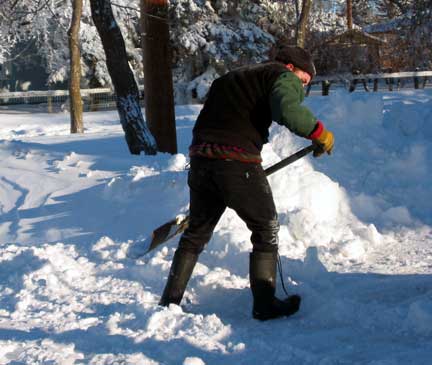 fairly normal snowfall for.

But there are two things you need to get the job done, a good shovel or blower and motivation.

As we drove around there seemed to be no shortage of either commodity.

This fellow and the two below were working along mainstreet.

This weather system tracked as far South as highway #16 (Yellowhead) and across to just North of Yorkton. Highways around Tisdale and South to Elfrose were heavy with drifts up to eighteen inches deep.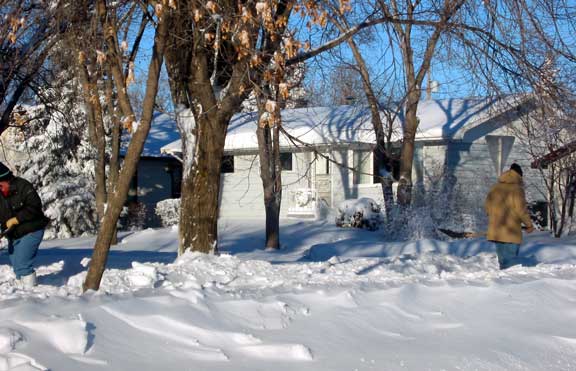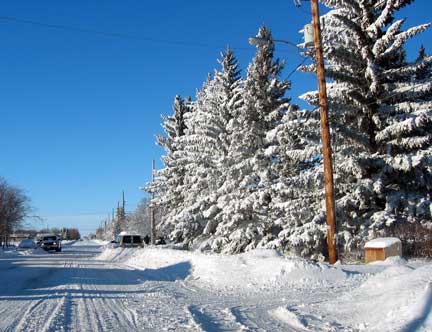 This beautiful street loaded with snow in the trees was one the town equipment was able to get down but the driveways were still in need of attention. Bob Price and his neighbours (top of page) were doing the job on their driveways.


This yard opposite the old Dag school yard really was loaded up but as you can see they have cleared the driveway and was time for coffee.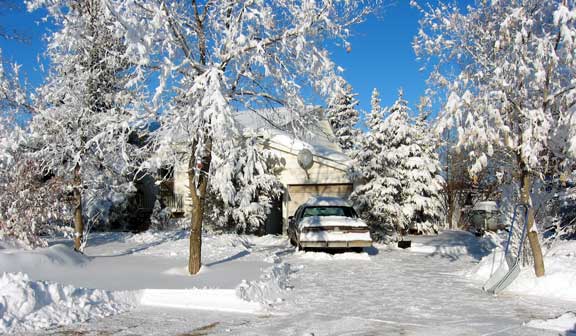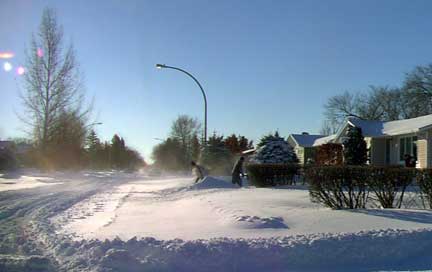 A group of guys with shovels and one with a blower had nearly polished off this driveway but the streets themselves looked pretty tough like the one below.


Though folks were not getting stuck it was still tough going.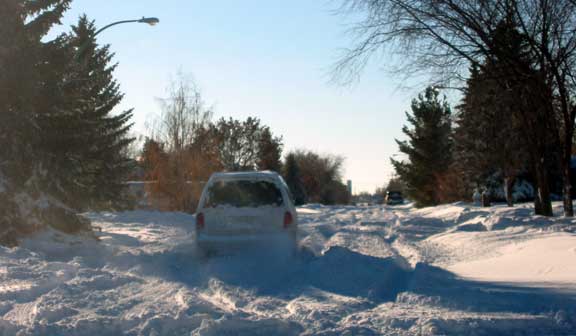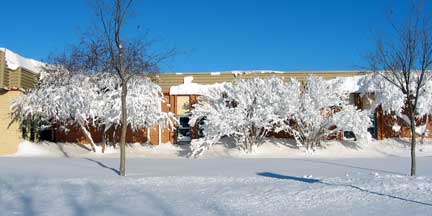 Over by the elementary school the trees along the South side are filled with snow while across the street a blower was getting a good work out.

We actually found Caribou Crescent the most difficult street to navigate as the wind had been able to puff in a good deal more snow than other streets.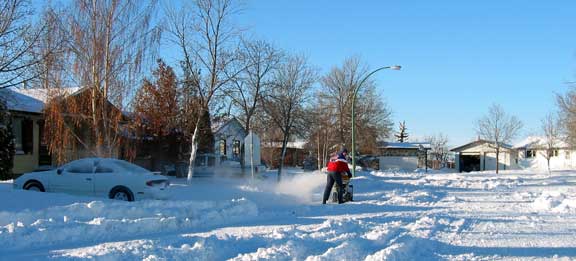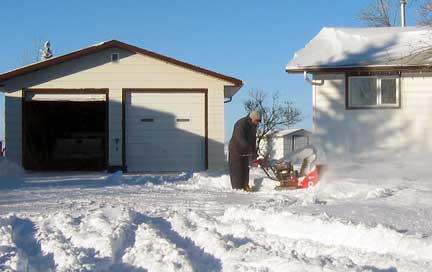 This guy has lots of snow still to move and the lady in the picture below was having quite a time getting her car trunk open. Sure enough she was after the shovel.

No one in Tisdale or surrounding area would be the least bit put out if this all happened again tomorrow or the next day for that matter. With the water table so low from the drought of 2002 which followed the drought of 2001, snow is just fine.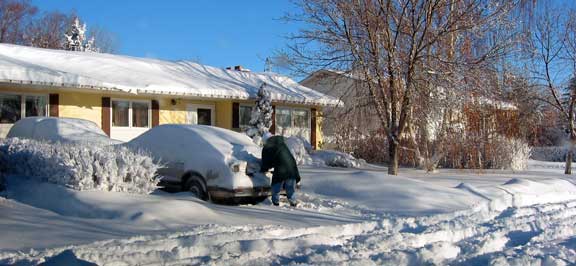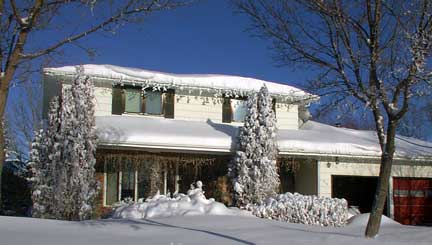 Certainly looks like winter at this house in our neighbourhood, its skidoos are parked in the back yard but every snowmobiler with gas in his tank was wearing a broad smile today.
---
Return to Ensign - Return to Saskatchewan News
This page is a story posted on Ensign and/or Saskatchewan News, both of which are daily web sites offering a variety of material from scenic images, political commentary, information and news. These publications are the work of Faster Than Light Communications . If you would like to comment on this story or you wish to contact the editor of these sites please send us email.
Editor : Timothy W. Shire
Faster Than Light Communication
Box 1776, Tisdale, Saskatchewan, Canada, S0E 1T0
306 873 2004