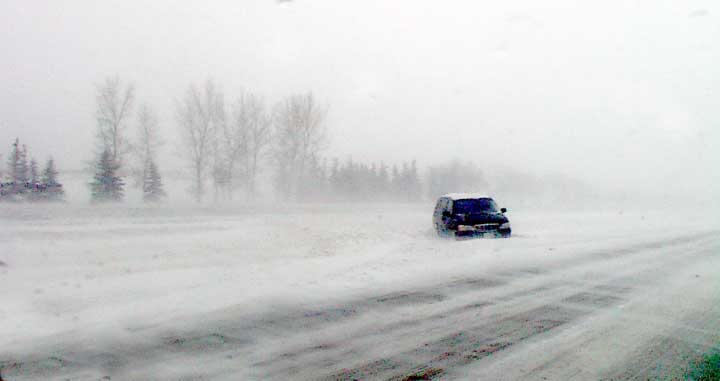 Near Blizzard,
Warns Environment Canada
FTLComm - Regina & Tisdale - Tuesday, February 10, 2004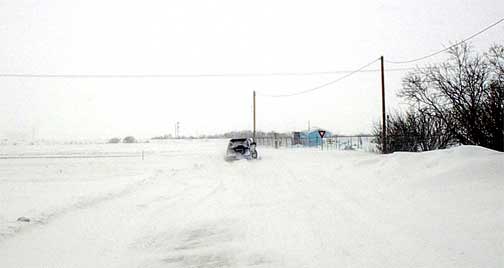 Working away in my office today I had only this morning's radio storm warning that had said that all of Southern Saskatchewan could expect "near blizzard" conditions. Now "near blizzard" is not a blizzard so I had taken them at their word. It wasn't until just after 4:00 that I got my act together and was on my way to the post office and I discovered both visually and from the radio that things were a little more serious. (right) this vehicle was stuck only two blocks from our house and the visibility was poor.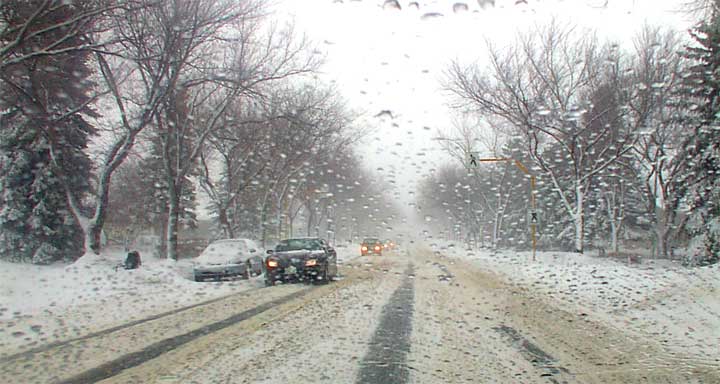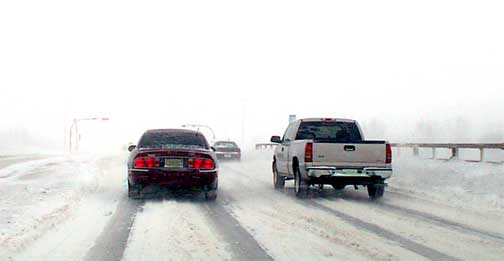 Matthew had called from Regina and sent up these pictures so I was assuming that the storm was a southern prairie thing as he told me of the massive vehicle pile up at Balgonie where rescue vehicles themselves became part of a multiple vehicle collision in zero visibility.

Matthew's pictures show us what it was like in and around Regina's East side. The warm temperatures put a lot of water on the windows but the streets were not only covered with snow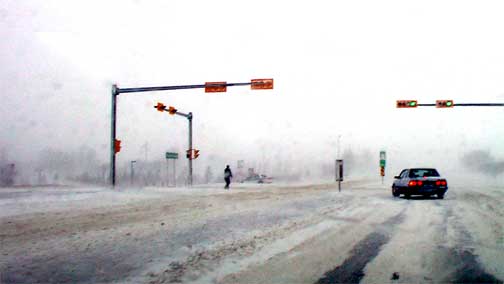 the visibility was dreadful but the traction was perilous

This picture is on Regina's ring road which the City police had to close in several areas as there were just to many stuck or disable cars to allow access to the roadway. In this picture you can see a patrol car and a policeman on foot directing traffic near the Wascana area.

Through out the city cars were sliding off the street and traffic was moving at a snails pace as jammed intersections and single lane traffic choked off many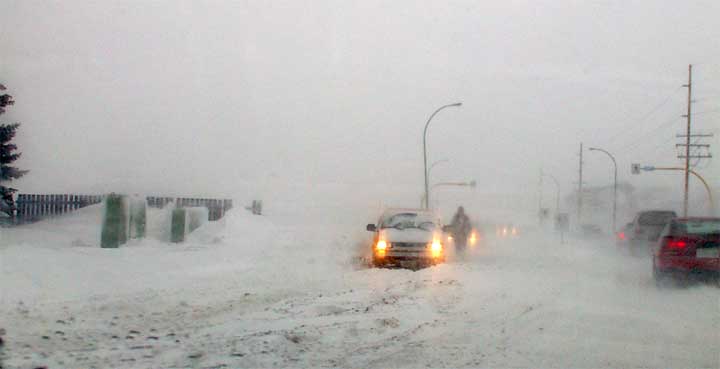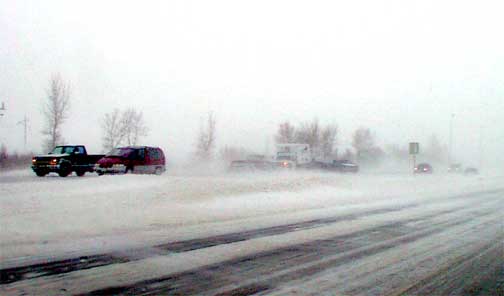 parts of the city.

This scene was all two common on the by-pass for highway #1 a number of vehicles are disabled or have jammed together on the East bound lane.

In many cases the only thing for people to do was to do was to pull up their hoods and set out on foot. The moderate temperatures made this possible but with winds of up to and exceeding 50KM this was still a pretty unpleasant experience.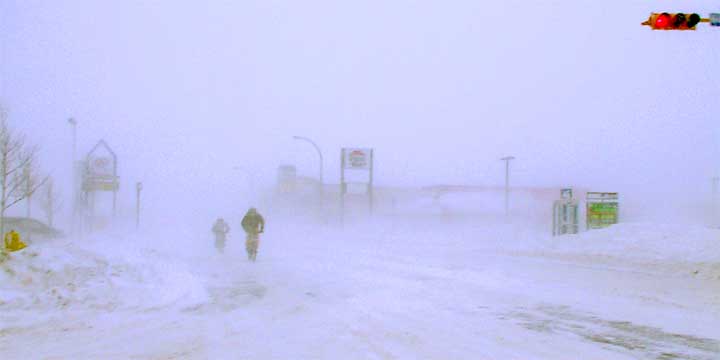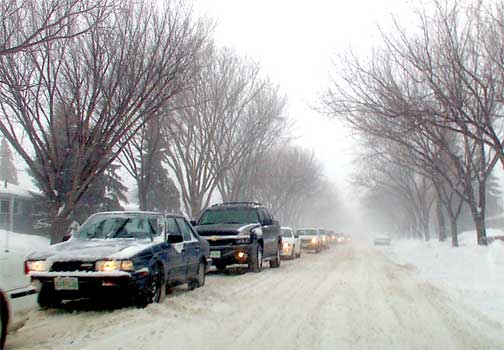 This pictures shows a side street with traffic backed up for blocks as these people are waiting to get onto the by-pass and make their way to the East side of Regina or perhaps even find their way to the North side.

The ring road from Victoria to North Albert was simply not operational by this time (mid afternoon).

The picture below is of a home in the Gordon Road area. Matthew caught in traffic tried to snap a picture of some children on their way home from school but as you can see a tree got in the way.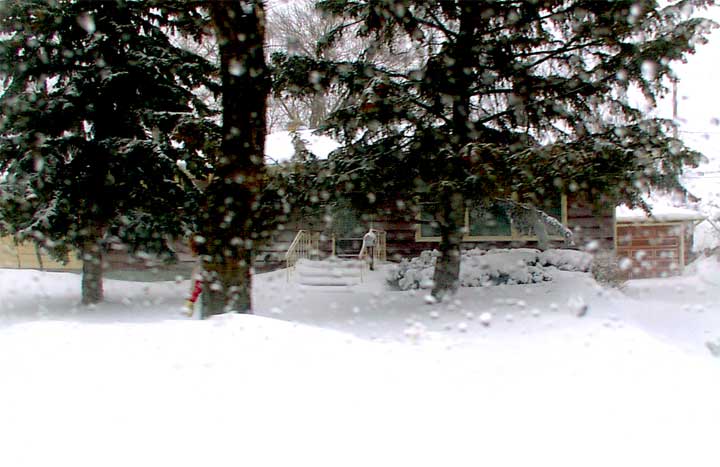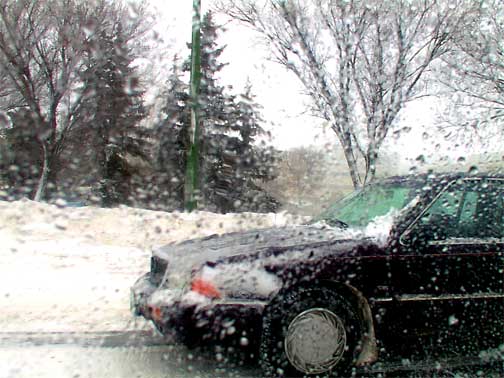 This kind of a warm storm is more typical of a March Saskatchewan storm but when you think about it one realises that during the past few years the regular procession of the seasons is slightly advanced and this may indeed just a March storm arriving about a month early.

One way or another no one, city or rural dweller will complain about the snow. Everyone knows the importance of moisture no matter what form it arrives in and with no run off in the past few years this little amount of snow is just what we and all of our lawns, gardens, trees and wheat fields really need.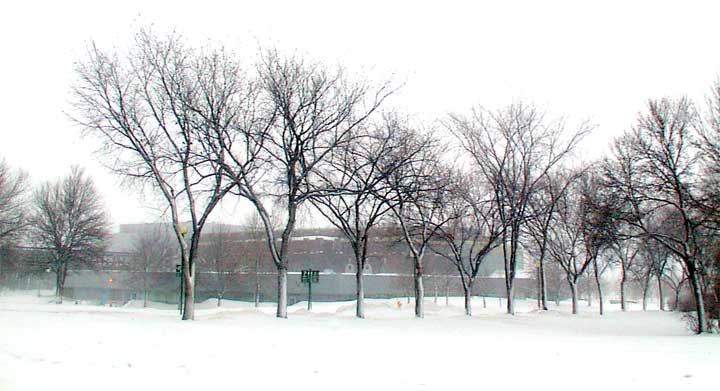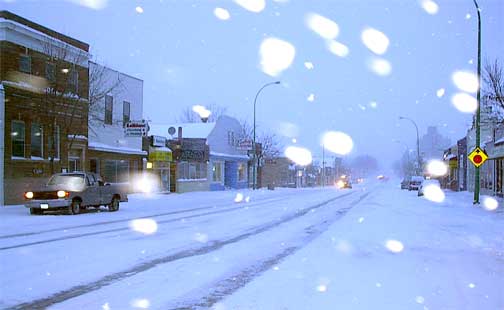 I am not sure about the great picture above but I think that it is of the new sound stage at the corner of College and Broad with the CBC broadcast centre on the left of the image.

At 6:00 Tisdale seemed almost deserted. I had arrived over at the mall a few minutes after 5:00 and by then only the Dollar store, Extra Foods and Zellers were still open for business and besides me there were less than a handful of other shoppers.

When I took this picture the flash fired illuminating the snow that swirled down Tisdale's main street.
All but two images by Matthew Shire
Return to Ensign - Return to Saskatchewan News
This page is a story posted on Ensign and/or Saskatchewan News, both of which are daily web sites offering a variety of material from scenic images, political commentary, information and news. These publications are the work of Faster Than Light Communications . If you would like to comment on this story or you wish to contact the editor of these sites please send us email.
Editor : Timothy W. Shire
Faster Than Light Communication
Box 1776, Tisdale, Saskatchewan, Canada, S0E 1T0
306 873 2004