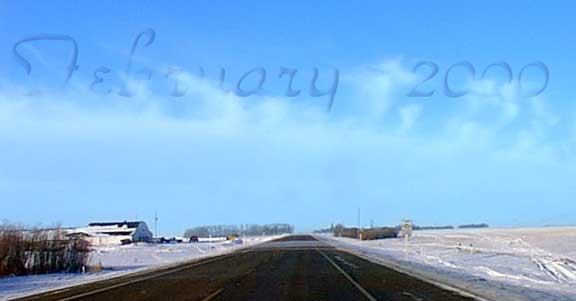 FTLComm - Tisdale - February 1, 2000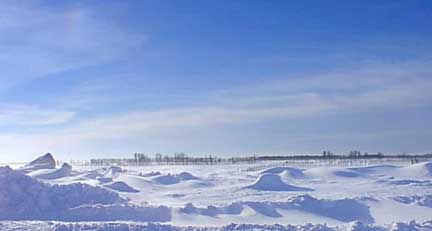 Those high cirrus clouds indicate winds aloft but these winds are streaming in from the South bringing with them moderating temperatures as this winter has been remarkable as the Jet stream that normally feeds us a steady diet of North West cold air is running parallel to the 60th degree latitude and we are getting these warm South weather systems.

Remarkable that it is February all ready, only a short while ago we were wondering if we would ever see the new century and here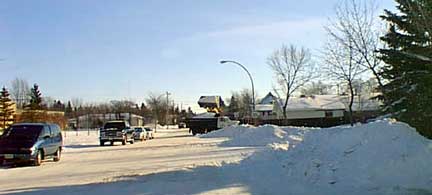 it is, already a month old and
I am certain we are all profoundly pleased to see that the end of the world has once more been averted.

The end of winter is still a long way off as we can anticipate ample precipitation for the next month or so and Town crews are definitely preparing for that event by cleaning up the present accumulations on streets and around intersections. This work is taking place this morning in front of the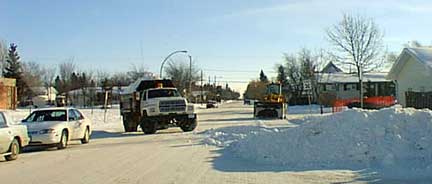 elementary school while
another town unit was working with CP workers at the crossing beside Bow Mar Sales Ltd.

One serious problem remains unsolved and that is that so many people in Tisdale depend upon their two feet to get them around town and sidewalks are a mess and in so much of the town there are no sidewalks at all. So seniors and children defy traffic and slippery icy conditions to get around on foot. Next time you are driving around just notice how many people are working their way along the street on foot and how many seniors are using wheeled walkers to help them with the ice. It might be a good idea to consider these taxpayers the next time the town considers upgrading the streets in the community a few more and better maintained sidewalks seem to be in order.

Below is "Supermom" on her way home at day break from having walked her kindergarten and grade two to school. There are no sidewalks in the one and half blocks her children must traverse to school each morning and they have to dodge every school bus and a fleet of cars, trucks and vans who deliver their children to school each morning.