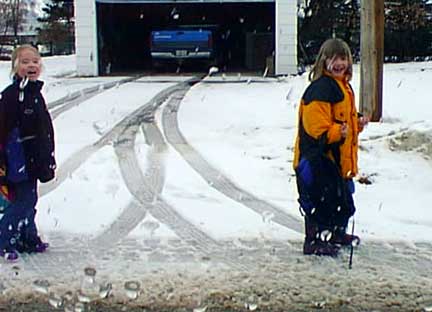 Just A Little More Winter
FTLComm - Tisdale
February 29, 2000

Everyone understands that there is a time for winter and there is a time for spring and spring's time is not yet. The new snow was welcomed by most people and this pair of snow stockers were on their way home from school yesterday afternoon. With a snowball in her left hand and a look of conspiracy about, I spotted them preparing their attack on a pedestrian. As I drove by I slipped the camera to the wet window and caught the cheerful assailants who laughed with glee when they realised their plot had been discovered.
The temperatures in Tisdale have remained closed to freezing thus preventing this really wet snow from freezing and icing up the road system. As I walked down mainstreet four people came out of a cafe shaking their heads as they lamented the early arrival of such warm weather and they proceeded to watch a little stream coursing down the gutter.