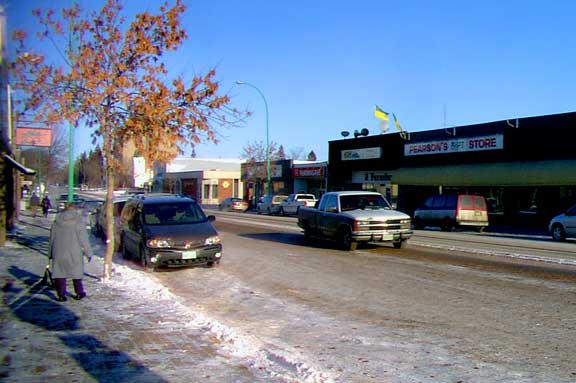 Life goes on
FTLComm - Tisdale - Friday, January 10, 2003
The pre-dawn sky this morning was that empty blue-black that tells everyone looking up that the atmosphere has shrunk as the air above us, that buffer between the emptiness of space and the tree tops is cold and very heavy. If you have forgotten air is a fluid that according to the established rules of physics as spelled out in the "Brownian theory" expands when heated and contracts when cooled. Cold air is extremely dense and almost completely devoid of water vapour which is frozen out of it, this is the dry cold that prairie people talk about and that air above us is marvelous stuff. As a private pilot I truly loved flying in very cold air, the engine had more power, the lift was something you can feel and it is almost always without turbulence, a glass highway that traverses mountain prairie and all other land forms.
Your car and cold air are not that friendly. Because of its density it consumes significantly more fuel and the engines of our cars and trucks are designed to run in much warmer air. The car's computer will set to work to adjust things to get as best a fuel economy that it can but the heat from each cylinder's combustion is quickly absorbed. The heaviest toll on a motor vehicle during cold weather is on the moving parts, lubricants are slow to get up to temperature, rub tends to retain its shape and become brittle and some tires turn to stone. If you are one of those folks who believes that warming up your car before you attempt to drive it is a good idea you are caught in a myth. Only at temperatures below -45ºC is it necessary to bring your car's drive train up to temperature. If it will start the oil will quickly protect your engine and the transmission will function above -45º. So letting it run is for the most part a waste of fuel.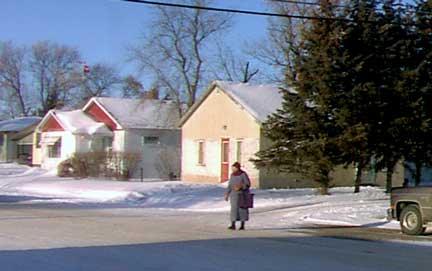 As I sat in the Co-op having lunch today a gentleman remarked that there were few people around and that perhaps it had something to do with the weather. The picture at the top of the page shows downtown at around 12:30 and there seems to be a few people out and about. This lady was cautiously making her way across the street bag on her arm and about her business.

The post mistress was cheery and reported that she had the feeling of relief that "at last" we had some real winter. People who have lived on the great central plains all their lives expect weather like this. Right now the sun is blazing bright, it is -26ºC, the wind is from the West at about twelve knots and that produces a wind chill of about -38º and life goes on.
I took the picture below on Tuesday morning as Ted Fisher made his way to the Post Office. Today I met Ted in the Co-op and he said that he liked the cold weather as indeed he was on about his daily routine out and about.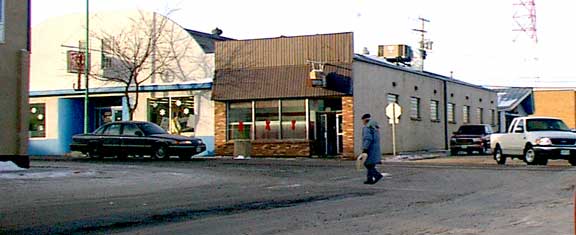 ---
Return to Ensign - Return to Saskatchewan News
This page is a story posted on Ensign and/or Saskatchewan News, both of which are daily web sites offering a variety of material from scenic images, political commentary, information and news. These publications are the work of Faster Than Light Communications . If you would like to comment on this story or you wish to contact the editor of these sites please send us email.
Editor : Timothy W. Shire
Faster Than Light Communication
Box 1776, Tisdale, Saskatchewan, Canada, S0E 1T0
306 873 2004