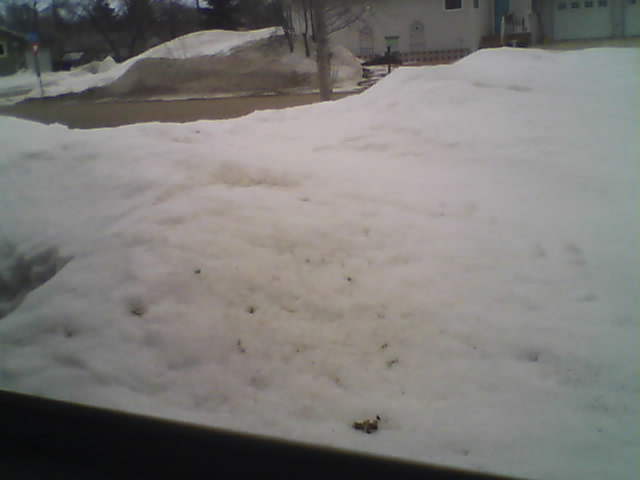 WebCam
FTLComm - Tisdale - Friday, February, 7, 2003
It was more than a year ago that we first experiemented with using a single camera to produce an online web camera. At the time it wasn't practical as it used computer processing power and disrupted work.

During the Christmas holidays Matthew suggested that we take an older computer and set it up just to look after a web camera task. Now tasking has become a pretty good idea lately as there are lots of older computers that no longer cut the mustard as work stations but if asked to do a single job, and in many cases jobs that these machines were designed to perform then they can do just fine.

In order to bring Tisdale to your screen almost live ( a refreshed image is broadcast every thirty seconds although we could increase that rate) I was able to get a hold of some obsolete machines built in 1995-96. These are Macintosh computers designed as audio visual machines and of those I was able to get a hold of one was equipped with video capture equipment which meant it could digitise a video signal.

I was excited about the project and it seemed like a snap. With three of these machines I had enough spare parts to make sure I had one reliable and functional machine that could take the signal that is already here in my office and broadcast it to the web site.

As mentioned earlier I have three small wireless cameras that send images of the world around me to my basement office and display the images on a television. It is my active window and allows me to see someone come up the drive way because for several reasons I can't hear the door bell down here.

With the three old machines (Mac Performa 6360s) on hand I set to work making one work. Ethernet card trouble with one, motherboard or hard drive on the other and with some switching of things around I had a working combination. Now these machine were designed to run on a very special operating system designed just for them Mac OS 7.5.3. These computers we lower priced than other desktop and tower computers of the day because they were built with a very low power consumption processor named the 603e designed first for use in Laptop computers. However the 603e chip was always less than stable and one never new if it was the processor or the flaky 7.5.3 software that was the problem.

My 5200 from 1995 had the same software and hardware and was always a matter of significant system maintenance. The tinkering on this final solution machine lasted from late Sunday night until early Monday morning 5:00 when the process of installing system software and reinstalling system software proved to be very confusing. Finally at five in the morning I had a working machine. In order to run modern web serving software I needed to upgrade the system to Mac OS 8.6 which failed on every attempt if it was done all in one step but if I progressed up from 7.5.3 to 7.6 then to 8.0 then to 8.5 and upgraded to 8.6 it would work. With from twenty minutes to half an hour with each step the time had really been absorbed. So at last a working machine. I moved it from the work table to is position where it would be plugged into the video system and I was back at square one the system was destroyed and the whole series of steps had to be repeated.

After all these machines were made eight years ago and though their hardware was fine their batteries were done. Without a battery just unplugging and moving across the room meant disaster and destruction to the fragile system. Yesterday batteries arrived in the mail and once again I set to work in getting the machine up and running. By 5:30 yesterday afternoon I had a functional machine it has only crashed and needed to be repaired twice since then.

The video webcam software was less than easy to set up and when I got to bed at four this morning the system was in tatters once more and the webcam software still acting up. But by noon today the system repairs were in place and the web cam software functioning.

There are still a lot of details to be ironed out. Where will this image be most useable by visitors to the site? How big should it be? Should there be a small verion on the front page of the web site?

Each of these questions will in due course find themselves a solution. For right now I am pleased that they old processor is churning along quietly and the image is being generated. Right now the image only changes from one view to another when I want to see what it is like in a particular direction. We will also set up the pages where it is displayed to have the image change automatically without the need for the visitor to refreash the page just to see the next picture in sequence.

In the mean time if you have any ideas I would certainly be glad to hear from you. Sorry we can't have a camera pointed down main street or in the RECPlex the tiny transmitters only have about a hundred to hundred fifty foot range.

The webcam is now on line from its own web page which can be accessed from the front page anytime.
---
Return to Ensign - Return to Saskatchewan News
This page is a story posted on Ensign and/or Saskatchewan News, both of which are daily web sites offering a variety of material from scenic images, political commentary, information and news. These publications are the work of Faster Than Light Communications . If you would like to comment on this story or you wish to contact the editor of these sites please send us email.
Editor : Timothy W. Shire
Faster Than Light Communication
Box 1776, Tisdale, Saskatchewan, Canada, S0E 1T0
306 873 2004