Matthew and Dawn
FTLComm - Gravelbourg - Wednesday, July 14, 2004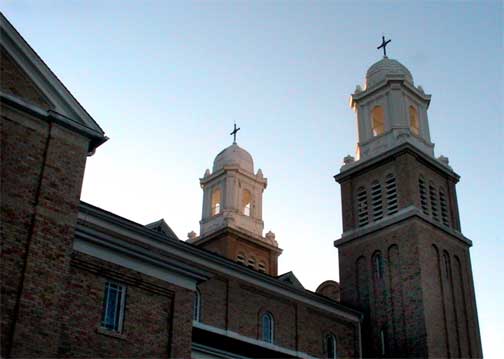 Though we all hear statistics about the high failure rate of marriages these days, most of us are still firmly committed to the tradition and consider it one of the most important events in a person's life. I have shared my life with one person since 1968 and I was absolutely thrilled and delighted in March when my third son called me to tell me he was getting married this summer. For my wife and I it was a doubled joy for in December, my eldest son married.

Matthew and his bride were married on this past Saturday in her home town of Gravelbourg, in the fabulous cathedral that dominates the life of that community as it sits at the end of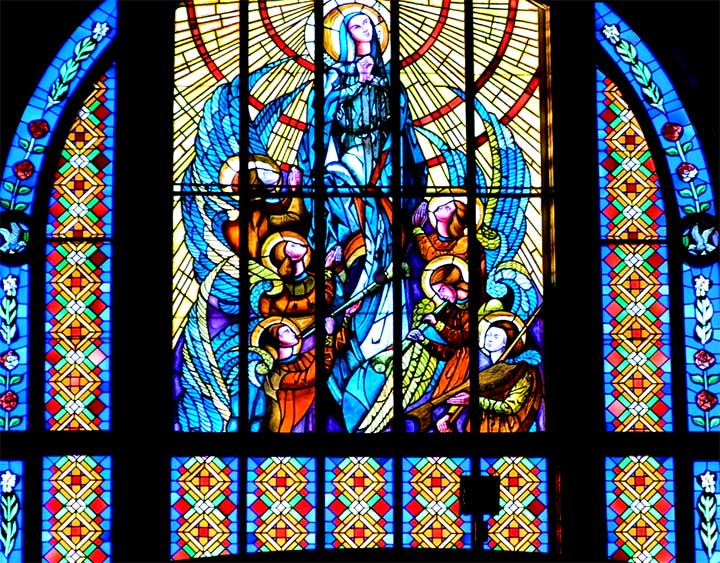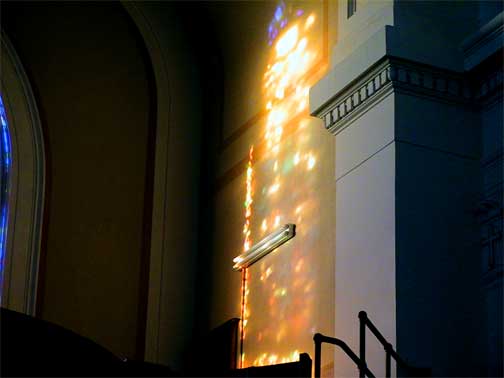 the town's main street.

When we went into the structure Friday evening for the rehearsal, I had a very tough time concentrating on things at hand because the inspirational beauty of this building puts a lot of things in perspective and certainly, the importance of this wedding was emphasised by its remarkable setting.

It is important to recall that I had the same feelings back in December at our first family wedding as it also was in a beautiful structure, unique as was this one, in Winnipeg.

I am convinced that the traditions that have grown through the ages in developing such wonderful buildings that indeed,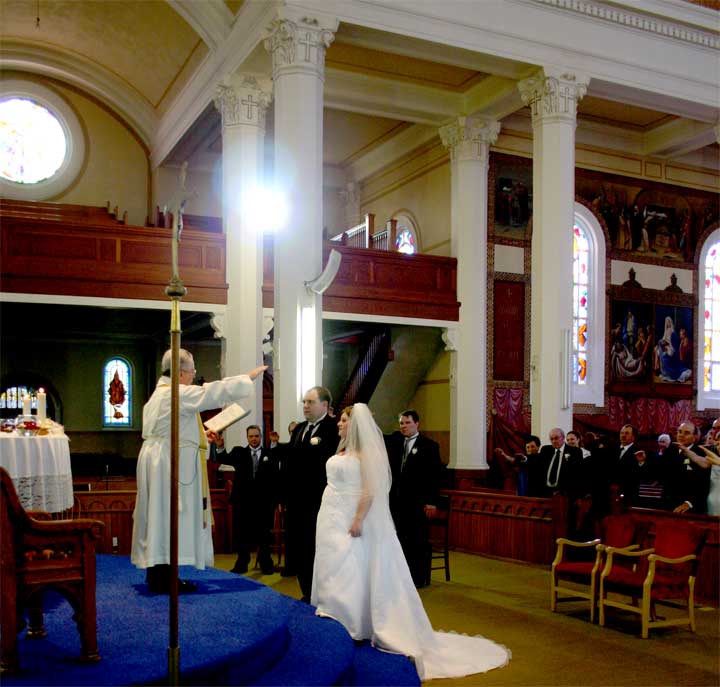 by: Mike McNeill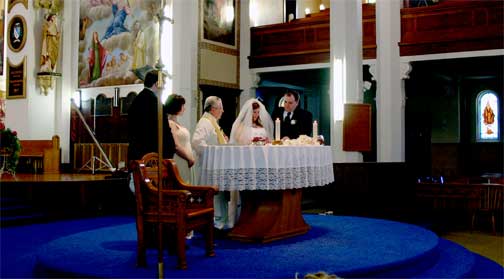 the function of these buildings is part and parcel of what they are.

As each of us, family and friends experienced the timeless ritual of a formal wedding, our investment in time, our very presence at the event, gave this social, emotional, and legal agreement validation. Here before their friends, family and a camera in almost every hand, they agreed to love each other and commit themselves to a life long partnership in their journey through life.

All blessed the couple (above)
by: Mike McNeill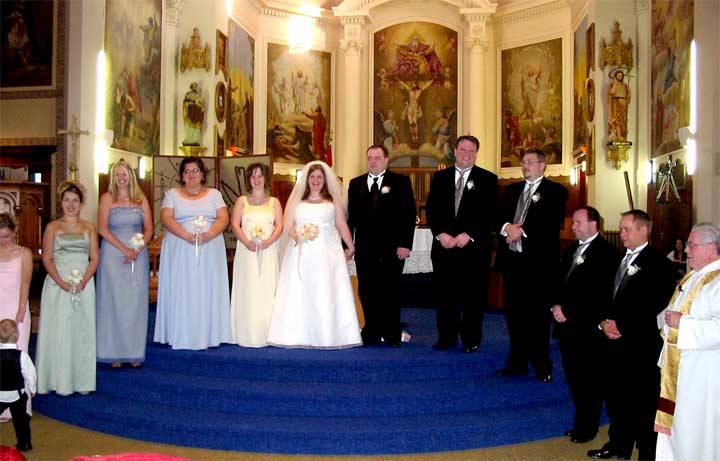 by: Mike McNeill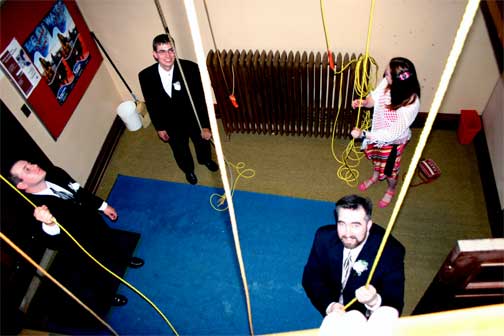 then the legal documents were signed and in this case, this church's wedding registry goes back to 1910.

The marriage had been performed (above) and the whole party paused at the front of the magnificent church before going out to face the world together as man and wife. As they did so, the ushers and friends pitched in to ring the church bells, proclaiming to the whole community that an important event has just taken place.

The wedding party on the front steps of the church and below a receiving line to accept the best
by: Mike McNeill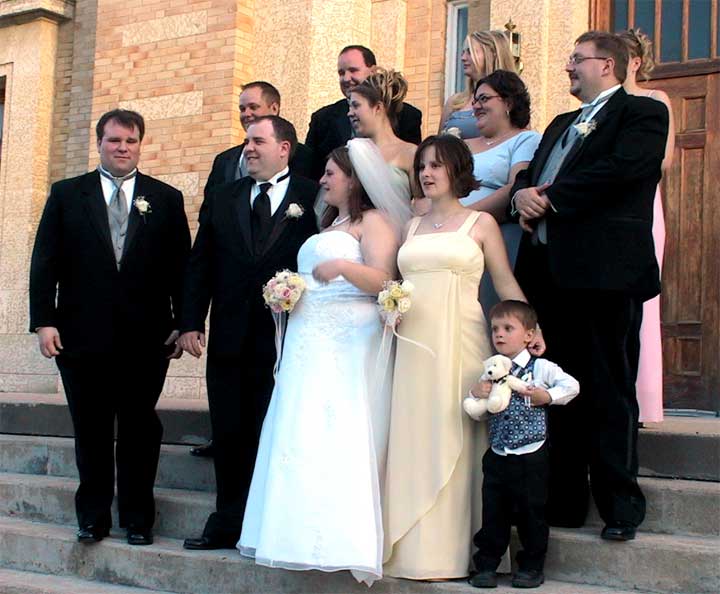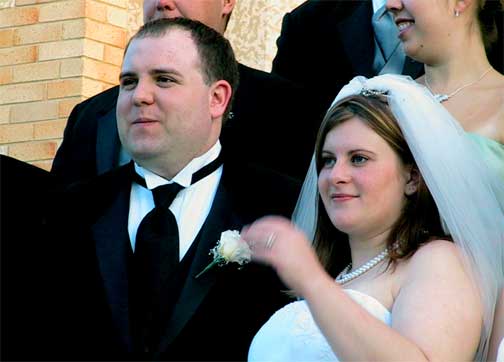 wishes of those assembled.

Matthew has become Dawn's life long partner. Each bring to their union their talents, their experiences and their positive outlook on their life together.

It is only a quarter of a century since Matthew began his life only an hours drive from this spot, then he grew up in the Yukon and in various Saskatchewan communities while Dawn spent two hours each day trapped on a school bus journeying to and from school to the family farm. But Saturday those separate origins merged as their two families worked together, as their friends were with them to support their new lives together and their brothers and sisters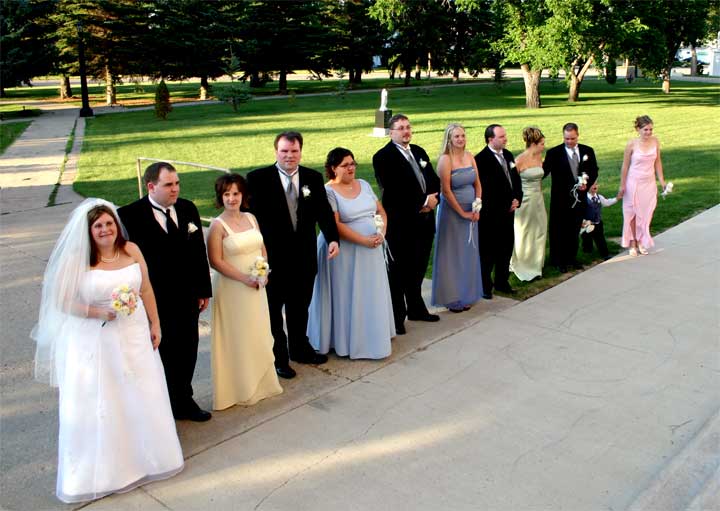 by: Mike McNeill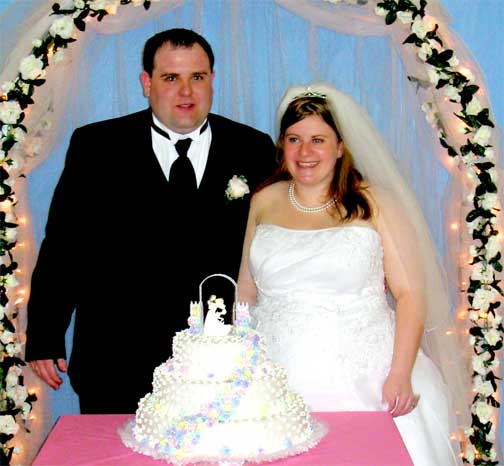 stood shoulder to shoulder with them.

Dawn's family meet each Sunday evening to share supper with one another at her grandmother's house and few days pass without Matthew, his brothers, mother and father linking up and keeping up with one another's lives. No one need face the world alone, but with family, friends and a partnership of trust and responsibility, nothing is impossible.

Dawn and Matthew will make their home together in Regina as Dawn completes her education and Matthew solves the electronic glitches that may happen in Regina's public school computer system. All of us who were part of their day will be on their side when ever needed.
by: Candace Shire
Return to Ensign - Return to Saskatchewan News
This page is a story posted on Ensign and/or Saskatchewan News, both of which are daily web sites offering a variety of material from scenic images, political commentary, information and news. These publications are the work of Faster Than Light Communications . If you would like to comment on this story or you wish to contact the editor of these sites please send us e-mail.
Editor : Timothy W. Shire
Faster Than Light Communication
Box 1776, Tisdale, Saskatchewan, Canada, S0E 1T0
306 873 2004