A Hundred Year Old Wedding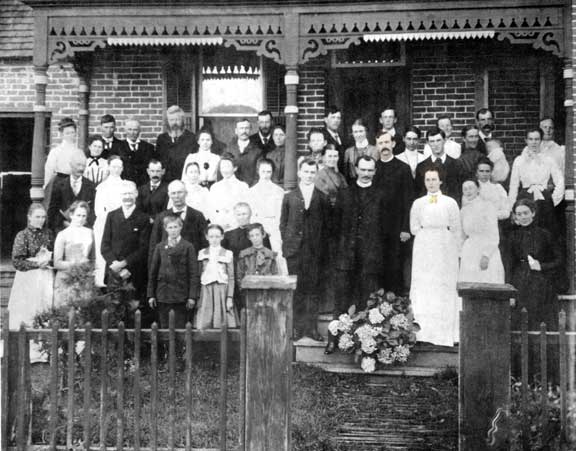 FTLComm - Boyd Ontario - April 18, 2001
While working on some family histories this picture definitely caught my attention. This wedding took place North of Ottawa in 1901 near Lake Mississippi. The family gathered here for a veranda picture are the Willows.

To help you pick out the bride and groom I have added just a touch of colour to them otherwise they would just blend into the scene. The groom is Oliver Raymond and his bride is Ettie Willows. Ettie wanted to have a white wedding dress as this had become a fashionable thing to do but the minister of the newly organised Holiness Movement church disapproved of what was referred to as "Wordly dress" so Ettie solved the problem by asking another minister to perform the ceramony.

The family had come to North American from the Lincolnshire area of England a hundred years earlier settling near New York city then becoming pioneers in the Ottawa area of Ontario where this picture was taken.

Some members of this Willows family made their way out to Saskatchewan where they became ranchers and farmers in the Tompkins area. Willows still grow and prosper in that part of Saskatchewan.