Another sign of an optomistic and positive business attitude is demonstrated with Patterson Welding establishing a new workplace near the Tisdale School Division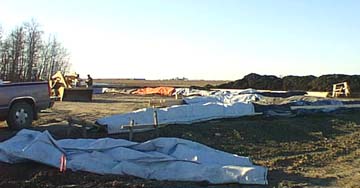 Bus barns. Patterson Welding is one of the established and long time businesses in Tisdale and has operated just South of the intersection of highways 3 and 35. Welding and the associated repair work that goes with it is a highly competitive business with several mobile operators in the area and GT Mechanical having been operating for almost a year now, it shows the confidence Pattersons have in expanding and putting up a new facility.

The footings and land has been prepared for the construction project and with the look of this site it would appear they are preparing to soon put in the concrete pad for the building.