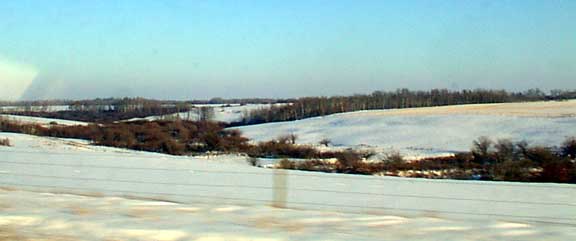 Its A New Winter
FTLComm - Tisdale - Friday, November 7, 2001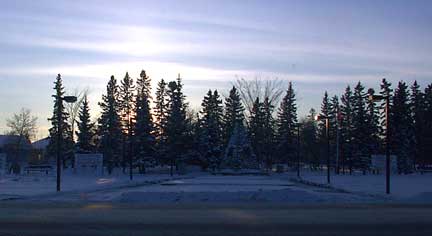 We have just experienced our first week of this new winter and the snow is fresh and on Thursday the sun was out almost in celebration of this new season.

Rolling along highway #3 North and looking out at Wolf Creek seemed to move the day from "another day" to something special.

By late afternoon the shadows grew long and this scene of the cenotaph park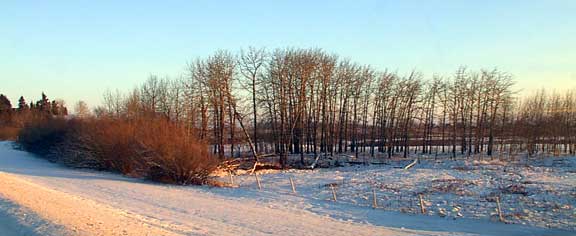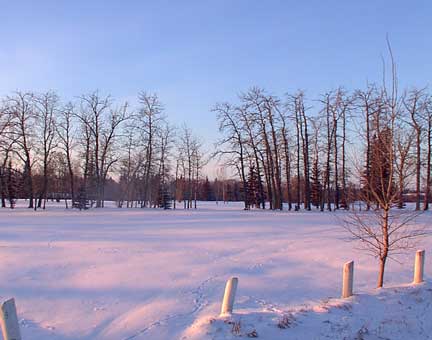 is so remarkably different than it appears all lit after dark (we will show you its lights in the weeks to come).

East of town the low angle washes over the poplar, willows and grass of the pasture and (right) the long shadows stretch out over the golf course. Rabbits and cross country skiers leave the evidence of their passing while the crisp air holds the vapours from exhaust and exhaled air lingering above the ground.

The mix of trees now patient and waiting for a new spring begin their winter rest period sleeping dreamlessly unconscious of my anticipation of their dormant lives.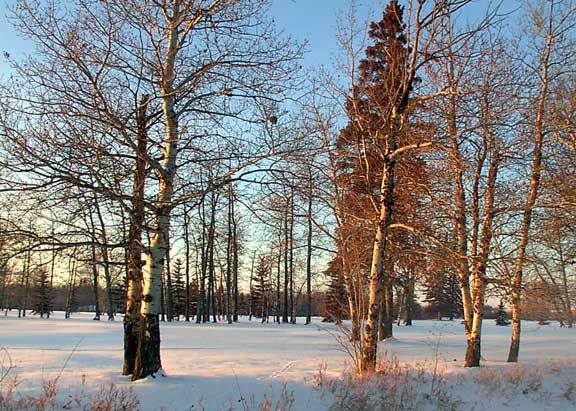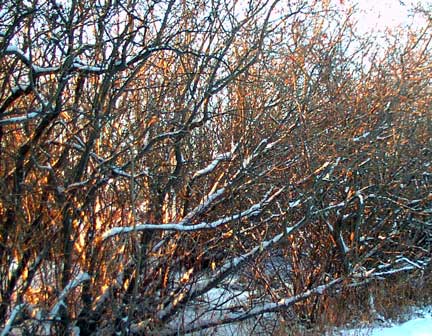 Both snow and light grace this bramble of willows affording the rabbits and sparrows a gentle tangle to hide from passing predators A thicket is more than a haven it is a maze of light and that which is forbidden.

At this time of the year the sun is a brief visitor on the wondrous days like Thursday when it makes an appearance it touches the world in a passing flash as it rises near nine and by five is just a memory.

Below the sun has worked its way behind the spruce by the Doghide illuminating the high thin clouds of a coming windy day.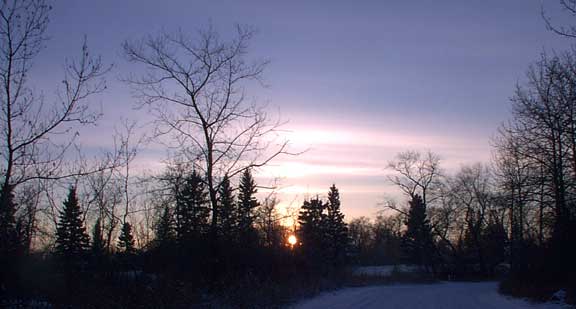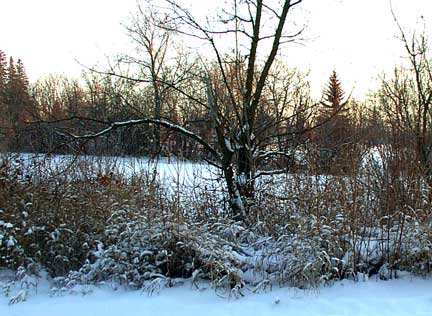 But early winter with its back combed grass and dusting of snow has a delicate transient nature. It comes and will, with the deeper snow go, drifts and piles will replace crusts and fluff. But perhaps more unsettling is that as winter wearies onward our eyes will no longer linger on the beauty of snow on a twig as within weeks we will wish for leaves and swallows.

But savouring the beginning is a must and as the end of day comes the light picks off an empty park bench just before the scene is cast into shadows and darkness for another long cold night.