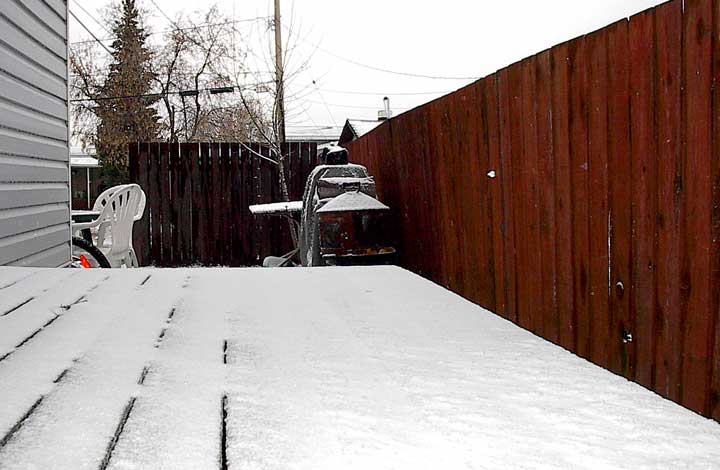 First snow of the season
FTLComm - Tisdale - Friday, October 24, 2003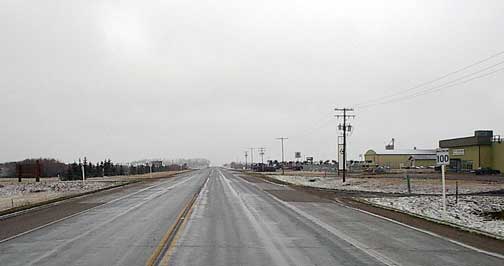 If you check the weather log for this website you will discover that things are right on time. This is when the jet stream high above North American makes a slippery move to the North and begins the process that will be with us until April.

Snow has fallen all across Canada and it was only a matter of time until a little fell on us and today accompanied by a very persistent wind, though much less violent to the West and Southwest.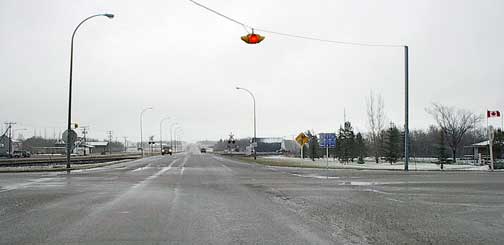 These pictures were taken during the noon hour today and show the view looking West on highway #3, then from the West looking toward the East through town. This image (right) looks down #3 to the East from the junction of #3 and #35. As you can see the visibility is down and the ceiling about 700 feet which means that it was below VFR minimums.

Below we are heading North toward the edge of town and



this picture (right) gives us a look into town from North.

Time to put away the shorts and sandals, time to dig around and find the gloves, long underware and the remote control for the TV.

This would be an excellent time to make an appointment to have your vehicle serviced and checked over for the season that will be upon us in a flash.
---
Return to Ensign - Return to Saskatchewan News
This page is a story posted on Ensign and/or Saskatchewan News, both of which are daily web sites offering a variety of material from scenic images, political commentary, information and news. These publications are the work of Faster Than Light Communications . If you would like to comment on this story or you wish to contact the editor of these sites please send us email.
Editor : Timothy W. Shire
Faster Than Light Communication
Box 1776, Tisdale, Saskatchewan, Canada, S0E 1T0
306 873 2004