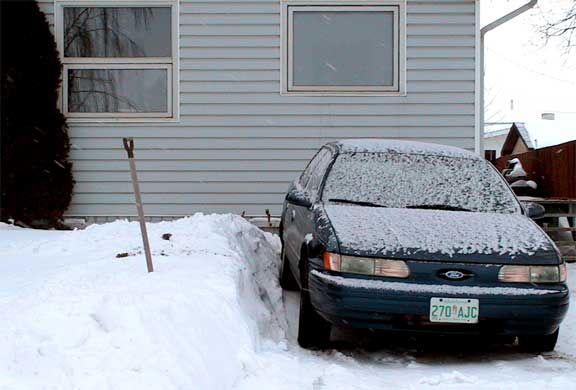 It's Snowtime
FTLComm - Tisdale - Thursday, February 19, 2004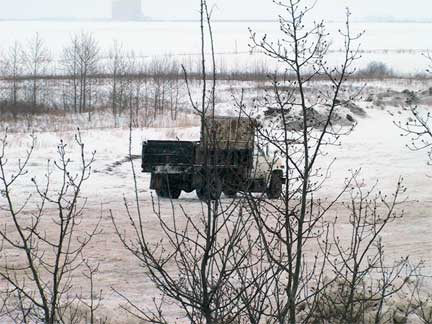 All of these pictures seen on this page were taken between 8:45 and 9:45 this morning with calm winds and a steady fall of light snow obscuring the horizon beside the Doghide with Harvest Valley Wheat Pool terminal in the distance only two miles away.

The Town of Tisdale has truly made a big effort to clear the snow from the streets and in this picture one of their trucks has just emptied a load of snow in a disposal area beside the creek where it will be melted in due course and run into the stream.

The picturesque old highway bridge (below) is just a few hundred feet from the picture on the right.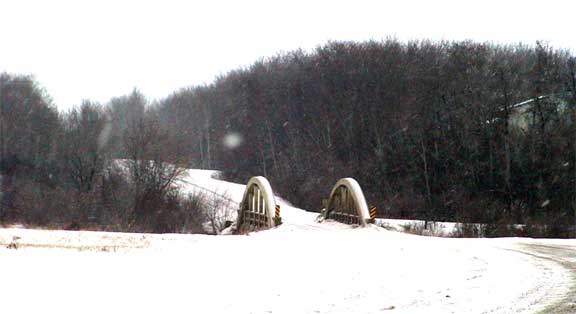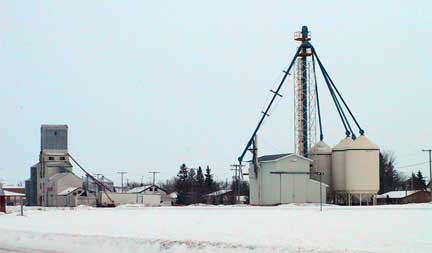 It is all part of the normal departure of winter. In March and sometimes in April the Northern grainbelt gets its share of winter precipitation as it is in that mixing zone of cold arctic air and the warmth of spring to come from the South. At this point we are probably well behind other years in the amount of snow on the ground provided we are comparing now with a decade ago, but these have been very dry years with very dry warm winters and it has been a couple of years since there has even been a spring run-off. Provided we get our share now there will be a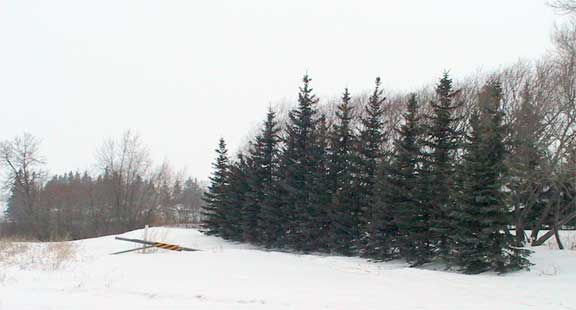 spring run-off in the spring of 2004.

The only concern now is that this seems about a week and a half early for this weather to be occurring, which suggests we might see an early spring. However, the weather and climate are not governed by our pitiful speculation and can pretty much do what ever the warm water of the Pacific dictates.

The town foreman was telling me a few days ago that they are having a little trouble finding a place to pile the snow at the airport. In general Tisdale and its airport are in good shape as snow removal has been well done. We noticed that Victoria Avenue in Regina is really a mess as is most of the city and many of Swift Current's streets are torture both to a vehicle's occupants and to the vehicle itself as both cities have not kept up with snow removal. Swift Current because it looks like the place is all but broke and Regina because it has been reluctant to spend the money on removal.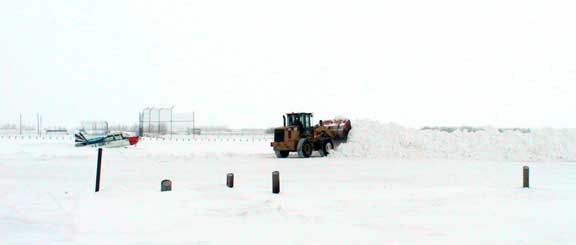 Return to Ensign - Return to Saskatchewan News
This page is a story posted on Ensign and/or Saskatchewan News, both of which are daily web sites offering a variety of material from scenic images, political commentary, information and news. These publications are the work of Faster Than Light Communications . If you would like to comment on this story or you wish to contact the editor of these sites please send us email.
Editor : Timothy W. Shire
Faster Than Light Communication
Box 1776, Tisdale, Saskatchewan, Canada, S0E 1T0
306 873 2004