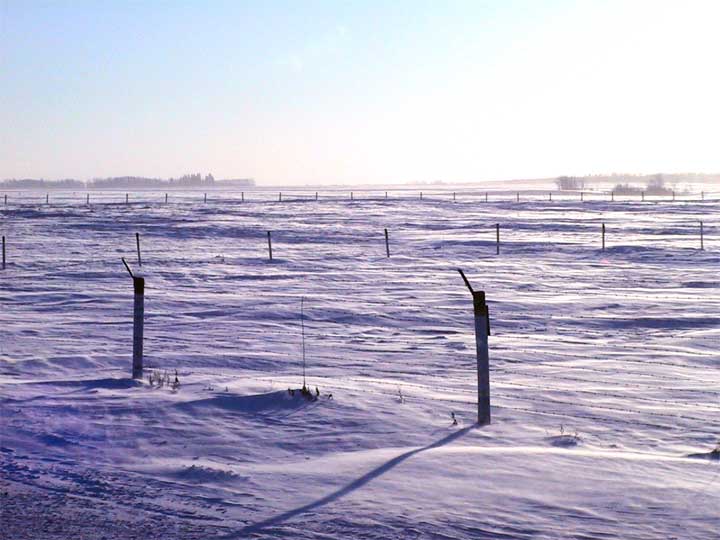 Arctic quest
FTLComm - Tisdale - Sunday, January 16, 2005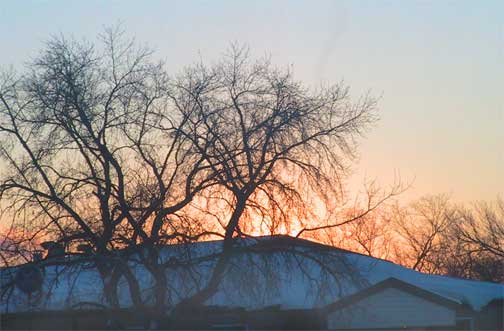 Not everyone preceives each prairie winter as a quest, some historical saga of epic proportions between we who lived through it and survived, and the testing brutal elements of cold, wind, snow and limited sunlight. But with each passing winter, age and insight, give one some longer view of things and it becomes glaringly obvious that winter is to us, who have chosen to live in the northern temperate climate, an annual test, a time for self evaluation of our ability to endure and learn to see each quest as a true mark of who and what we are. Just as Florida's coastal people will look back on the hurricane season of 2004 and admire their own stamina.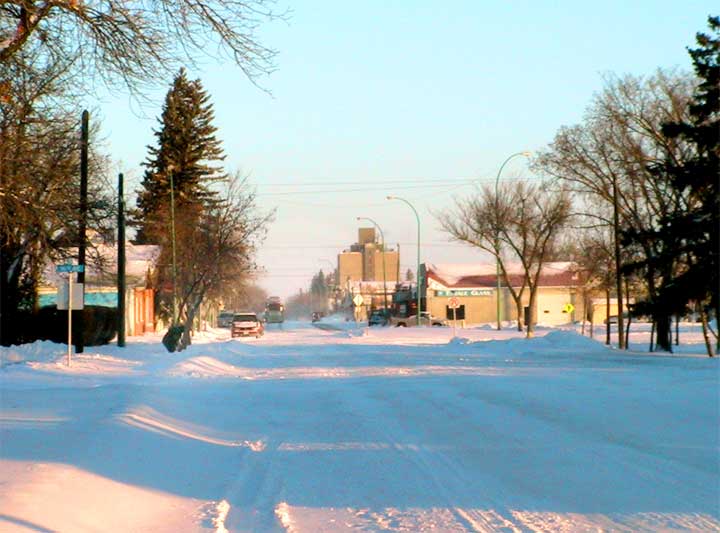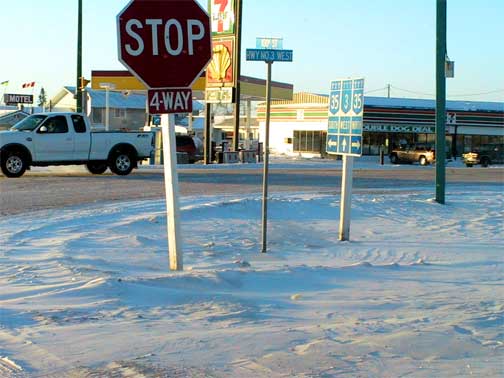 The new year has in its first
fortnight been a matter of raw arctic climatic conditions that have swept south with the jet stream hammering the Canadian prairies with successive storms and two weeks of -30º temperatures. We have already reached the point in January of 2005 where you have amassed enough bragging rights to tell your grand children on some awfully hot tedious global warmering Saturday afternoon, how you got through January of ought five, when a warm day was -30º.

These pictures were taken Thursday morning around nine and there was a harsh 15 knot west wind drilling ice crystals that had once been snow along the ground.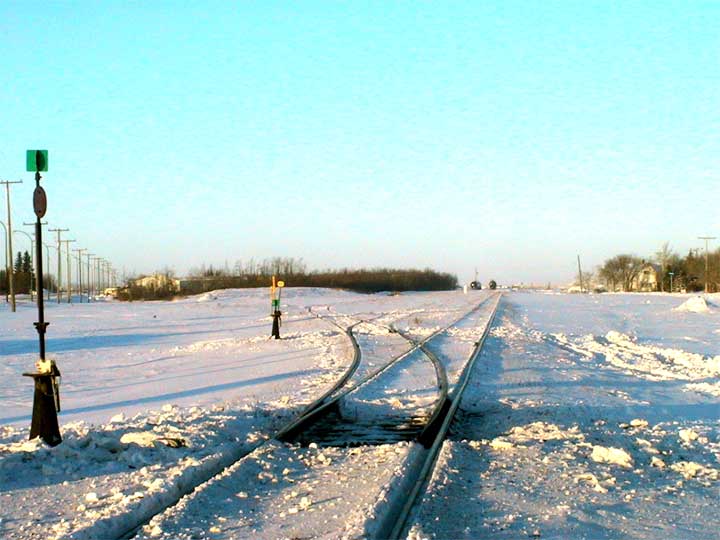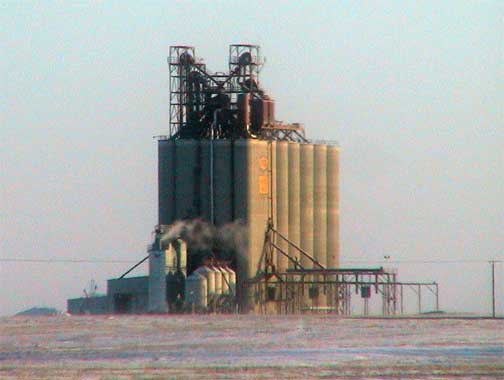 Harvest Valley is issuing a plume of vapour from its grain drying units as it attempts to improve the condition of grain delivered late this fall. Though it requires a lot of heat to warm air that was as cold as it was Thursday morning, the air has almost no water vapour in it whatsoever, as the prolonged low temperatures have frozen all of it long ago.

Most school buses made their runs here to Tisdale Thursday but Nipawin parked their buses and Tisdale did the same on Friday. Within towns and cities you can move vehicles around without great danger, but out in the country a broken fan belt could endanger all aboard a bus in minutes, with wind chill conditions in the mid -40º range.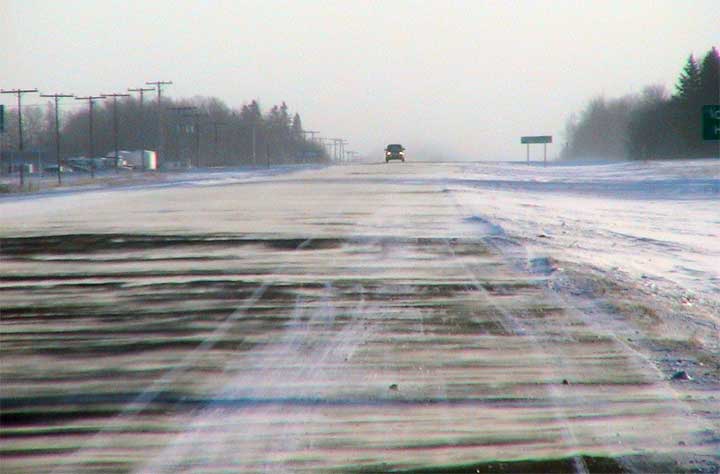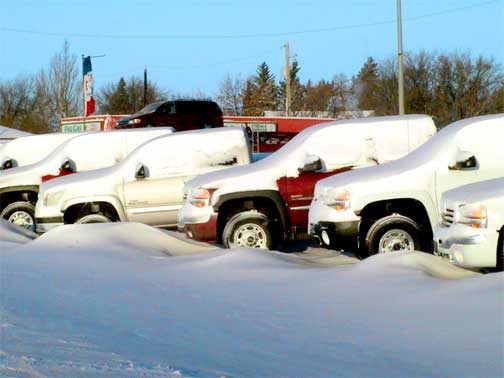 Since Wednesday there has been sunshine coming in low each morning and cutting across the sky through the wind. Each new day is just a tad longer and bit by bit the warmth from that distant sun of ours will begin to change things around and the arctic conditions will ease their way northward.

In the picture below there are two or three specs above the Bow Mar sign, those are resident ravens patrolling the landscape over which they have achieved complete command for tens of thousands of years. Their ancestors saw the ice age come and go and perhaps will see that event occur once more.

But for us mortal humans this is a quest.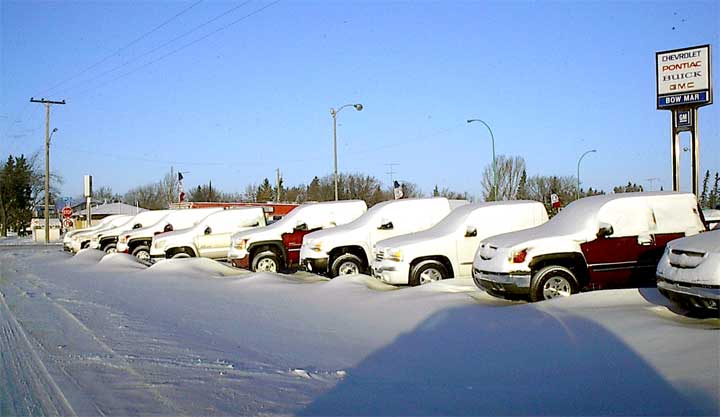 Return to Ensign - Return to Saskatchewan News
This page is a story posted on Ensign and/or Saskatchewan News, both of which are daily web sites offering a variety of material from scenic images, political commentary, information and news. These publications are the work of Faster Than Light Communications . If you would like to comment on this story or you wish to contact the editor of these sites please send us e-mail.
Editor : Timothy W. Shire
Faster Than Light Communication
Box 1776, Tisdale, Saskatchewan, Canada, S0E 1T0
306 873 2004