To much snow
FTLComm - Tisdale - Thursday, March 16, 2006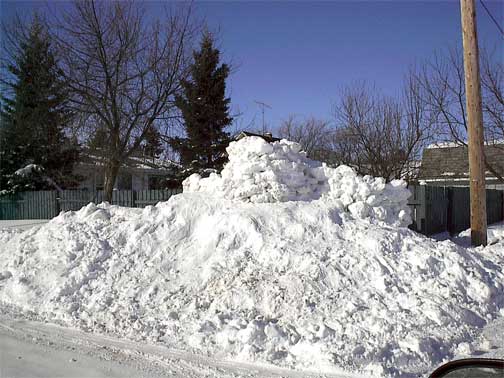 As we edged toward Christmas the temperatures staying well above normal many wondered if indeed we would even have snow at Christmas. As it turned out many parts of the province did not have a white Christmas. Most of the Southwest from Swift Current to Alberta was dirty brown and even now Swift Current residents have green grass in their back yards.
But for us in Tisdale the snow did come and as you can see it will be a while before their is green grass in our back yard (top of page). That's as deep as I have seen snow in our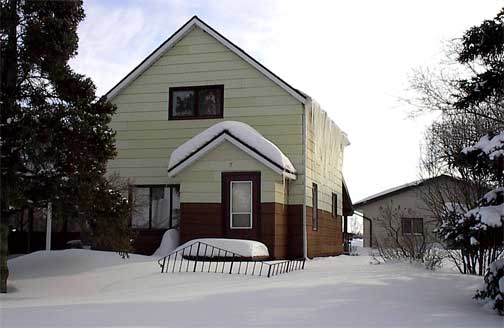 yard in the ten years we have lived here. One can still learn to appreciate the benefits of nature and the snow fort (second picture on the page) is one of many around the town where children have hollowed out a space in a big snow pile.
We had to hollow out a space in our front yard (above) to make room for car parking last weekend as the street had narrowed to a single lane.
About one in ten houses have had someone up attempting to clear away the snow and ice.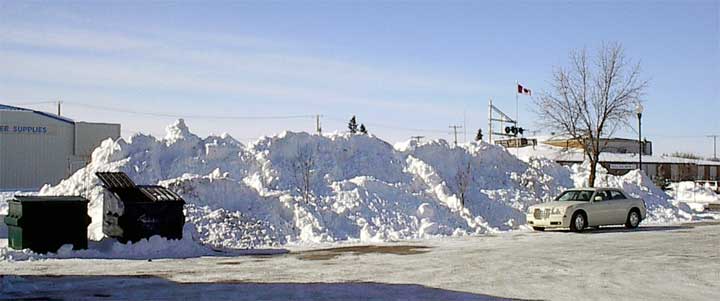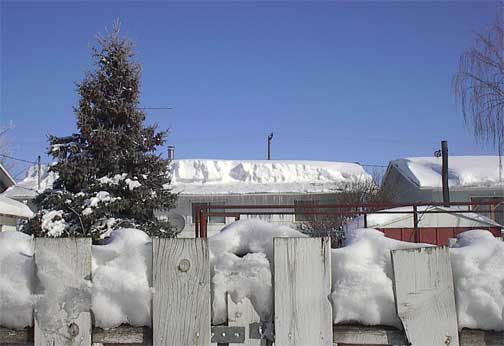 While the parking lots are running out of room to pile the stuff the mountain above is at the post office.
With the very warm temperatures and deep snow many homes have substantial ice damns forming along the eves which threatens the house. Shingles are to keep the water off and can not handle inches of laying water.
On the south side of town two buildings sitting side by side collapsed under the weight of the snow and work has begun cleaning up the rubble. These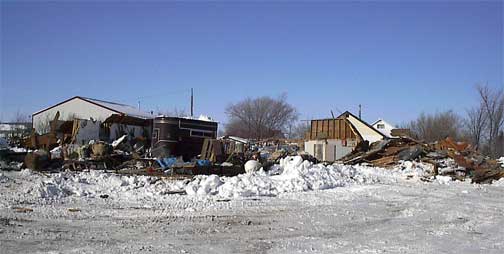 buildings housed a seed cleaning and grain handling equipment business and part of the building was used for years as a gym for dancers, gymnasts and judo lessons.
The building below is out at Phillip's Seeds, just west of Tisdale and its roof simply packed it in. Other farm buildings in the area have experienced similar damage but the threat is real and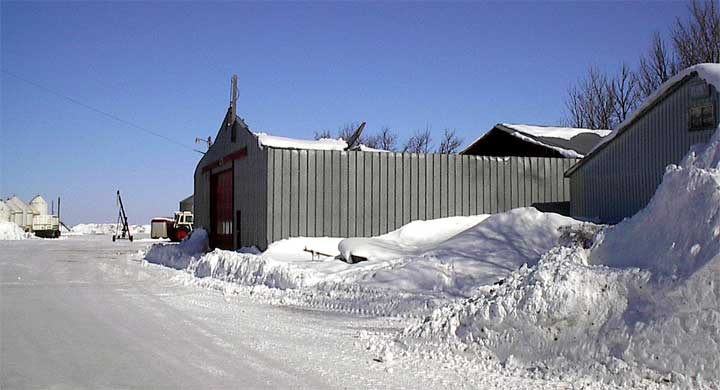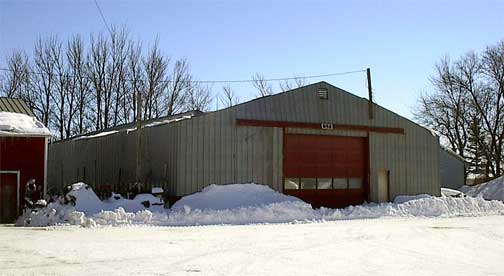 owners are looking up and in many cases conducting patrols to see that their buildings do not suffer similar weighty consequences.
Today the town crew was busy hauling snow from choked streets while some heavy machine operators are already at work clearing the ditches that will conduct this stuff out of town when in reverts to water in a week or two.
---
Return to Ensign - Return to Saskatchewan News
This page is a story posted on Ensign and/or Saskatchewan News, both of which are daily web sites offering a variety of material from scenic images, political commentary, information and news. These publications are the work of Faster Than Light Communications . If you would like to comment on this story or you wish to contact the editor of these sites please send us email.
Editor : Timothy W. Shire
Faster Than Light Communication
Box 1776, Tisdale, Saskatchewan, Canada, S0E 1T0
306 873 2004