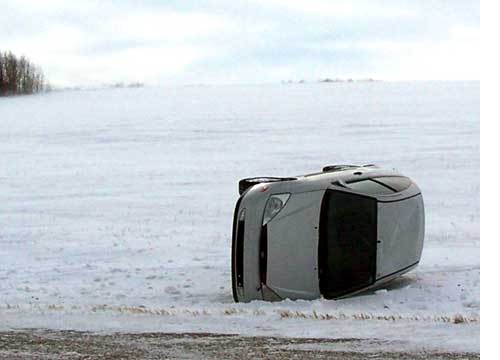 Those two melting snowmen on Newmarket have the right spirit, wave goodbye to the winter of 2008 - 2009. As we look back on this winter it has been a winter much more like what we might have experienced in the 1950s then in recent years. Since 1995 when we moved to Tisdale, I have plugged a vehicle in only a few times each winter, but this year, it was a standard procedure for much of January and even in February.
We did not fair to badly in this part of Saskatchewan for severe winter storms, the worse we saw were the ice situations in this past week. This overturned vehicle was just a mile north of Naicam last Wednesday afternoon and did not even rate a police car coming out to the scene.
Though the winter seemed long and cold, the amount of snow left at the end of the winter is modest compared to other years and with days like yesterday and today, there are patches already starting to appear in the fields and definitely along the ditches. It is likely that there will be a modest run off this spring, of course the little Doghide will spread out over the golf course for a few days, but it should be nothing out of the ordinary.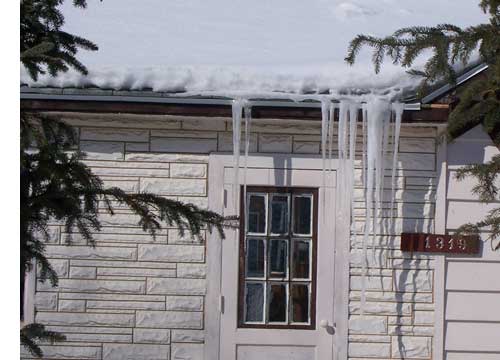 Today I listened to the sad story of Air Canada. Last summer with oil prices zooming upward, Air Canada locked in its supply of fuel for the winter at something based on $95 per barrel crude price, which wasn't bad, because the price at the time was $130. However, they are plowing through the skies on fuel that costs twice as much as their competitors. That is pretty much what happened to us here in Saskatchewan with SaskEnergy locking in its winter supply of gas at a price almost three times present market value and as the need for heat subsides in the province, the price of heating will fall somewhat closer to actual market value. Clearly, SaskEnergy and the smart guys at Air Canada did not have a crystal ball, or even a measure of common sense, because they blew it. SaskEnergy will get by, but at Air Canada, they are talked about bankruptcy protection once more.
Long before the snow was flying this winte,r the collapse of the stock market and the subsequent massive levels of unemployment that have resulted had begun. Though the winter was a challenge, just dealing with the confusion and the sensationalism of the news gathering agencies, made this winter a very difficult thing to bare. It is important to recognise the way everyone feels about the economy has a profound affect on everything and when you realise how little the stock market relies upon real conditions, it is informative to take this as a lesson. How people feel about things really really matters.
Everyone has cut back on expenses and reduced their expectations. There is no wonder in all of that because everyone, and that means everyone, is affected by the stock market. Pensions, RRSPs, all sorts of savings plans are hammered by these conditions. Even stuffing your money in a sock doesn't help, because the value of the money itself is in question. When you talk to anyone over fifty, there have been big loses in savings, while at the same time, the banks pay almost nothing on money in savings accounts, with interest rates at the bottom.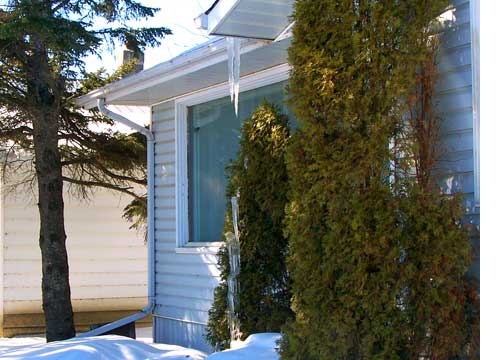 Do not be lured into thinking that the stock market is on the recovery. It did fairly well in March, actually showing positive gains and that trend could easily continue well into the spring. However, the basic economic troubles have not and can not be addressed because they have already occured. During the 30s the stock market actually crashed not once in 1929, but five time before establishing positive growth in 1932. All indicators suggest that the stock market will take several more baths before this is over and if you have invested money in stocks, do what other investors are doing right now, wait until your stock gets close to value and then get your money out of there, even if you take a lose. Once again, the 30s is a matter of instruction, because everyone in the market lost everything. The worst loses were those people who bought in, hoping to catch a bargain.
The second warning and a serious threat from the left overs of this winter, is the attempts by the US government to prevent even worse conditions developing, has undermined the value of the US dollar to the point where the United States is for all intents and purposes, itself bankrupt and that money is going to be worth more as fuel then something to buy things with. When this occurs is not something that can be predicted, because it will occur as an emotional kneejerk reaction, as investors move their money out of dollars and the main calamity would be for China to begin trying to do something about the enormous amounts of paper it holds based on US dollars.