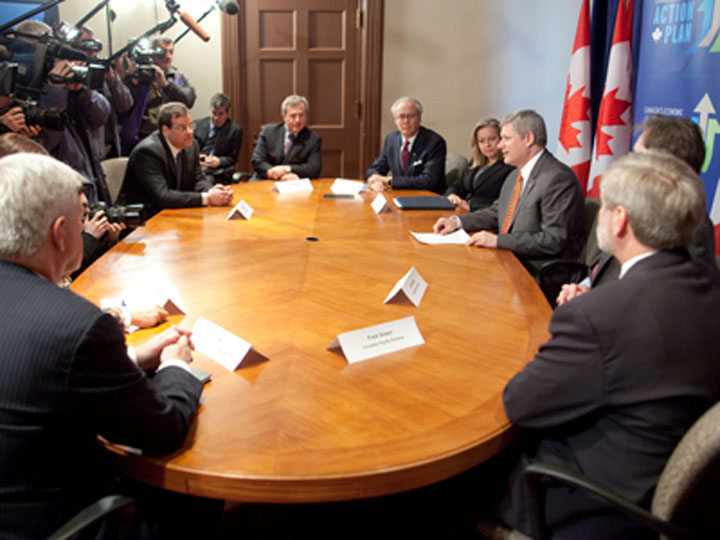 Focus on women's and children's health
at G7 just talk
---
Calgary., Wednesday, February 10, 2010, by : Beverley Smith
In my town, Calgary, the PM and MP Jim Prentice met February 8, with key stakeholders apparently in the economy. He called together by invitation only ten 'businessmen'. Period.

Nowhere apparently were there any women.

Nowhere apparently among the lawyers and oil execs were there advocates for the care side of life, the 'family' side of the career family balance.

I find this shocking. Women are one half of the population and Stats Canada estimates our unpaid care work of the young, elderly, handicapped, and dying accounts for one-third of the GDP.

We create future taxpayers and nurture them. How are we not stakeholders?

It is doubly shocking because the PM has said as head of the G7 he will focus on women's and children's health. So, why does he not crack the door open just a bit and consult us on laws that concern us?
Beverley Smith is a long time social activist and teacher who for the past thirty years
has advocated nationally and internationally on behalf of women's rights
Picture credit: The image at the top of the page was taken on February 9th at an economic roundtablle with members of the North American Competitiveness council. The source for the picture is the Prime Minister's web site.
---
This page is a story posted on
Ensign
a daily web site offering a variety of material from scenic images, political commentary, information and news. This publication is the work of
Faster Than Light Communications
. If you would like to comment on this story or you wish to contact the editor of these sites please send us
email.
Editor : Timothy W. Shire
Faster Than Light Communication
Box 1776, Tisdale, Saskatchewan, Canada, S0E 1T0
306 873 2004