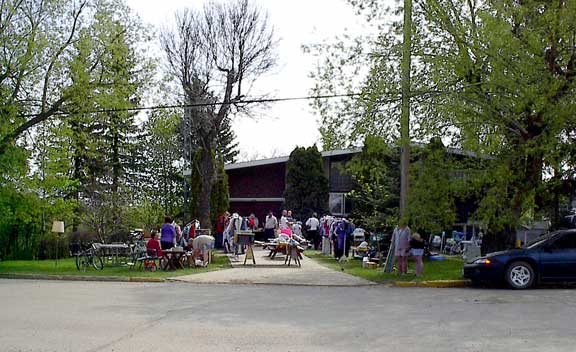 Classy Yard Sales
FTLComm - Tisdale - Friday, May 23, 2003
Yard sales vary so much from one to another. Sometimes you will discover sales where the stuff is simple and mundain while other sales have antiques and high quality goods. This weekend must be some kind of fluke because all of the sales I visited this morning fall into the high quality goods category.

Two of this morning's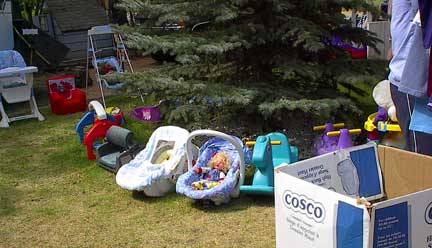 sales were estate clean ups and those are always remarkable and two were largely goods related to baby care, all of the pictures here are from a multi-family affair that featured infant care items.

Everything from point of delivery water heaters, to remarkable collectable books. Perhaps the most interesting find was a box of National Geographic maps. Many of these treasures are only treasures to those who might want a box of National Geographic maps.

The great thing about this weekend's yard sales is the lush weather. This morning there was enough breeze to keep the mosquito population on the move and the sun's warmth was a welcomed feature.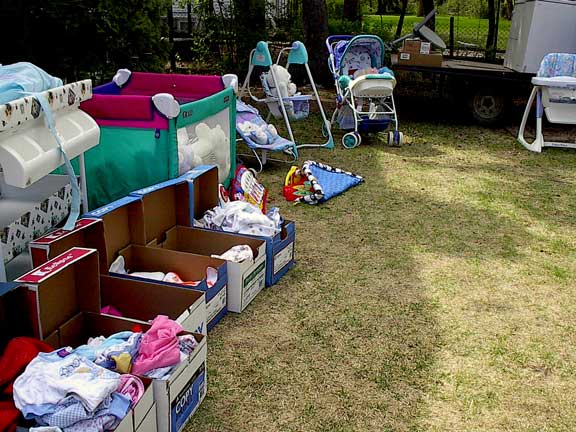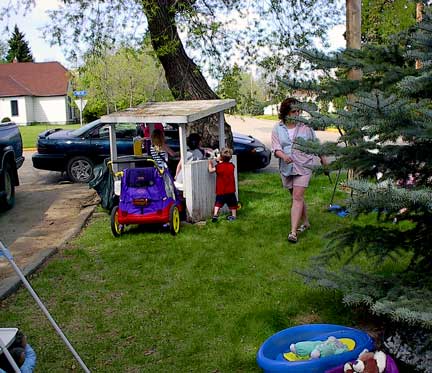 This sale had a great lemonade stand which occassionally had some staff bickering but even that was pretty colourful.

As I trooped around the same group who were at one sale would show up at another and that added a pleasantness to the process.

Mrs. Lamb's sale was utterly overwhelming with the huge volume of the items for sale and an equally large crowd. At that sale the yard sale business interrupted the visiting as it is nice to see here once again as she is back for the sale from Toronto. She told me they had been pricing the good for the past two years.

This sale, seen in these pictures also had a remarkable large volume of items and one lady told me they had spent much of the last two weeks getting things together for the sale this weekend.
---
Return to Ensign - Return to Saskatchewan News
This page is a story posted on Ensign and/or Saskatchewan News, both of which are daily web sites offering a variety of material from scenic images, political commentary, information and news. These publications are the work of Faster Than Light Communications . If you would like to comment on this story or you wish to contact the editor of these sites please send us email.
Editor : Timothy W. Shire
Faster Than Light Communication
Box 1776, Tisdale, Saskatchewan, Canada, S0E 1T0
306 873 2004